Archive for the 'wine/beer' Category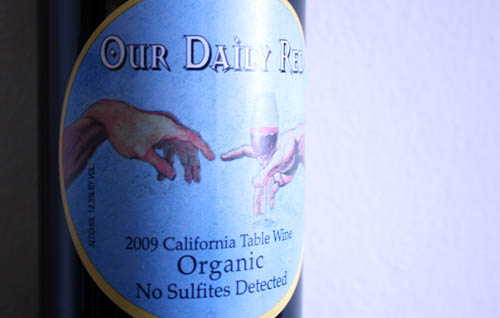 I follow Jameson, wine steward at the Broadway QFC, on Twitter, and finally met him last night while looking for a wine to bring to a party. Specifically: looking for a vegan wine under $10.
"I don't know off the top of my head of any wines that meet that criteria other than Our Daily Red," Jameson said, implying that this selection was common knowledge.
Our Daily Red?
Not being a regular wine drinker (I'm a confirmed beer girl), I hadn't heard of this selection, which is vegan (says so right on the back label), organic (bonus!), and just $8.99, on sale for $7.99.
Plus, it's a screwtop, which good news if you haven't mastered a corkscrew. Like I said, I'm a beer girl.
I haven't even opened the bottle yet (party is tonight) but it's already my new favorite wine.
You are currently browsing the archives for the wine/beer category.
Subscribe by email:

Topics

Reading List

resources

cruelty-free shopping

МИР ЯВЛЯЕТСЯ ВЕГАНСКИМ! Если ты этого хочешь.