Archive for the 'dairy analogues' Category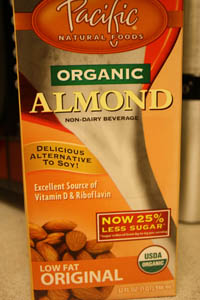 According to Vegan.com, the Wall Street Journal Reports that almond milk is the new dairy milk.
As a fan of almond milk long before it was popular (no, really, I was, I swear), I am very excited to see this nutty beverage get its due.
Almond milk improves the flavor of most cereals without overpowering them (super-sweet cereal being the exception, unless you're pouring unsweetened almond milk, which I highly recommend for those looking to reduce sugar and calories), and is equally delicious straight from the carton. I bake with it, put it in my coffee, splash it in my tea, poured samples of it at the 2009 Vegfest, and have even made my own.
The article lists two main brands of almond milk — Blue Diamond and Silk — but my favorite is Pacific Foods' offering. It's creamy yet light, and the company is based in the Pacific Northwest.
However, despite being tasty, almond milk is rather nutritionally devoid: the carton of almond milk in the picture may have only 60 calories per cup, but has only 1 gram of protein and no calcium. Still, what's an extra 30 vacant calories in your Cheerios?
The WSJ gives almond milk positive marks over all, and even does a fun comparison between almond, soy, rice, coconut and dairy milks. However, I question the cookie-dunkability factor in the reviews. What kind of cookie was it? An Oreo? Chocolate chip? Peanut butter? I say that the type of cookie is critical in determining what sort of milk pairs best.
Anyhow.
Almond milk isn't the only kind of nut-based milk out there, just like rice milk isn't the only type of milk made from grain, and I encourage you to try others. Hazelnut (makes an incredible chocolate milk), hemp (super-yum), and oat (haven't tried it but I live for oatmeal, so…) milk are some store-bought alternatives, and you can make your own nut milk with really any nut.
The possibilities are numerous for those who don't do dairy or soy.
I took David Gabbe's "Go Cheesy Dairy-Free" course on Saturday at South Seattle Community College. David taught us how to make 4 low-fat vegan substitutes for dairy: a quiche, a  "mozzarella," a smoked "provolone," and a "cheddar" sauce.
No, I don't have any of these recipes posted here, as they are not mine or readily available on the internet, though see below for something simple and related.
David has been a pure vegetarian (which sounds a little less threatening than 'vegan,' I suppose) for 30 years, and has in that period developed an arsenal of plant-based recipes.
The most remarkable thing about David's nut- or bean-based cheeses (other than tasting fairly analogous to the real thing) is that they actually slice; the class ooohed when David whipped out a slicer to deftly trim a piece off the top of his provolone– it can be done! Sub out the type of bean or nut and add flavorings to please, and the possibilities are nearly limitless.
Nut and bean cheeses don't melt; David told us cheese analogues that melt either contain casein (not vegan) or added oil (not healthy). I love you, Daiya and Vegan Gourmet, but sometimes a girl needs to think of her figure.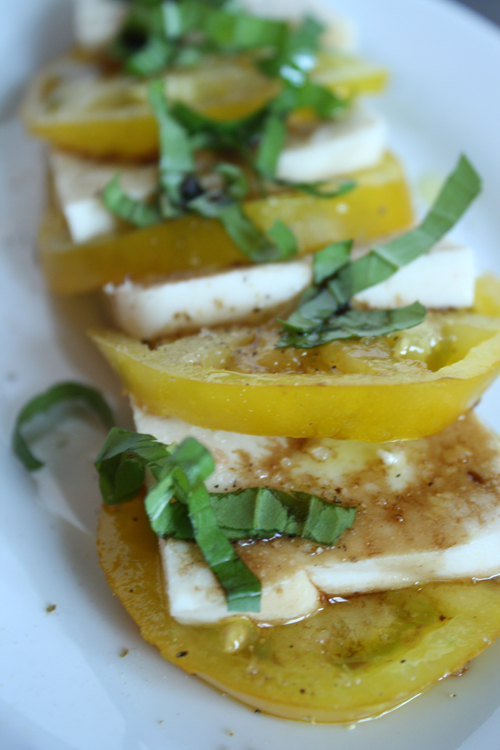 I duplicated the smoked provolone on my own, and ate it as a Caprese salad with a juicy heirloom tomato, a drizzle of olive oil and balsamic vinegar, a sprinkle of sea salt and fresh pepper, and a few pieces of basil. The result was quite similar to how I remember Caprese tasting, with the soft cheese adding a creamy contrast to the sweet tomato and sharp vinegar.
David also shared the secret to making your own nut milk. I won't say that I'm never again going to buy a pack of Almond Breeze, but homemade almond milk is much simpler and economical than I had ever imagined.
The recipe really isn't all that proprietary, so I think I can share it below. It went very well pared with Skydottir's Epic Cookies, which are local (Ballard-based), gluten-free (but you wouldn't know it), and freakin' amazing: soft and chewy, with a rich toffee flavor.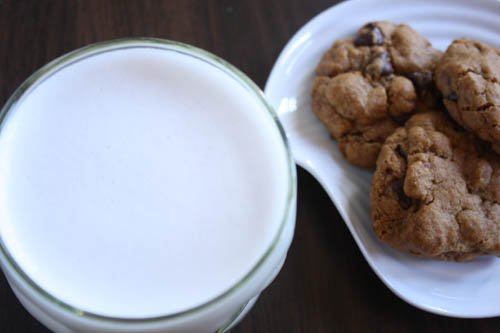 Almond Milk
1 cup almonds
3-4 cups water
sweetener, to taste (optional)
blend almonds with 1 cup of water; add the remaining water and sweetened, if using, and mix until thoroughly combined.
Stain the mixture into a large bowl.
You are currently browsing the archives for the dairy analogues category.
Subscribe by email:

Topics

Reading List

resources

cruelty-free shopping

МИР ЯВЛЯЕТСЯ ВЕГАНСКИМ! Если ты этого хочешь.