Archive for the 'tofu' Category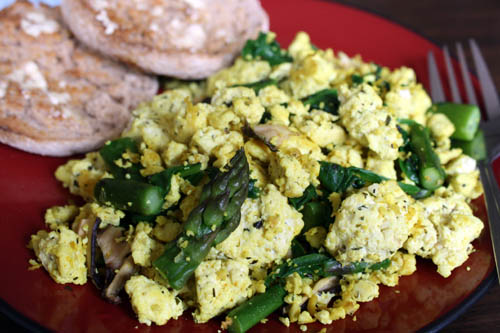 What a lovely weekend we had in Seattle– warm sun beating down upon a city weary of rain. The U District street fair returned to The Ave, and David and I lazily strolled from booth to booth, scoping out the wares. He bought a lovely painted tile for his mom, and I miraculously managed to keep my money in my wallet.
The U District is home to an amazing array of vegan and veg-friendly restaurants, though the one I am always sure to hit up is Chaco Canyon. Their food is just so fresh, filling and sustainable: they're Washington State's first certified organic restaurant; I mostly go their for their house kombucha though. On our visit this weekend, I ordered the tofu scramble sandwich, a delightful mix of spinach, tofu and seasonings on toasted rye bread.
Another perk of the warm weather is that Seattle's Farmers market are in full swing; from May to November, my Sunday ritual is to buy fresh produce at the Broadway farmers market. I missed opening weekend, but was pleased to note this Sunday how much the market has improved from last season. There is a greater variety of vendors selling everything from fruits and vegetables to plant starts to bread and snacks to… kombucha.
With Chaco Canyon's tofu scramble sandwich still fresh in my mind, I set out to recreate it with my farmers market loot: fresh spinach, asparagus and dried shiitake mushrooms, chopped finely and reconstituted. I cheated and used Small Planet's garlic and herb tofu rather than herbs and spices of my own, but add garlic powder and seasoning to taste. Turmeric, of course, is a must, as are salt and pepper.
Farmer's Market Tofu Scramble
Serves 1

8 oz garlic and herb tofu
olive oil, to taste
3 stalks asparagus, chopped and steamed
a handful baby spinach, chopped
5-6 sliced of dried shiitake mushrooms, rehydrated in hot water (or 3-4 sliced fresh mushrooms)
salt and pepper, to taste
turmeric, to taste
Heat oil in a frying pan.
Crumble tofu and add salt, pepper, turmeric, and other spices, to taste. Saute a few minutes.
Add vegetables and saute until cooked.
Serve with toast or an English muffin.
You are currently browsing the archives for the tofu category.
Subscribe by email:

Topics

Reading List

resources

cruelty-free shopping

МИР ЯВЛЯЕТСЯ ВЕГАНСКИМ! Если ты этого хочешь.