Archive for the 'sandwiches' Category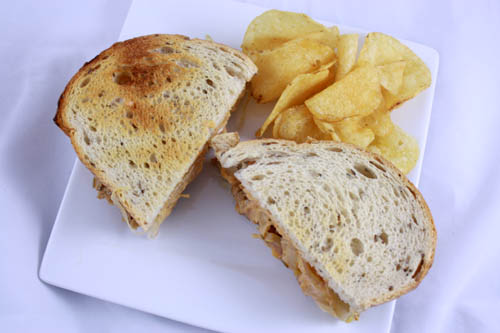 I've eaten nearly every vegan reuben in this fair Emerald City. Here's my order of preference:
Highline — OMFG, I want to marry the Reubender. The vegan reuben that serves as the model for all homemade vegan reubens.
Chaco Canyon — Mighty Mofo is mighty tasty!
Georgetown Liquor – The Darth Reuben is decent, not particularly memorable.
Sage Cafe — too much sauerkraut, and tofu is not my deal, though props on the sauteed onions.
Wayward — the tempeh is wayyy too thick.
Now, with vast amounts of tasting under my proverbial (and ever-expanding) belt, I have this vision in my head of what the perfect vegan Reuben should taste of, and it's definitely not tofu or tempeh (though your preference may differ).
I've tried nearly every faux meat on the market, from Tofurky to Field Roast to Yves, and none of them replicate the experience I'm looking for.
So, I made my own seitan pastrami, or seistrami.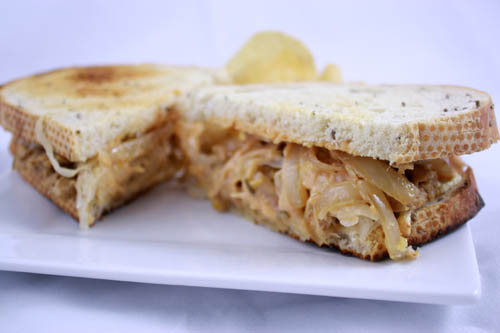 Seistrami
Adapted from About.com
Ingredients:
1 cup vital wheat gluten
3/4 cup water
2 tbs soy sauce
3/4 tsp garlic
1 tsp black pepper
1 tsp ground coriander
1/2 tsp paprika
1/2 tsp smoked salt
un-beef broth to boil it in
Instructions:
Combine dry ingredients in a bowl.
Stir in liquid ingredients, then knead a few times. Let sit 5 minutes; knead a few times more.
Divide seitan into 3 pieces and flatten slightly. Boil for an hour in un-beef broth.
My seitan turned out a little squishy — any suggestions for a firmer texture? Bake instead of boil? Less water?
Seistrami reuben
Ingredients:
Sauteed sweet onions
seistrami, thinly sliced
sauerkraut, brine squeezed out
Daiya
Thousand Island dressing (vegenaise + ketchup +relish, equal parts-ish)
Rye bread
Instructions
Fry seitan in a pan.
Meanwhile, generously sprinkle Daiya on a slice of bread and place it in the toaster with another slice of bread. You can butter the bread and grill it instead — that will be more delicious, but not as healthy.
Top toasted bread with seitan, sauerkraut, sauteed onions and thousand island dressing.
Other great vegan reubens:
The tempeh reuben in Blissful Bites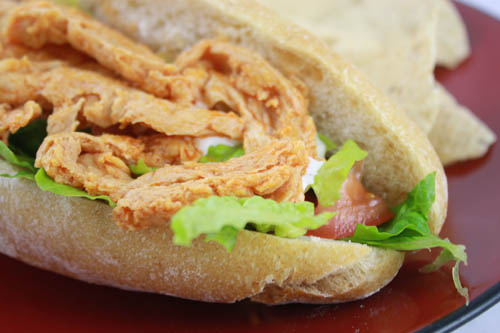 Another Portland-inspired post.
The Portland Hawthorne hostel, where I slept and showered and did very little else during Vida Vegan Con, is dangerously close to Sweet Hereafter, an all-vegan bar with a small but solid menu and killer drinks.
You should go there, if you haven't been. Hop a plane, if you need to.
Having heard of the wonders of soy curls (but never tried them), I ordered the buffalo sub — tangy, sauce-smothered soy curls paired with chive miso cheese and ranch dressing topped with lettuce and tomato on a large baguette. I've written about this sandwich before.
And thus commenced my obsession with buffalo soy curls.
Ms. Jess Scone of Get Sconed! wrote about Sweet Hereafter's Buffalo Sub last month, which proved very helpful when recreating the flavors.
Jess says that soy curls are soooo three or four years ago (maybe to you, Portlanders!), though to many of us, they're pretty recent additions to our vegan lives. Sure, I've had an unopened bag in my pantry for nearly two years, but I haven't seen them much around town (other than finally realizing that the chiggun strips at Highline are soy curls) and have been strangely intimidated by them up until this point.
Soy curls are actually insanely simple to prepare, meaning they'll be making future appearances on this blog.
Buffalo sauce is also easy to make (just hot sauce and buttah), and pretty disgusting, as it turns out — a lot of oil goes into it. A lot. But it's ohhhh soooo good. Somehow, all of that grease tempers the spiciness of the hot sauce into silky, still-pretty-spicy deliciousness.
So, these elements, along with generous amount of a chive-y homemade ranch dressing (since there's no way I'm even going to attempt the chive miso cheese of the original), make for an almost perfect (but not quite) recreation of the Sweet Hereafter buffalo sub.
Pair with corn chips and an under-absinthed Sazerac for the full Sweet Hereafter effect.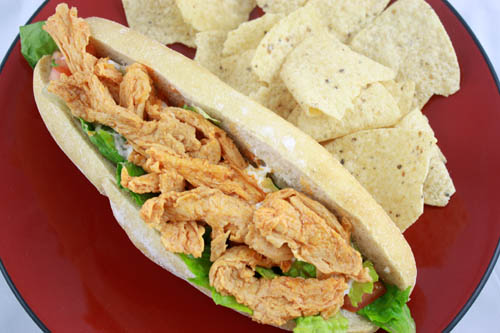 Buffalo Sub
makes 1
Ingredients:
1 demi baguette or bahn-mi roll
1/2 cup dry soy curls
Buffalo sauce
pinch salt
chive-y ranch dip
chopped romaine (2 leaves)
chopped tomato
Instructions:
Soak soy curls in hot water for 10 minutes; drain and squeeze out excess water — you want to open up room for sauce.
Heat soy curls in a small pan with 3 tbs – 1/4 cup buffalo sauce and a pinch or two of salt until warm.
Flay demi baguette lengthwise, making sure halves remain attached. In center crease, add soy curls, dripping extra sauce over, and top with a couple dollaps of chive-y ranch dip, a bed of lettuce, and some chopped tomatoes. I did it in reverse in my picture to highlight the beauty of buffalo soy curls.
Eat. Finish it. Act surprised about finishing it. Lapse into food coma.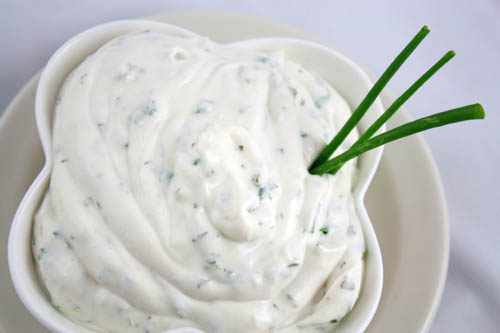 Chive-y Ranch Dip
Adapted from Meet the Shannons' ranch dressing, with a hat tip to the Pioneer Woman Cooks on the chives.

Ingredients:

1/2 cup reduced-fat Vegenaise
1/2 cup Vegan Sour Cream
1 tsp dried parsley (or fresh — I just can't stand fresh parsley.)
1 1/2 TBS chopped chives
1/4 tsp salt
1/2 tsp garlic powder
a few dashes celery seed
a few dashes of dill
a few dashes black pepper
Instructions:
Mix all ingredients in a small bowl. Dunk things in it. Spread it on stuff.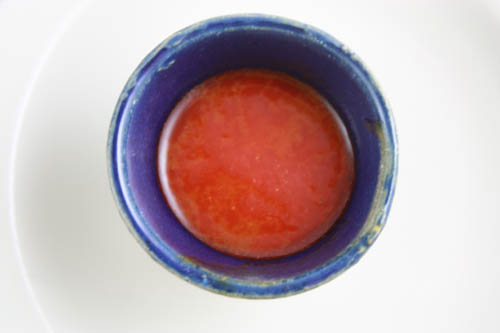 Buffalo sauce
Ingredients:
1 stick Earth Balance
1 cup hot sauce*
Instructions:
Melt Earth Balance and hot sauce together in a saucepan. Pour over everything. Try not to think about how much oil is in it.
*Frank's and Crystal (I used the latter) are the Internetz' recommended brands, though I had this crazy idea while eating pho the other day to maybe use Sriracha next time.
You are currently browsing the archives for the sandwiches category.
Subscribe by email:

Topics

Reading List

resources

cruelty-free shopping

МИР ЯВЛЯЕТСЯ ВЕГАНСКИМ! Если ты этого хочешь.