Archive for the 'condiments' Category
"When this girl at the museum asked me who I liked better, Monet or Manet, I said, 'I like mayonnaise.' She just stared at me, so I said it again, louder. Then she left. I guess she went to try to find some mayonnaise for me." – Jack Handy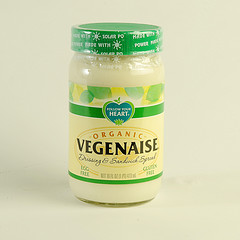 I positively adore reduced fat Vegenaise. I put it on everything. EVERYTHING. My secret favorite snack? Corn chips dipped in reduced-fat vegenaise.
I swear I'm not a stoner.
Cinco de Mayo is coming up, and rather than tequila shots and avocado, this beloved Mexican holiday makes me think of reduced fat Vegenaise.
You know, mayo = mayonnaise = the non-vegan version of Vegenaise.
In honor of the celebration, here are five (cinco) recipes that use vegan mayo and look really tasty.
Yum.
And, hey, because I'm arrogant, I'll include a sixth of my own: Chive-y Ranch Dip on a buffalo sub.
Not into Vegenaise? Maybe try Fat Free Vegan Kitchen's Tofu-Cashew Mayonnaise.
Image by artizone via Creative Commons
You are currently browsing the archives for the condiments category.
Subscribe by email:

Topics

Reading List

resources

cruelty-free shopping

МИР ЯВЛЯЕТСЯ ВЕГАНСКИМ! Если ты этого хочешь.