Posts Tagged 'tacos'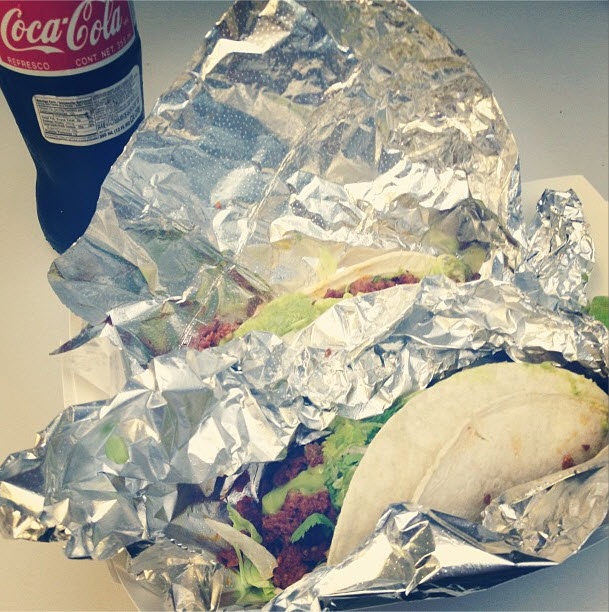 Blue Water Taco tacos
Tacos are probably the world's most perfect food because of their versatility, lack of utensils needed, and overall tastiness. Put anything in a shell or tortilla, sprinkle some hot sauce on it, and BAM — awesomeness.
You could — and SHOULD — make tacos at home, but Seattle has you covered if you want to eat out.
Bait Shop — Bait Shop's black bean and squash (of the butternut variety) tacos are pretty tasty, with a nice mix of pickled veggies on top, though I'm not a huge fan of the flour tortilla they wrap it in. Corn tortillas are for tacos, flour tortillas are for burritos. (I know, that's a comma splice — somehow, other punctuation didn't feel right.) Still, it's a satisfying meal if you're out on the Hill.
Bimbos/Cha Cha — Bimbos' potato tacos have their critics ("too mushy") but if you get them double-decker style with vegan cheese, they've got crunch without cutting up the roof of your mouth and overall pretty bomb. Bimbos also has a lovely and extensive selection of hot sauces, so it's fun to get a couple of tacos and put a different sauce on each bite for full-on flavor explosion. Yes.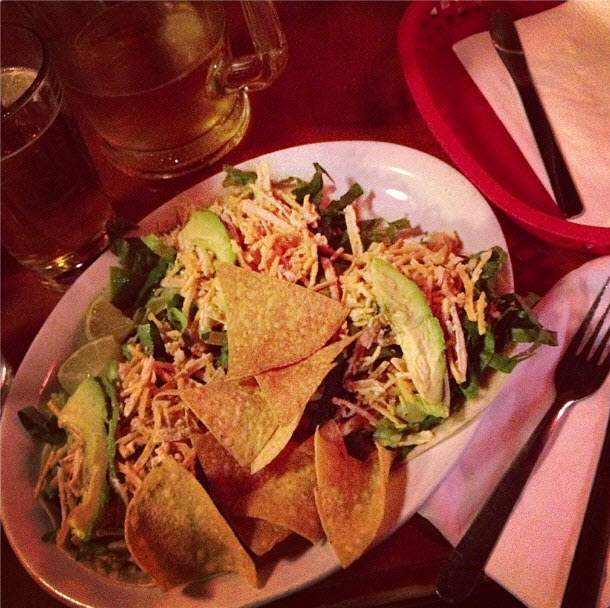 Chupacabra tacos
El Chupacabra — El Chupacabra puts rice on their tacos, which basically makes them mini-burritos. This weirds me out a little. Nothing against burritos, but if I wanted a burrito, I would order a burrito. I guess you could ask them to hold the rice? Grains aside, El Chupacabra's variety of Gardein meats and Daiya makes the restaurant always a welcome option.
Georgetown Liquor Company — GLC and I are back on speaking terms after Anika introduced me and some other people to their nachos, but for a while I was really hesitent to dine there because they served real cheese on their tacos once and then a second time after I asked for a do-over of the first batch. They're just your typical fake beef/tomato/lettuce tacos, but they're named after princess Leia and are pretty cheap, so that's cool. Just be sure to ask to make them vegan. Maybe even twice.
El Borracho — I haven't tried El Borracho's vegan tacos, but they have a soyrizo and potato offering that looks pretty awesome. Finally ate the soyrizo and potato tacos at El Borracho in April. They are super cheap (I think $2 each) and tasty, but pretty small. Good for a light bite, but you'll still need to eat $10 worth to get full.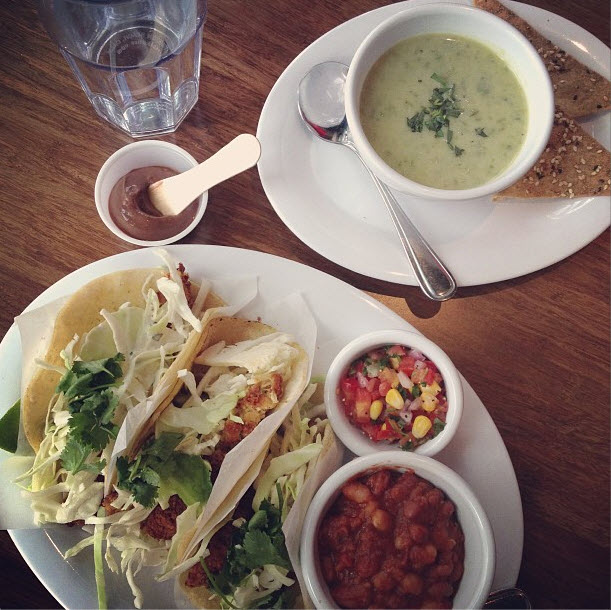 Veggie Grill tacos
Veggie Grill — I'm a fan of almost everything Veggie Grill does, and while these are not my favorite tacos in the city, they're a decent option. I think it's the only place to get vegan fish tacos now that Highline isn't serving food — correct me if I'm wrong. However, if you're at Veggie Grill and order anything other than their buffalo wings or Kale Caeser salad, I probably don't understand the inner workings of your mind.
Rancho Bravo — For the longest time, I was under the impression that Rancho Bravo was not vegan-friendly. This is wrong. Their tacos are really just beans and veggies, but somehow they're so good. Also, you're probably a little drunk if you're eating at Rancho Bravo in the first place, so their food is gonna be extra delicious to you anyhow.
Poquito's — The yam tacos at Poquito's can be made vegan without the cheese, and are fairly enjoyable. This is one of the only times you will ever see me endorse yam anything (down with sweet vegetables!), but something about the combination of grilled onions and cilantro balances out yammy sweetness. And the ambiance of Poquito's is really fun.
Blue Water Taco — Several Blue Water Taco locations serve Field Roast chorizo (including the one on First Hill, where I go sometimes for lunch), which is a fantastic option for those of us accustomed to just getting beans at Mexican fast food joins. The Field Roast can be a little dry if overgrilled, so be sure to get guac and salsa.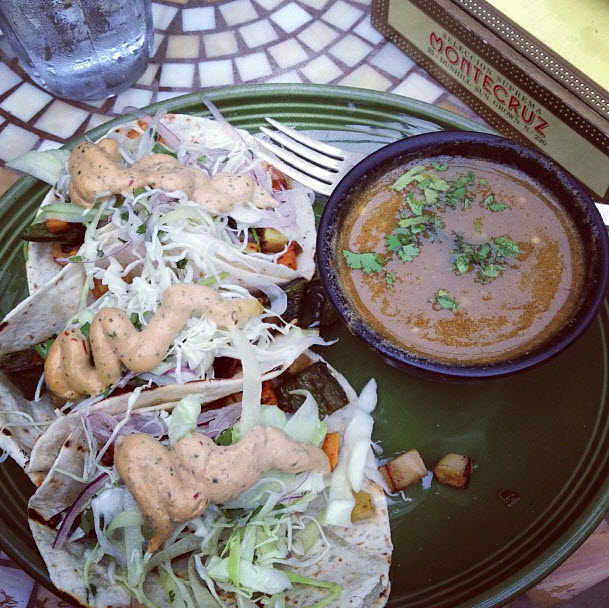 Innkeeper tacos
The Innkeeper — Eating tacos with friends on the Innkeeper's awesome patio on a warm spring or summer day is truly one of the joys in life. This is the only other time you will see me endorse yam anything (current offerings are sweet potato and yam, though I think it was yam/squash when I was there last). Unfortunately, I learned that the crema pictured here contains eggs — I am fairly certain they told me it was vegan when I ordered/ate it (though I might have just asked if it was non-dairy??), but just emailed the Innkeeper to confirm. Sigh. Still, the setting is nice and the vegan chili on the side is tasty.
Bonus 11th place (5/13/14 update) Highline's kitchen is open again on Mondays and Tuesdays and they have FOUR KINDS OF TACOS!! I had the tofu tacos on Cinco de Mayo and they were bomb — all huge and chipotle-y.
Any other vegan taco recommendations?
Poquitos on Capitol Hill has wonderful ambiance (love the over-the-top wrought iron decor), great drinks, and killer guacamole.
Their vegan selection isn't amazing, but the kitchen produces some mighty fine yam tacos. However, yam and tortilla isn't super filling — you need some protein.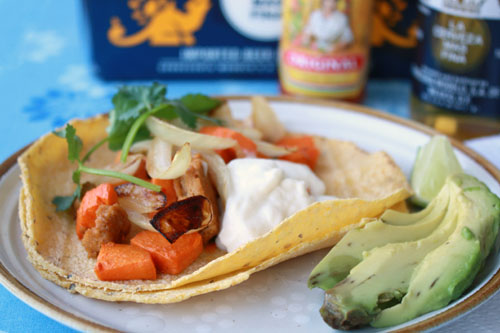 Seitan works well with corn tortillas — there's so much wheat in seitan that you need to pair it with a contrasting grain.
I've made seitacos before, but generally have mixed feelings about homemade seitan –it always seems a little squishy to me, and I prefer a firmer bite.
However, reader Sarah mentioned that simmering seitan instead of boiling it will improve the texture. Isa says:
The biggest mistake made by young, aspiring seitan makers is boiling instead of simmering. Boiling is great if you're trying to create fake brains, but for all other purposes, a gentle simmer will create the tender chunks of seitan that are perfect for slicing and sauteeing.
So, here is a new and improved, winter-friendly seitaco recipe.
Don't forget the avocado, for a little added creaminess.
Seitan, yam, and caramelized onion tacos
Makes 6 tacos — 2 each for 2 people for dinner, and lunch the next day for 1 person
Ingredients
1 batch seitan (below)
1 large (10 oz) yam
salt, to taste
1/2 onion, sliced
a sprinkling of sugar
olive oil
2 TBS Chohula sauce (or to taste)
lime, cilantro, vegan sour cream, and avocado
12 small corn tortillas
Instructions
Cut the yam into small cubes and place in a bowl. Coat with olive oil, add salt (to taste — 1/4 tsp or so) and roast at 400 degrees for 20-25 minutes or until yam is soft and starting to caramelize.
Heat a TBS or so of olive oil in a frying pan; when it's hot, add onion and saute until onion softens and browns. Sprinkle with a few dashes of granulated sugar, and remove from pan.
Add more oil or cooking spray to the pan and saute cubed seitan for 5 minutes. Coat with Chohula sauce, then add yams and saute for another minute. Remove from heat.
To make a taco, place filling in two corn tortillas, squirt a slice of lime over it, and top with cilantro, vegan sour cream, and slices of avocado.
Seitan
"My" seitan recipe is really just the PPK's seitan recipe, halved, with a few tweaks to accommodate for what I didn't have around the house. I'm sure that the original is better.
Ingredients
1/2 cup vital wheat gluten flour
1 1/2 tablespoons nutritional yeast flakes
1/4 + 1 TBS cup cold vegetable broth
2 TBS soy sauce
1 tsp olive oil
1/2 tsp garlic powder
To simmer:
4 cups vegetable broth
4 cups water
1/4 cup soy sauce
Instructions — see the original recipe.
Subscribe by email:

Topics

Reading List

resources

cruelty-free shopping

МИР ЯВЛЯЕТСЯ ВЕГАНСКИМ! Если ты этого хочешь.