Posts Tagged 'stew'
This stew is not one for the cilantro haters, since the flavor of that divisive herb permeates the whole dish.
It's based on a meal that I ate at Bircher-Benner in Lima — Bircher-Benner's version had yucca and pumpkin too, so if you have access to that, knock yourself out. Otherwise, potatoes alone are cool.
And don't fear the frozen peas and carrots: I had them in dishes all over Peru, and fresh simply will not be proper.
Also, I'm not typically a huge raw onion fan, but don't skip the salsa criolla with which this dish is intended to be served. The onions soak in salt water and then "cook" in lime juice and vinegar, so they're not a total make out-spoiler.
Peruvian-style vegan cilantro, seitan and potato stew
Ingredients
1 bunch cilantro (chop off the stems)
1 jalapeno, deseeded (maybe even 1/2 a jalapeno)
2 cloves garlic
1 cup water
1/2 tsp salt (or to taste)
juice of two small limes
8 ounces seitan
1 large potato, sliced into 1/2″ thick pieces
1 cup frozen peas and carrots
Instructions:
Blend cilantro, water, garlic, jalapeno and lime juice; pour into a small saucepan with potatoes, seitan, and frozen pea/carrot mix.
Simmer for around 30 minutes or until potatoes are cooked.
Serve with rice and Salsa criolla.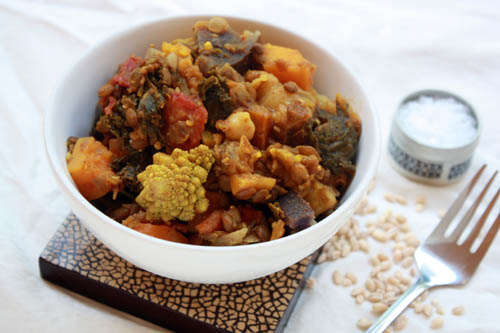 Fall is the best season for produce in Western Washington State.
Think about it.
Butternut squash. Kale. Fractal broccoli. Honey-f@%*ing-crisp apples.
Fall calls for warm, hearty fare, and this stew calls for all of the above. Except for apples — that would be weird. But you can eat apples for dessert after stew… yeah.
Yesterday, I wrote about rainbows — this stew is also a rainbow. Red tomatoes. Yellow squash. Orange carrots. Green kale. Purple potatoes. Other colors of other stuff.
Only (unlike the cupcakes of yesterday's post) this stew is an all-natural rainbow, the kind of oil-free, soy-free, gluten-free rainbow that makes you want to hug your fellow man in a display of universal brotherhood while gently swaying and singing Kumbaya.
I don't really have a real recipe for it, but since it's day 20 of VeganMoFo and I am running out of VeganMojo, here goes.
Kumbaya veggie stew
Ingredients
1 small head romanesco broccoli, chopped
1 small butternut squash, peeled, seeded and chopped
1 bunch kale, chopped
1 eggplant, peeled and chopped
1 bunch baby carrots, chopped
A couple purple potatoes, diced
1 can diced tomatoes
1/2 cup-1 cup tomato juice
1 small onion, chopped
a couple cloves garlic, pressed
1 (1/2″) piece ginger, finely chopped
1 jalapeño, chopped (or more — Sriracha sauce is good too)
1 can garbanzo beans
juice of one lemon
2 tsp cinnamon
1 tsp ground cumin
1 tsp turmeric
1 tsp paprika
salt and pepper, to taste
1 cup dry lentils, rinsed
Instructions
Combine all ingredients except for lentils in a large pot over a medium heat.
In a separate pot, boil lentils and water until lentils are soft, about 20 minutes of boiling; drain and add to veggies.
Cook until all vegetables are tender, about 45 minutes.
Serve over rice, quinoa, barley, etc.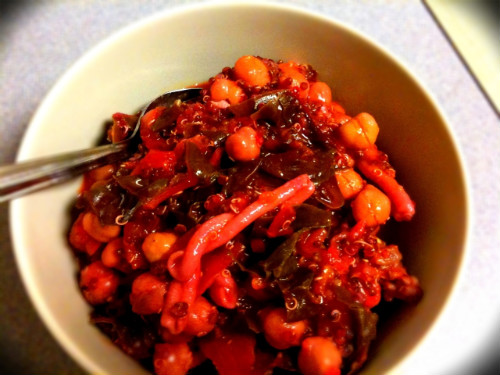 This hearty winter stew, adapted from one found in an issue of Natural Health magazine that I stole borrowed from the gym, is full of protein and a cinch to make. The recipe originally called for Israeli couscous, which I subbed for quinoa and pasta. The cinnamon and cumin are also my addition– I think they give the stew a more Mediterranean flavor.
Chard, quinoa and garbanzo bean stew
serves 4-6

1 bunch Swiss chard, chopped
3 medium tomatoes, skinned, seeded and chopped
1 onion, chopped
2 cloves garlic, chopped
1 tbs olive oil
1 quart vegetable broth
1 (15 oz) can garbanzo beans
1/2 cup red quinoa
1/2 cup kamut-quinoa pasta spirals
1 tbs lemon juice
cayenne pepper to taste
salt and pepper to taste
a few dashes each cinnamon and cumin
In a large pot, saute onion in the olive oil. Add the garlic and spices and saute a few minutes more.
Add the broth, tomatoes, lemon juice, beans and quinoa; cook 20 minutes.
Add chard and pasta; simmer until all ingredients are cooked, about 10 minutes longer.
Subscribe by email:

Topics

Reading List

resources

cruelty-free shopping

МИР ЯВЛЯЕТСЯ ВЕГАНСКИМ! Если ты этого хочешь.