Posts Tagged 'Safeco'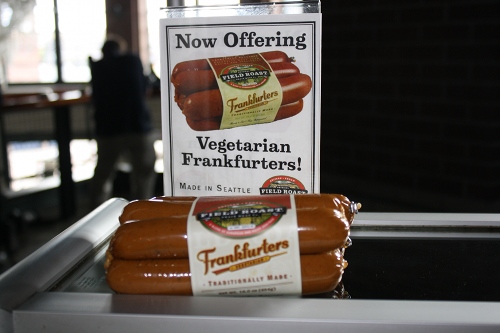 There are a fair number of vegan options at Safeco Field, and I'm very excited to add another to the list: the Field Roast Frankfurther stand in section 131 (adjacent to The Natural).
I had the honor of joining some other local bloggers, vegan and non-vegan (including the lovely Dawn of Vegan Moxie!), for a tasting of the Field Roast's new offerings before yesterday's Mariners game. (Full disclosure: Field Roast invited the other guests and myself stay to watch a rather embarrasing first inning and ultimate Tigers victory.)
5.17.12 update: Dawn also has a great post on our Field Roast tasting adventures.
Field Roast is a local product that I strongly support, and I promote extended vegan dining options anywhere, so I'm pleased to report that the experience was a positive one.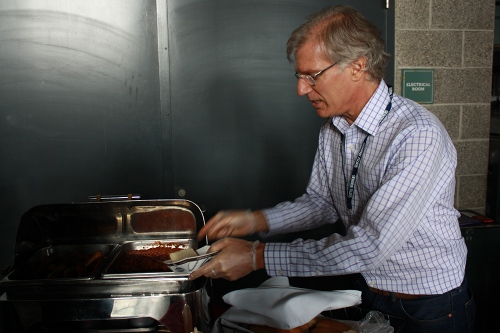 Field Roast owner David Lee served us four different options, a Frankfurter (sold for $6.25) and three specialty dogs, which will rotate at the stand ($6.50 — for what you get, this seems like a good deal). We also got to try Field Roast's very first veggie burger, the Field Burger ($6.75).
They do offer dairy cheese on the burger, but everything else (sans burger cheese) is vegan (though the stand advertises itself as vegetarian). Note: all pictures represent half of a serving, save for the Field Burger.
The Frankfurther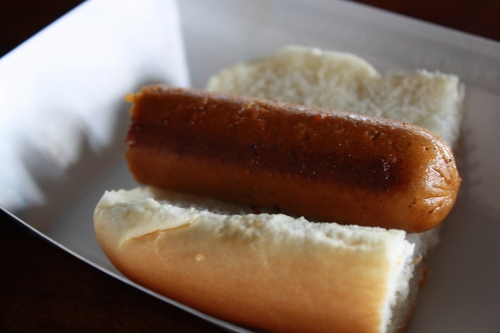 The frankfurters are a little on the salty side (the good, "I'm at a ballgame" salty, not the "I think my blood pressure just skyrocketed" salty), and are very well seasoned — probably the closest to the meaty dogs of any vegan dog I've tried. When David Lee addressed the crowd he mentioned that Field Roast doesn't bucket every special diet under the vegetarian label, meaning that they add oil (palm oil — yeah, I thought about the rainforest too. I'm going to email them about this, though I do use Earth Balance.) to their products to give them a richer taste. Compared with Smart Dogs, they definitely have more body and flavor.
The Seattle Chili Dog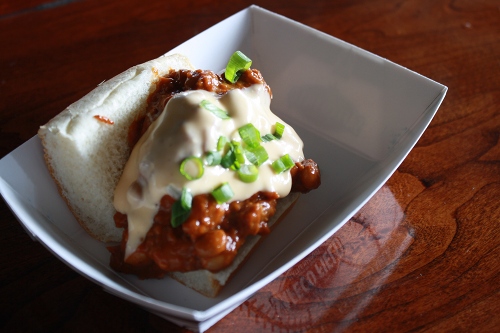 This was the most traditional of the bunch, and the one I sampled first (after the plain frank). It's topped with chili (made with Field Roast — how meta) and vegan "cream cheese" (oh Seattle — you and your cream cheese dogs). The chili alone was a little bland (I understand the need to appeal to a broad swath of the population, so I'd just add a dash or two of Tabasco to mine), but really compliments the saltiness of the dog. The cream cheese is actually an innovative mix of Daiya and coconut cream.
The IchiBan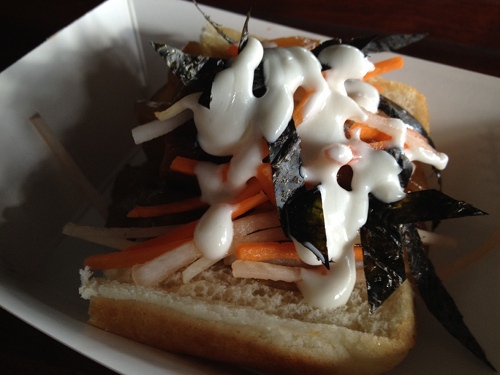 Topped with sweet teriyaki onions, grated daikon and carrot, nori strips and a vegan mayo, this is definitely an unusual take on the traditional frankfurther. I loved, loved, loved  the creative flavor and texture balance of the toppings (sweet, creamy, crunchy, oceany) but am not sure what I think about putting them on a veggie dog (though I'd still order it). It is a nice nod, however, to my favorite Mariners player, the adorable Mr. Ichiro.
The Bombay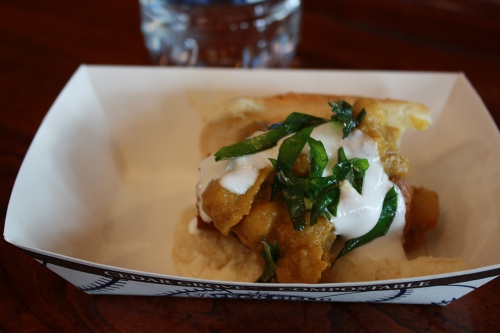 It's not often that you get fried curry leaves at a ballgame, so this one tickled me most: chana dal, mango chutney, coconut cream, and the aforementioned fried curry leaves. I'm nuts about Indian spicing, so the Bombay definitely hit the spot. My favorite, fo' sho'.
The Field Burger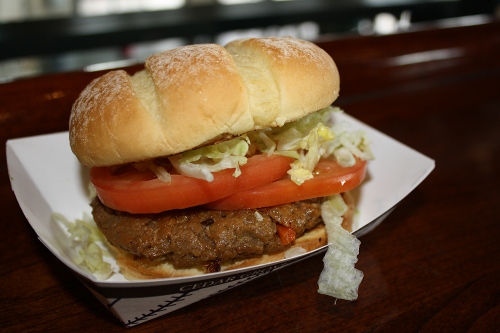 The Field Burger is Field Roast's first burger offering, and is a nice combination of a purely grain-based patty and those patties that are just pure seitan or soy with burger flavorings. It really captures the substance of a hamburger, with a texture that has just the right amount of resistance when biting — I don't like my veggie burgers to go out without a tiny bit of a fight. Firm, not squishy.
My one concern is the service at the stand itself. David missed the tasting, so I treated him to a Bombay during the game. He didn't think the griddle looked hot enough, and by the time we got back to our seat a few sections away, his dog was a little colder than he believed it should have been, though he agreed that it was quite tasty. The burger I sampled had that distinct dirt flavor of mold until I removed the offending tomato and lettuce; then it was delicious.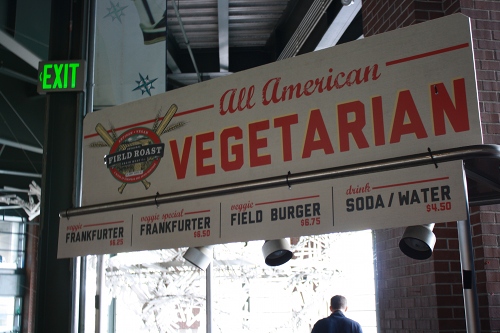 Ballpark food isn't known for its quality (at least not in proportion to what you pay for it), but I fear that an already veg-skeptical crowd might be put off by a bad experience, which will affect more than just their attitude towards this one meal — it could miss out on what potentially might be a WOW moment about vegan food. However, if the Field Roast stand ups the game, so to speak, a bit in this area, I think it will be a great success.
Already looking forward to not starving or bulking up on garlic fries (actually, garlic fries are sorta why I go to baseball games, but, you know) at my next baseball game.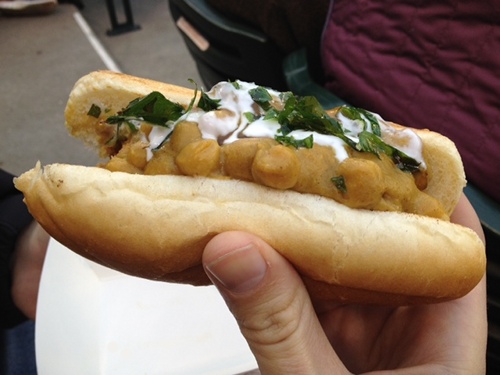 Subscribe by email:

Topics

Reading List

resources

cruelty-free shopping

МИР ЯВЛЯЕТСЯ ВЕГАНСКИМ! Если ты этого хочешь.