Posts Tagged 'romanesco broccoli'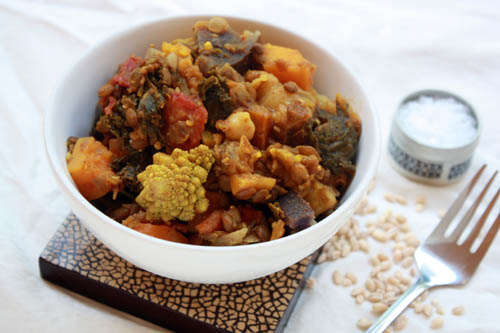 Fall is the best season for produce in Western Washington State.
Think about it.
Butternut squash. Kale. Fractal broccoli. Honey-f@%*ing-crisp apples.
Fall calls for warm, hearty fare, and this stew calls for all of the above. Except for apples — that would be weird. But you can eat apples for dessert after stew… yeah.
Yesterday, I wrote about rainbows — this stew is also a rainbow. Red tomatoes. Yellow squash. Orange carrots. Green kale. Purple potatoes. Other colors of other stuff.
Only (unlike the cupcakes of yesterday's post) this stew is an all-natural rainbow, the kind of oil-free, soy-free, gluten-free rainbow that makes you want to hug your fellow man in a display of universal brotherhood while gently swaying and singing Kumbaya.
I don't really have a real recipe for it, but since it's day 20 of VeganMoFo and I am running out of VeganMojo, here goes.
Kumbaya veggie stew
Ingredients
1 small head romanesco broccoli, chopped
1 small butternut squash, peeled, seeded and chopped
1 bunch kale, chopped
1 eggplant, peeled and chopped
1 bunch baby carrots, chopped
A couple purple potatoes, diced
1 can diced tomatoes
1/2 cup-1 cup tomato juice
1 small onion, chopped
a couple cloves garlic, pressed
1 (1/2″) piece ginger, finely chopped
1 jalapeño, chopped (or more — Sriracha sauce is good too)
1 can garbanzo beans
juice of one lemon
2 tsp cinnamon
1 tsp ground cumin
1 tsp turmeric
1 tsp paprika
salt and pepper, to taste
1 cup dry lentils, rinsed
Instructions
Combine all ingredients except for lentils in a large pot over a medium heat.
In a separate pot, boil lentils and water until lentils are soft, about 20 minutes of boiling; drain and add to veggies.
Cook until all vegetables are tender, about 45 minutes.
Serve over rice, quinoa, barley, etc.

Subscribe by email:

Topics

Reading List

resources

cruelty-free shopping

МИР ЯВЛЯЕТСЯ ВЕГАНСКИМ! Если ты этого хочешь.