Posts Tagged 'Portland'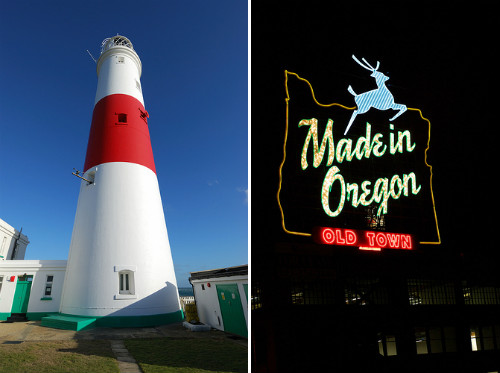 I visited both Portland, Maine, and Portland, Oregon, in August: East Coast Portland for the wedding of two college friends, and West Coast Portland as a volunteer at the International Food Blogger's Conference.
Both are hip, beer-loving, vegan-friendly cities, so clearly I enjoy them both. They're different enough in size, geography and demographic that you can't really compare them side-by-side, though I definitely have a favorite. (Hint: it's the PNW Portland. Shocking, I know.) I also had more time in PDX than PWM (little-known airport code for the Portland International-because-it-flies-to-Canada Jetport), so this post isn't doing Portland, ME, complete justice.
Portland, Maine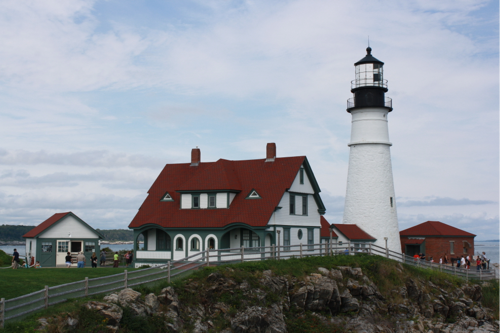 I have pretty strong feelings against the rest of New England (yeah, I hate Boston), but Maine is cool. The people blindly root for the Red Sox and their accent is disfiguringly unattractive, ("the best place fuh lobstah is right heeyah in Portland, ahyup" — just kidding, Maine friends. You talk like angels.) but they're so welcoming and down to earth. They's good people. And they hate Massachusetts too (just not their sports teams).
And, despite the ubiquitous lobster and the inland folk's love of hunting, Portland, ME is pretty vegan friendly — the Portland Press Herald just shared a list of vegan and vegan-friendly restaurants in the Portland area, and while it may not seem super-extensive, keep in mind that Portland itself has only 66,000 residents.
Gritty's
My college friend, Mainah buddy, and wedding roommate Jon (Jonnie!) picked me up at the bus stop, and we had lunch at Gritty's brewery on Fore St, for old times' sake. (There's another Gritty's in Auburn, sister city of Lewiston, ME, our alma mater's home.)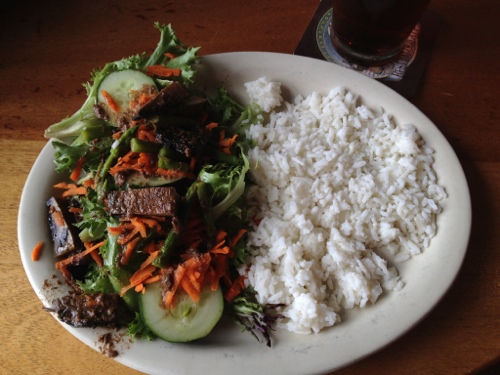 I had a Thai-inspired portobella and asparagus salad with coconut rice, which was — surprisingly — vegan and tasty, though nothing to really write home about. Service on this visit wasn't stellar, but since Jon and I hadn't seen each other in six years and had a lot to catch up on, this wasn't an issue.
They have great beer though.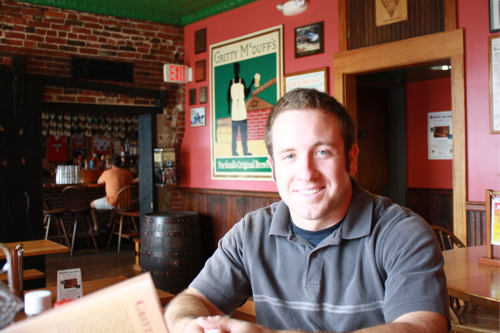 This is Jon at Gritty's.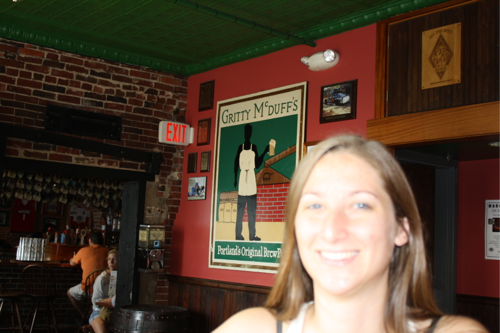 This is me at Gritty's. I think we can tell who's a better photographer.
Wedding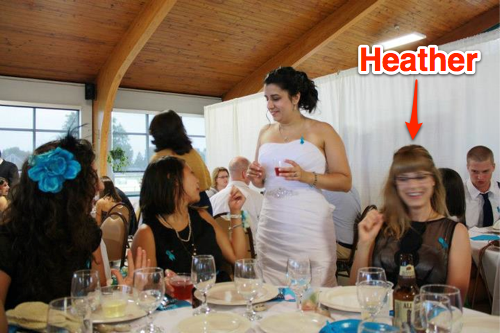 At the wedding, I talked with Heather, a Portland vegan seated at my table, who says it's not hard at all to eat a plant-based diet in Maine. Jon's family has a deer-huntin' gun propped up in every corner of their house, so I was skeptical, but there are enough hippies in the state that it comes as no surprise. I never had any issues eating vegetarian when I was in school.
The tempeh skewers Diana and Ben served were awesome. I wish I had taken a pic of those skewers. And a better pic of Heather.
Local Sprouts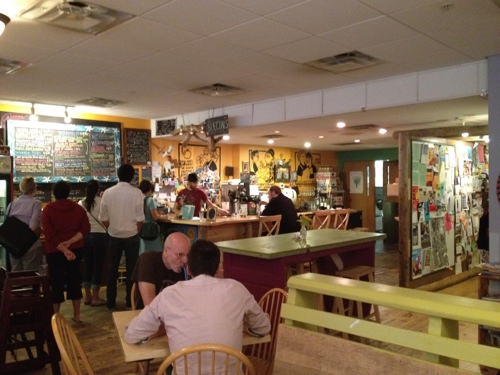 Jon dropped me off in the Old Port the next morning, and I hit up Local Sprouts for a vegan BLT and coffee. They need to use a soy milk that won't coagulate in a cuppa Joe, but the selection of vegan offerings — baked goods, sandwiches and vegan mac and cheese — was impressive.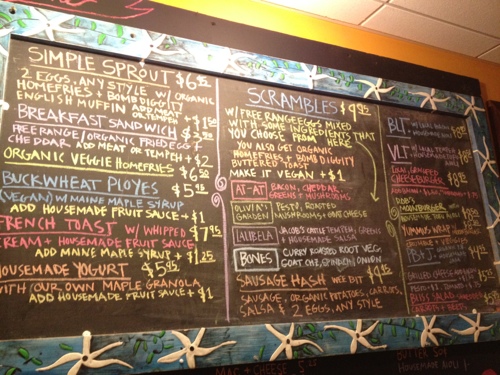 Part of the menu! There was another board below this. As you can see, a number of vegan offerings.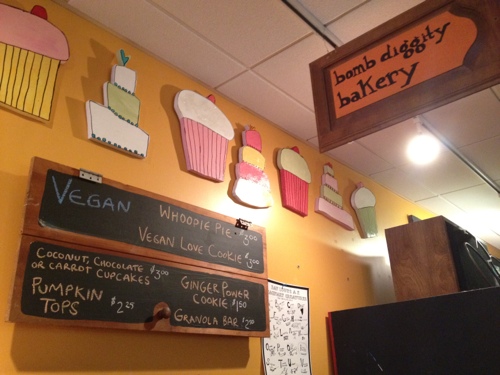 Whoopie pies are a very Maine dessert, but they didn't have any that fated Sunday morning.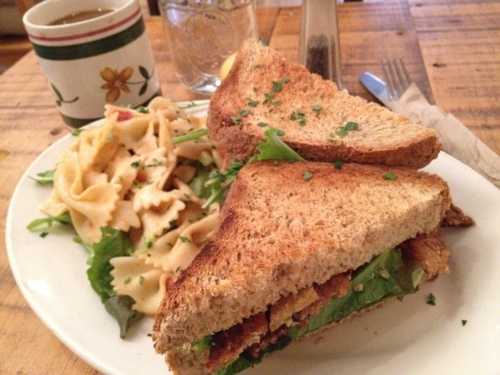 My VBLT on thick homemade bread was delicious.
Little Lad's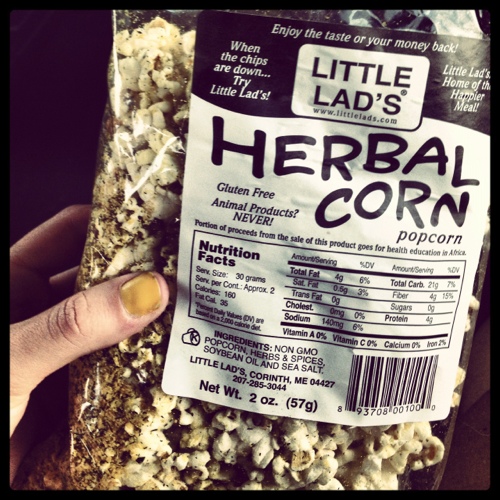 Little Lad's makes the most amazing snack on the planet: herbal popcorn — the massive bag I bought of it (not the one displayed — I bought a snack-sized one for the bus and a gargantuan one to take home with me) served as a conversation starter after I returned to Boston. ("You don't have popcorn where you're from?" "Hey! Girl! Gimme some of that popcorn!" "I love a sexy lady like you who loves popcorn." — I made that last one up, but the other two comments were real.)
Little Lad's also serves sandwiches and a $4.99 vegan buffet and has other snacks, though I wasn't wild about the carob chip cookie I bought there — I guess the idea is that you toast it, and I scarfed mine down on the bus, untoasted, so I can't really comment fairly on its deliciousness.
Portland, Oregon

Portland, OR is a painfully hip town. What always strikes me is how clean everything is, like the whole town is one big movie set or front for drug operations. Even Twilight Cafe, this super shady bar on Powell where I saw a former coworker's metal band play, is spic and span.
Bye and Bye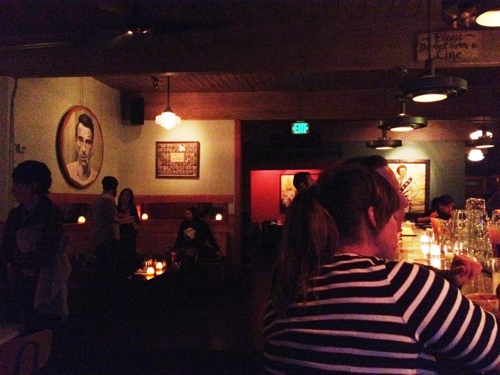 I partially picked the hostal that I stayed in (The Inn Alberta Arts — awesome place) for the proximity to a number of vegan establishments, including the Bye and Bye. (The other reason I picked it because it was either that or a hotel — my hostel of choice was booked. AirBnB to the rescue!)
There's a bit of a Southern daredevil vibe to the place, a decent beer selection and innovative cocktails, and great vegan bar food. All the pretty boys at the Bye and Bye have mustaches, as all pretty boys should.
The staff here was super friendly despite the cool atmosphere — Abraham the bartender told me his grandmother was a Helen, and he and I bonded over our out-of-date first names. 2000 B.C. whaaat!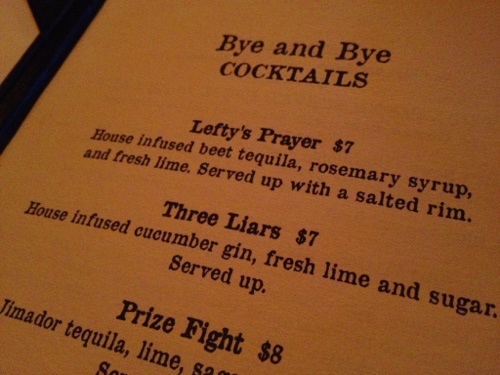 I ordered the Lefty's Prayer, which was much less weird than it sounds and kinda like a margarita for the urban farming crowd — very pink and beety, but in a good way. I've had beet drinks before that haven't worked (I'm looking at you, Elysian beet beer), but this cocktail went down nicely.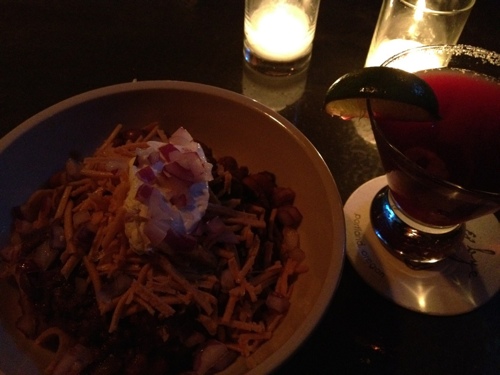 For food, I went with my gut and ordered the Chili Pie, which was a big ol' pile of Fritos smothered in chili, vegan cheese, red onions, and fake sour cream. I didn't think I'd eat it all, but, surprise! I did.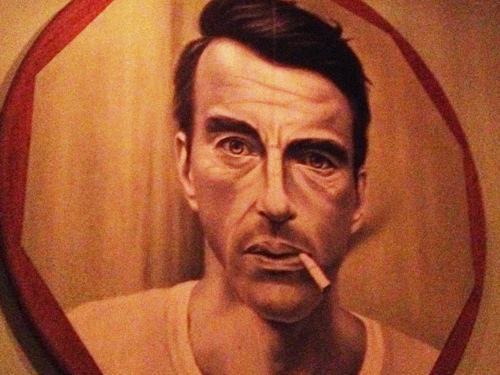 Well, hello, weathered yet still attractive painted man. May I have a drag of that cigarette? And maybe a dance? No? Oh. Okay. I'll just go back to my hostel.
Sweet Hereafter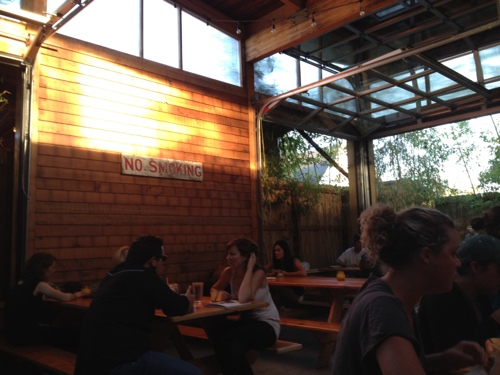 Sweet Hereafter is the Bye and Bye's sister bar, and I adore it. It's right by the Hawthorne hostal — you're never far from a Portland vegan watering hole if you travel cheaply.
I don't really have anything different to say from my trip last year.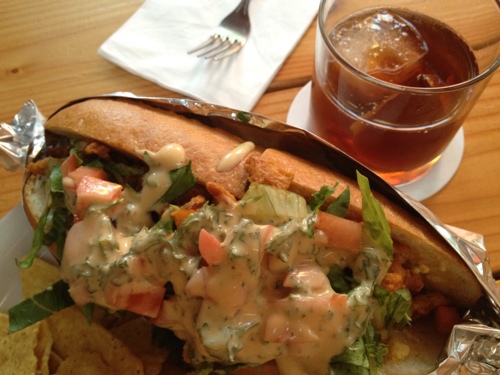 The Buffalo sub is still my favorite sandwich on earth,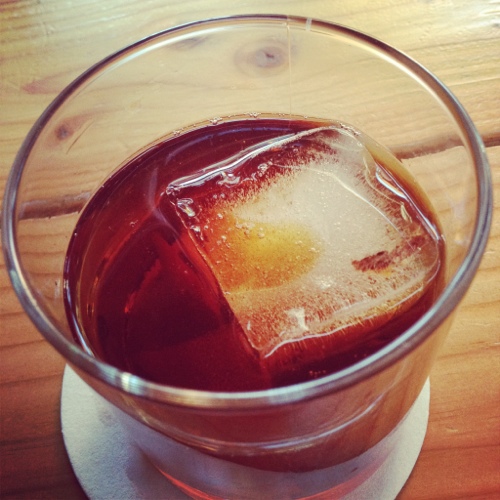 the ice in the cocktails is still very large and cubical,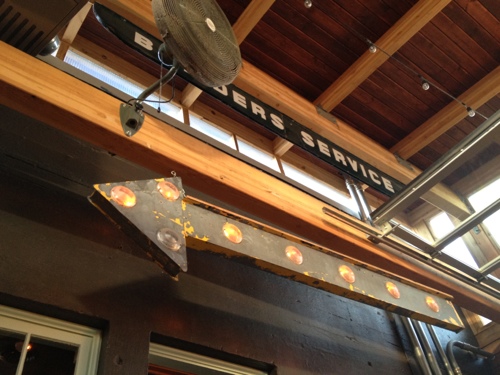 the patio is still super chill, with that whole "I went to college but am totally blue collar — until I go to law school" Portland vibe (which is very similar to the "I have lots of piercings and tattoos so you won't know I'm from a good family on the East Coast" Portland vibe),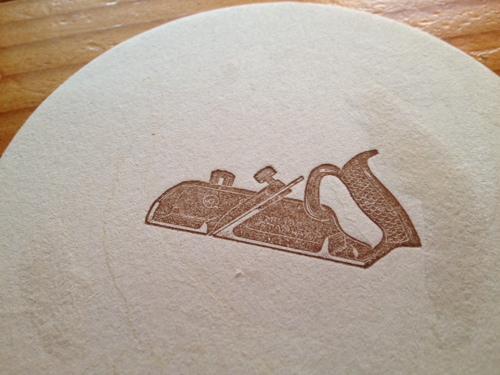 and the coasters still modestly letterpressed.
When I played pool with Brian, the old coworker I previously mentioned/an omnivore, and his girlfriend before catching my train on Sunday, he said he really likes Sweet Hereafter. So, it's a vegan bar that's not just for vegans! Yay! This actually makes for amusing times — I listened to a lively conversation between a passionate vegan and a non-vegan on SH's patio that went something like this:
non-vegan: Dude, I eat a lot of meat. I'm a carnivore

vegan: you're an omnivore.

non-vegan: no, dude, I'm a carnivore.

vegan: dude, you're drinking beer. Beer is from plants. That makes you an omnivore.
Ahhh, I do love an intelligent debate.
Back to Eden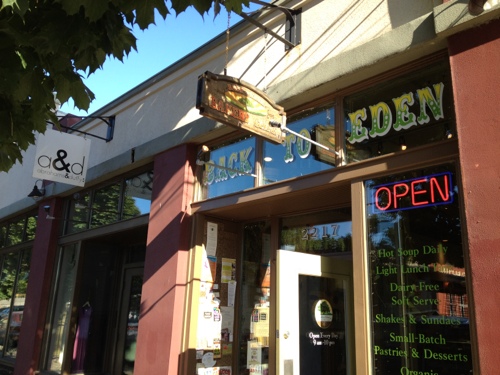 Back to Eden is known for their vegan softserve and gluten-free baked goods, but it was much too early for ice cream when I went there at exactly 9 a.m. on a Friday morning, post-run. (Yes, exactly 9 a.m. — my unintentionally precise arrival did not win friends with the hostess.)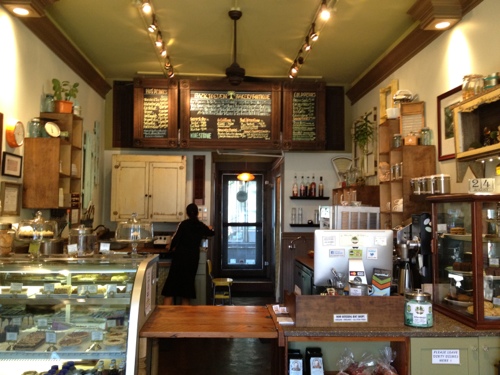 Back to Eden is a cute little space with a nice little selection of baked goods — just enough variety to be interesting, but not enough to be overwhelming. (Vegans are so used to having few choices that some of us shut down when faced with too many options.)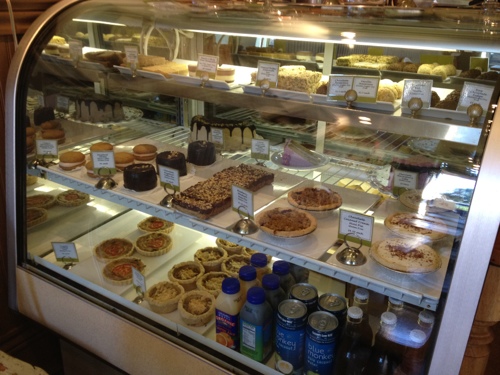 After staring at the beautiful baked goods, I bought some of the peanut butter fudge for later (I wanted to eat it then, but I do have some dignity).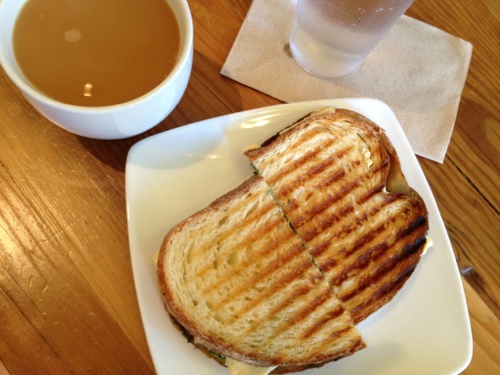 For breakfast, I ordered coffee and some sort of pesto, spinach, Tofurky and Daiya panini (yeah, yeah, probably about as much of a breakfast dish as ice cream, but I can't do sweet things in the morning), which was oh-so ooey gooey and savory-delicious.
Grilled to perfection, with the slightest bit of green for health. Yum.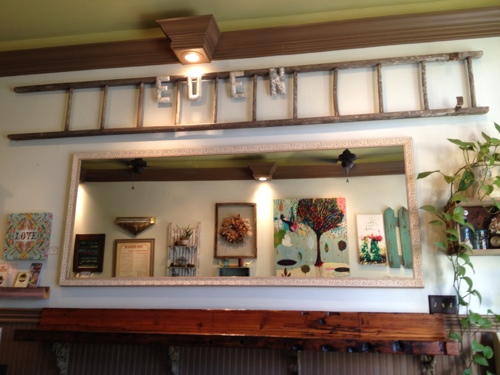 The decor is serene and garden-themed — a lovely, relaxing spot to eat. I read the Portland version of The Stranger and checked Instagram while blissfully nom-ing my food.
Hot Lips Pizza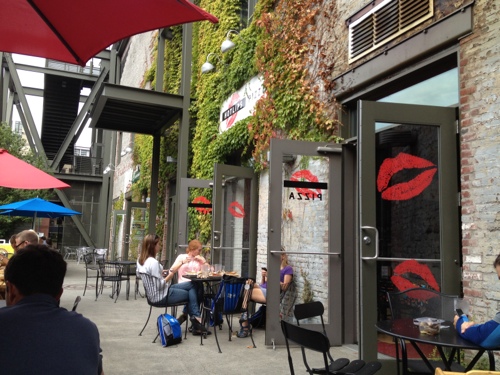 It took me several tries to find the Pearl District Hot Lips, mainly because it's hidden in the Ecotrust building. (The Hot Lips website says, "Who doesn't love hanging around the Ecotrust building?" Me, that's who. WTF is the Ecotrust building?)
But, find it I did, and was rewarded with the spiciest slice (errr… two slices. I got a beer too. THIS IS A JUDGEMENT FREE ZONE, OKAY?) of cheeseless pizza ever. If bread, sauce and veggies aren't your thing, Hot Lips does offer a number of pies with Daiya.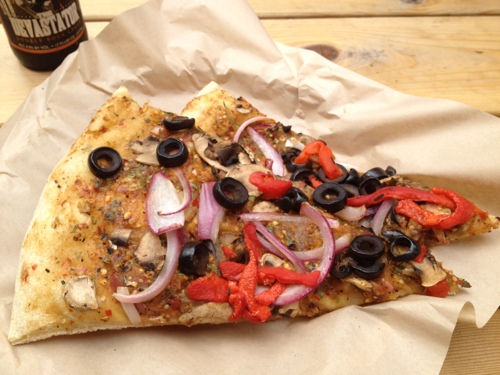 So, yeah, those were my two big summer adventures. Good times! You visit any Portlands this summer?
first image from images by ambhaims (l) and sbfisher (r) via Flickr Creative Commons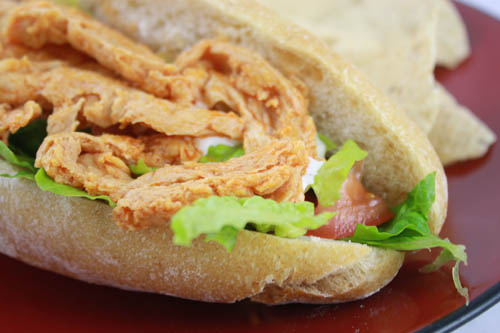 Another Portland-inspired post.
The Portland Hawthorne hostel, where I slept and showered and did very little else during Vida Vegan Con, is dangerously close to Sweet Hereafter, an all-vegan bar with a small but solid menu and killer drinks.
You should go there, if you haven't been. Hop a plane, if you need to.
Having heard of the wonders of soy curls (but never tried them), I ordered the buffalo sub — tangy, sauce-smothered soy curls paired with chive miso cheese and ranch dressing topped with lettuce and tomato on a large baguette. I've written about this sandwich before.
And thus commenced my obsession with buffalo soy curls.
Ms. Jess Scone of Get Sconed! wrote about Sweet Hereafter's Buffalo Sub last month, which proved very helpful when recreating the flavors.
Jess says that soy curls are soooo three or four years ago (maybe to you, Portlanders!), though to many of us, they're pretty recent additions to our vegan lives. Sure, I've had an unopened bag in my pantry for nearly two years, but I haven't seen them much around town (other than finally realizing that the chiggun strips at Highline are soy curls) and have been strangely intimidated by them up until this point.
Soy curls are actually insanely simple to prepare, meaning they'll be making future appearances on this blog.
Buffalo sauce is also easy to make (just hot sauce and buttah), and pretty disgusting, as it turns out — a lot of oil goes into it. A lot. But it's ohhhh soooo good. Somehow, all of that grease tempers the spiciness of the hot sauce into silky, still-pretty-spicy deliciousness.
So, these elements, along with generous amount of a chive-y homemade ranch dressing (since there's no way I'm even going to attempt the chive miso cheese of the original), make for an almost perfect (but not quite) recreation of the Sweet Hereafter buffalo sub.
Pair with corn chips and an under-absinthed Sazerac for the full Sweet Hereafter effect.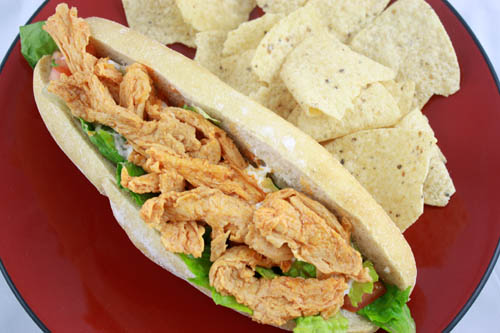 Buffalo Sub
makes 1
Ingredients:
1 demi baguette or bahn-mi roll
1/2 cup dry soy curls
Buffalo sauce
pinch salt
chive-y ranch dip
chopped romaine (2 leaves)
chopped tomato
Instructions:
Soak soy curls in hot water for 10 minutes; drain and squeeze out excess water — you want to open up room for sauce.
Heat soy curls in a small pan with 3 tbs – 1/4 cup buffalo sauce and a pinch or two of salt until warm.
Flay demi baguette lengthwise, making sure halves remain attached. In center crease, add soy curls, dripping extra sauce over, and top with a couple dollaps of chive-y ranch dip, a bed of lettuce, and some chopped tomatoes. I did it in reverse in my picture to highlight the beauty of buffalo soy curls.
Eat. Finish it. Act surprised about finishing it. Lapse into food coma.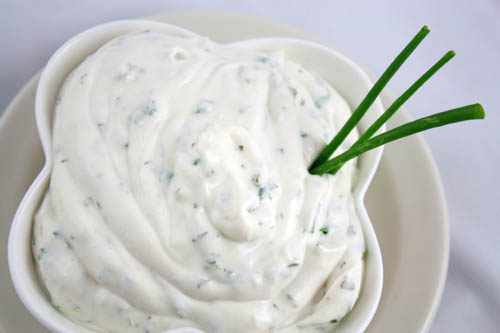 Chive-y Ranch Dip
Adapted from Meet the Shannons' ranch dressing, with a hat tip to the Pioneer Woman Cooks on the chives.

Ingredients:

1/2 cup reduced-fat Vegenaise
1/2 cup Vegan Sour Cream
1 tsp dried parsley (or fresh — I just can't stand fresh parsley.)
1 1/2 TBS chopped chives
1/4 tsp salt
1/2 tsp garlic powder
a few dashes celery seed
a few dashes of dill
a few dashes black pepper
Instructions:
Mix all ingredients in a small bowl. Dunk things in it. Spread it on stuff.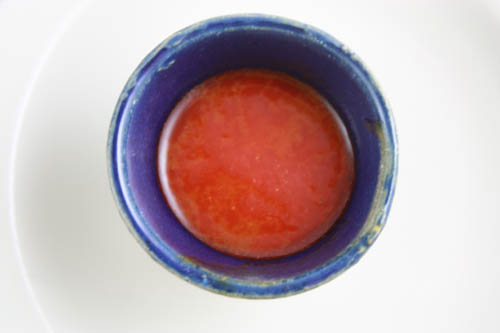 Buffalo sauce
Ingredients:
1 stick Earth Balance
1 cup hot sauce*
Instructions:
Melt Earth Balance and hot sauce together in a saucepan. Pour over everything. Try not to think about how much oil is in it.
*Frank's and Crystal (I used the latter) are the Internetz' recommended brands, though I had this crazy idea while eating pho the other day to maybe use Sriracha next time.
Portland is to vegans what Bangkok is to pervs: a mecca. Only instead of underage prostitutes, Portland offers a plethora of tasty vegan dining, boozy vegan drinking, and materialistic vegan shopping, because, hey, no sales tax.
The Rose City has a reputation for being the hippie little sister of Seattle (Wikipedia says it has 583,776 residents, making it only slightly smaller than Seattle's 600,000+) but it really feels more like an oversized northern Northern California town: friendly and still a little rustic, despite its cosmopolitan attitude.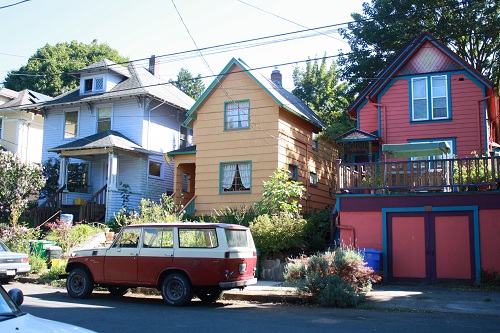 I was down there for Vida Vegan Con this past weekend (note: this is not my official Vida Vegan Con wrap up post — that's coming later this week), and found Portland to be very bike friendly, both in attitude and in landscape — it's relatively flat in comparison to Seattle. I recommend either renting a bike or bringing one along; Amtrak allows you to bring a bike (for an extra $5), and I happily pedaled through the city on mine.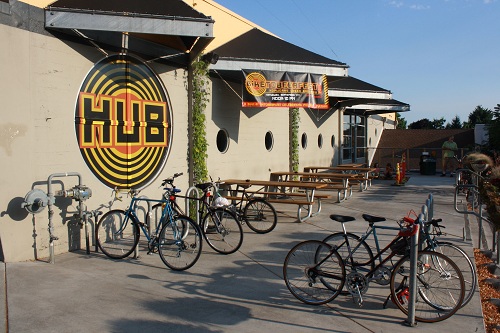 Portland has a reputation for being very tolerant ("keep Portland weird," man!), and it probably would have been even weirder had Burning Man not taken all the raver kids down to the desert on the same weekend as my visit. This didn't stop me from seeing a small child with dreadlocks, about a million interesting tattoos, some crazy bikes and a coyote, which kinda freaked me out because I was on my bike, with lots of flesh exposed to canine carnivore teeth.
It's a cool, hip city, and the people who live there know that it's a cool, hip city, and therefore they are cool and hip, and this self-consciousness somehow makes it a little less cool and hip (though it's still pretty cool and hip).
But I had a really really really good time and would probably move down there in a heartbeat (I mean, if I had a valid reason to) so that I too could be cool and hip and eat amazing vegan food all day.
And on that note, on to the amazing vegan food.
Subscribe by email:

Topics

Reading List

resources

cruelty-free shopping

МИР ЯВЛЯЕТСЯ ВЕГАНСКИМ! Если ты этого хочешь.