Posts Tagged 'parsnips'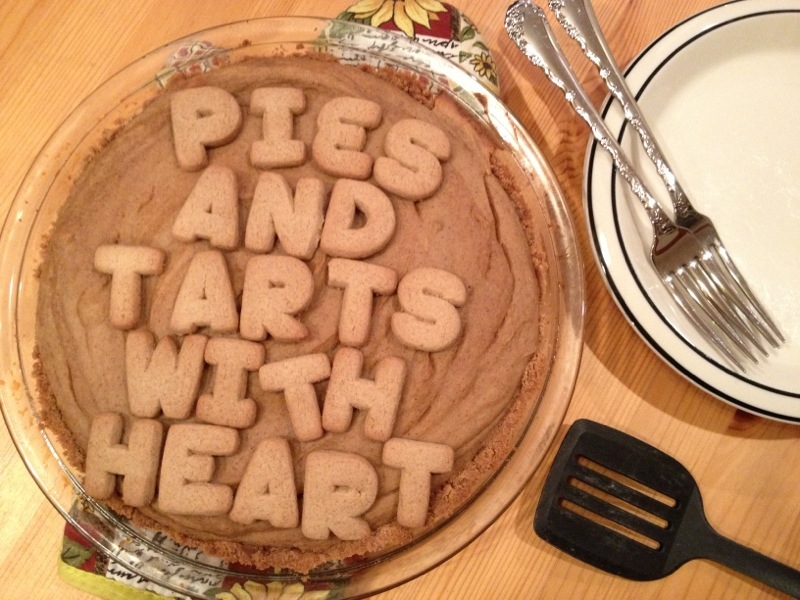 So you know how I mentioned Jameson's and my pie fail? Well, we turned that pie frown upside-down and created an overwhelming pie success.
Jameson received a copy of Dynise Balcavage's fantastic Pies and Tarts with Heart, and gave me three choices: pumpkin, sweet potato, or parsnip pie.
Parsnip? Sounds weird. Heck yeah!
We split the shopping. Jameson still has a little bit of parsnip PTSD from this super chatty chick at the Broadway Farmer's market who would. not. stop. talking. about parsnips, while I found Trader Joe's Cinnamon Schoolbook Cookies to be a decent vegan crust option — the recipe calls for vegan gingersnaps, which I could not find, so we added a bit of powdered ginger to increase the spiciness. I bet TJ's Speculoos cookies would make a delightfully decadent alternative.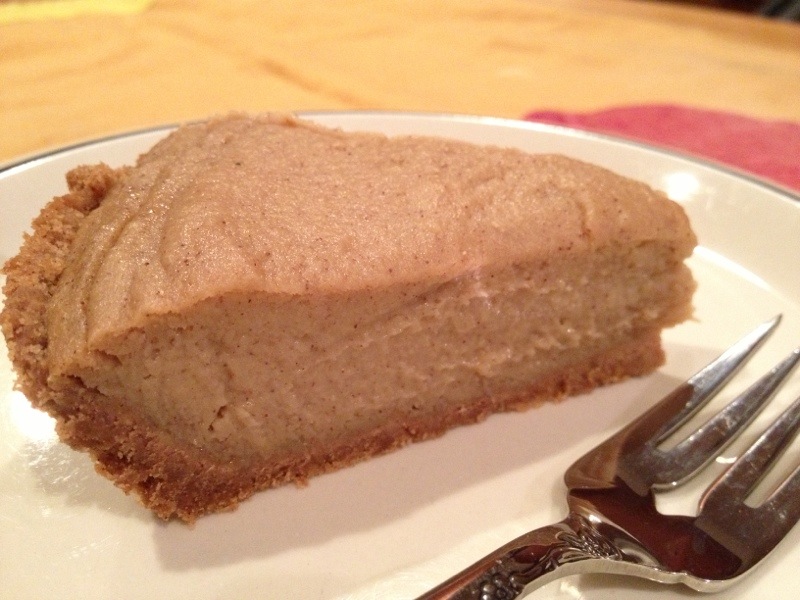 The photography in Pies and Tarts with Heart is beautiful, but I think that this is the first time that my version of the recipe actually looks better than the book's (the actual pie itself, not my gross blurry yellowy crappy lighting iPhone photos); Dynise's version is a little chunky, while when smoothly pureed (as we did) the filling is gloriously silky.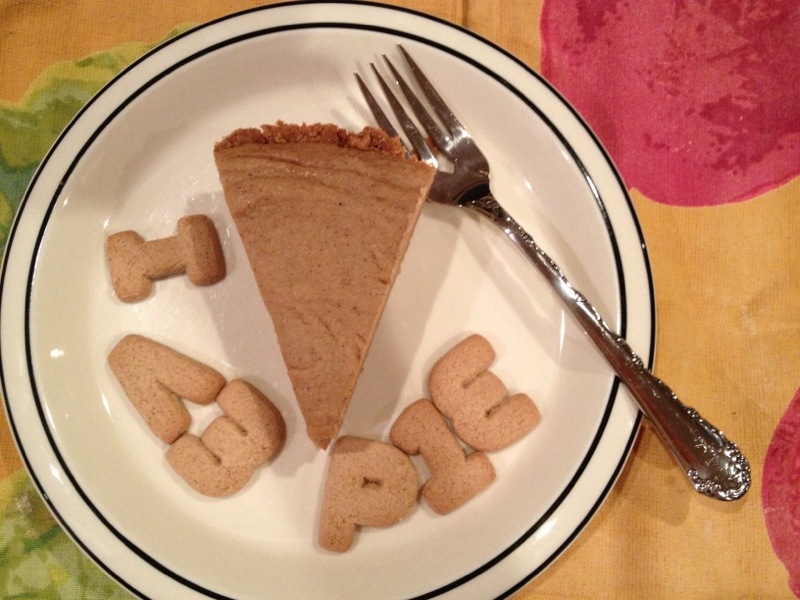 We ruminated on all of the different possibilities that one can take with this pie. Sub out the cookies for saltines and make a savory version with caramelized onions? Add some dried cranberries for color or candied pecans for crunch? The possibilities are endless. The parsnips are constant.
The parsnips add a slight hint of earthiness to an otherwise decadent experience — this pie is the new millionaire who's still a country boy at heart; you can put some fancy clothes on him and give him the keys to a fancy German car (and I ain't talking Jetta) and stick him in a luxury condo, but he still enjoys rustic pleasures like Budweiser and cowboy boots and treating a lady right. I'm not entirely sure whether we're still talking about pie or the 50+ erotic novel that I'm about to write.
Umm, pie. right.
Despite the sweetness radiating from every custardy bite, it's a health food compared to other pies gracing your autumn table — the filling is mostly parsnips and tofu instead of your traditional egg and condensed milk variety.
The other recipes in the book look equally delicious. I haven't cooked any of them yet, but I've drooled a ton over the cheeseburger pie, the "yo rocky" road pie, frozen grasshopper pie, and so many others. At first, I was all, "how many different pie recipes do you really need?" but Dynise's variety of crusts, from traditional to exotic potato-based delicacies like hashbrowns, and styles make you want to buy another pie plate (I totally did — thanks, Grocery Outlet!) and eat (n/360)πr2 after (n/360)πr2 (where n is the number of degrees in the central angle of the sector — get it? A wedge?) of pie, glorious pie.
Jameson brought over some fortified wine leftover from another article for us to sip with our pie: a dry Madeira, a sweet Madeira, and a port. I was a newbie to all of them, and found them to be quite drinkable and similar to vermouth: the port and sweet Madeira were sweet and smooth, while the dry Madeira would make a nice compliment to green olives in a Martini glass. Maybe?
But then Daniel forever ruined Madeira by introducing me to the song above that apparently his mother used to sing to him as a kid. Looking back as an adult, he agrees that was a little weird that his mom would sing ditties about date rape to her child.
Have some Madeira, m'dear.
Surprisingly Sweet Parsnip Pie
Thanks to Dynise for letting us publish this!
Makes one 9-inch (23 cm) pie
Ingredients:
1 All-Purpose Cookie Crust made with gingersnaps (see below)
2 pounds (908 g) parsnips, peeled and cut into 1-inch (2.5 cm) chunks (about 4 cups [520 g]
parsnip chunks)
1 (12-ounce, or 336 g) box aseptic-packaged tofu (do not use refrigerated tofu; it is too
grainy for this recipe)
1/2 teaspoon salt
3/4 cup (170 g) packed light brown sugar
1 teaspoon cinnamon
1/2 teaspoon ground ginger
1/4 teaspoon nutmeg
1 teaspoon vanilla extract
Instructions:
Preheat the oven to 425°F (220°C, or gas mark 7). Prepare the cookie crust and press into a pan. Refrigerate until the filling is ready.
Boil the parsnips until soft, about 15 minutes. Place in a large bowl and mash until creamy.
Blend the remaining ingredients in a food processor or in a blender until well incorporated, then add the parsnips and process until smooth-ish and well combined. You'll need to scrape down the processor every now and then.
Pour the filling into the crust, leaving 1/4 inch (6 mm) of space to the crust edge. Bake for 15 minutes, then lower the heat to 350°F (180°C, or gas mark 4) and bake for 30 to 35 minutes, until the pie top is golden. Refrigerate for at least 4 hours before slicing.
All-Purpose Cookie Crust
Makes one 9-inch (23 cm) crust
Ingredients:
11/2 cups (150 g) crumbs from dry vegan wafer cookies or graham crackers (try chocolate, gingersnaps, lemon snaps, animal crackers, or just the tops from Oreo-type cookies minus the creamy filling; you'll need about 3 cups [150 g] cookies or crackers to get 11/2 cups [150 g] crumbs)
1/4 teaspoon salt
4 tablespoons (55 g) margarine
1 teaspoon vanilla extract
Instructions:
Whiz the cookies/crackers and salt together in a food processor until very powdery and fine. Add
the margarine and whiz again. Press into your pie pan. That's it!
If you need to prebake, bake for 10 minutes at 350ºF (180ºC, or gas mark 4).
Subscribe by email:

Topics

Reading List

resources

cruelty-free shopping

МИР ЯВЛЯЕТСЯ ВЕГАНСКИМ! Если ты этого хочешь.