Posts Tagged 'Loving Hut'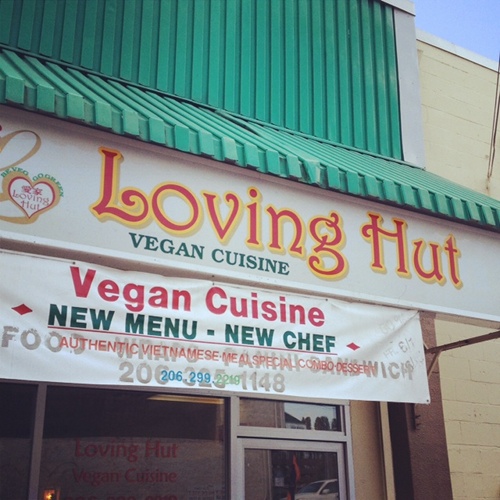 Rock climbing seems to be a pretty hot activity in Seattle right now — quite a few people I've met randomly recently climb. Even my college friend Ben has traded his viola for ropes and harnesses, as I learned on his recent visit.
I never thought I'd embrace the idea of using physical strength to defy gravity, being both loris-armed and somewhat afraid of heights, but I visited the Seattle Bouldering Project with a coworker recently and am now hooked — there's something about overcoming the challenge of a scaling a wall that gives one great satisfaction. There's also a social element that I haven't quite tapped into.
My brother has been climbing for years and introduced me to the sport in 2010, but until SBP opened last year, there wasn't really a convenient location to consistently climb — Stone Gardens in Ballard is a fun afternoon (energize with goodies from Wild Prairie, maybe?), but a trek from Capitol Hill.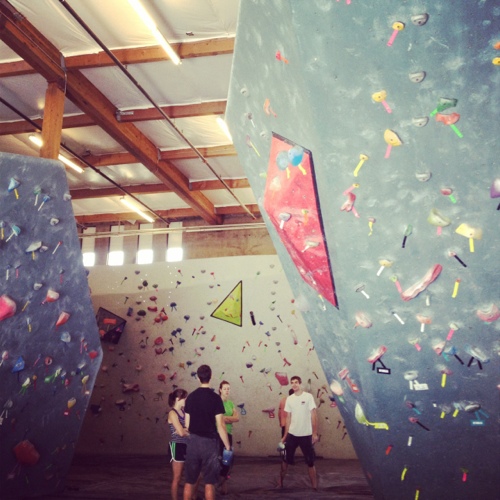 Climbing at SBP makes for part of a really nice Saturday outing by bicycle: coast down to Ranier (wheee!), work up a sweat on the walls, go shopping across the street at Goodwill, and then bike around the corner for lunch/dinner somewhere in the ID. (Uhhh, and then pedal your stuffed, exhausted, over-thrifted self home up to the Hill.)
VegNews has been talking up Loving Hut for ages, and while I've walked past their Palo Alto and San Francisco locations, I never ventured in to the Seattle Loving Hut on S. Jackson and Rainier until I started bouldering — it's right on my way home.
Every Loving Hut has a different menu, allowing a somewhat individual experience across the franchise. Compared to, say the San Francisco menu, Seattle's seems a little weak, but nevertheless has a decent selection of vegan Vietnamese food and a few American-style sandwiches. Here's what I've tried across three visits (two on Saturday afternoon, one on a Thursday evening).
Golden Tofu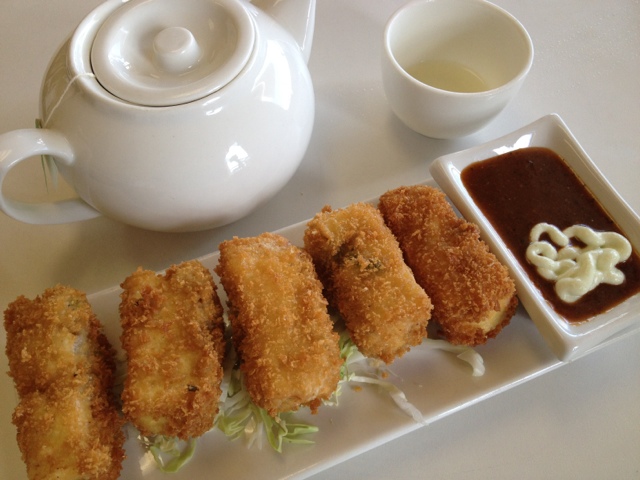 This appetizer has a crispy outside and soft tofu inside and hints of scallion, with a peppery sauce drizzled with vegan mayo. A little bland, but nice texture. Hints of scallion. There's a bit of a chicken mcnuggety oil flavor, which is actually pretty nice — they're deep-fried, but not overly greasy. Delicious.
Veggie Wrap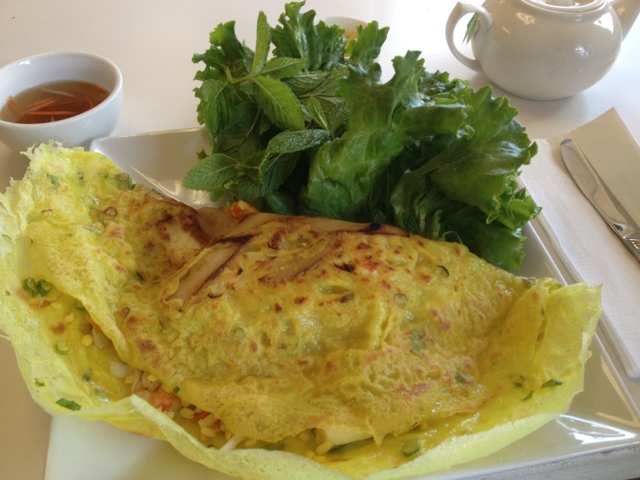 I was not into this. In general, I don't do fake shrimp, and this comes with tofu (good), fake ham (also good) and fake shrimp (blech). Also, the wrap, made from mung beans, has a flavor that didn't appeal to me. I don't really know how to explain it. I did really like the chewy texture and the dipping sauce.
Szechwan Strips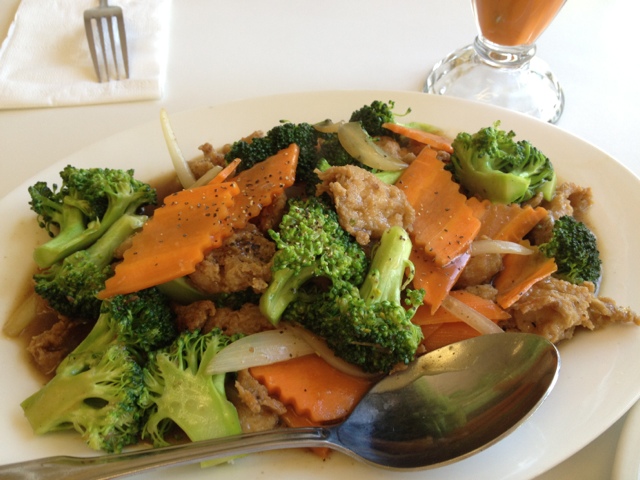 These were excellent! A light but flavorful sauce, with just the right level of saltiness. The wheat gluten achieves the perfect texture for seitan: not too soft and not too chewy, lightly fried around the edges.
Crispy Nugget Salad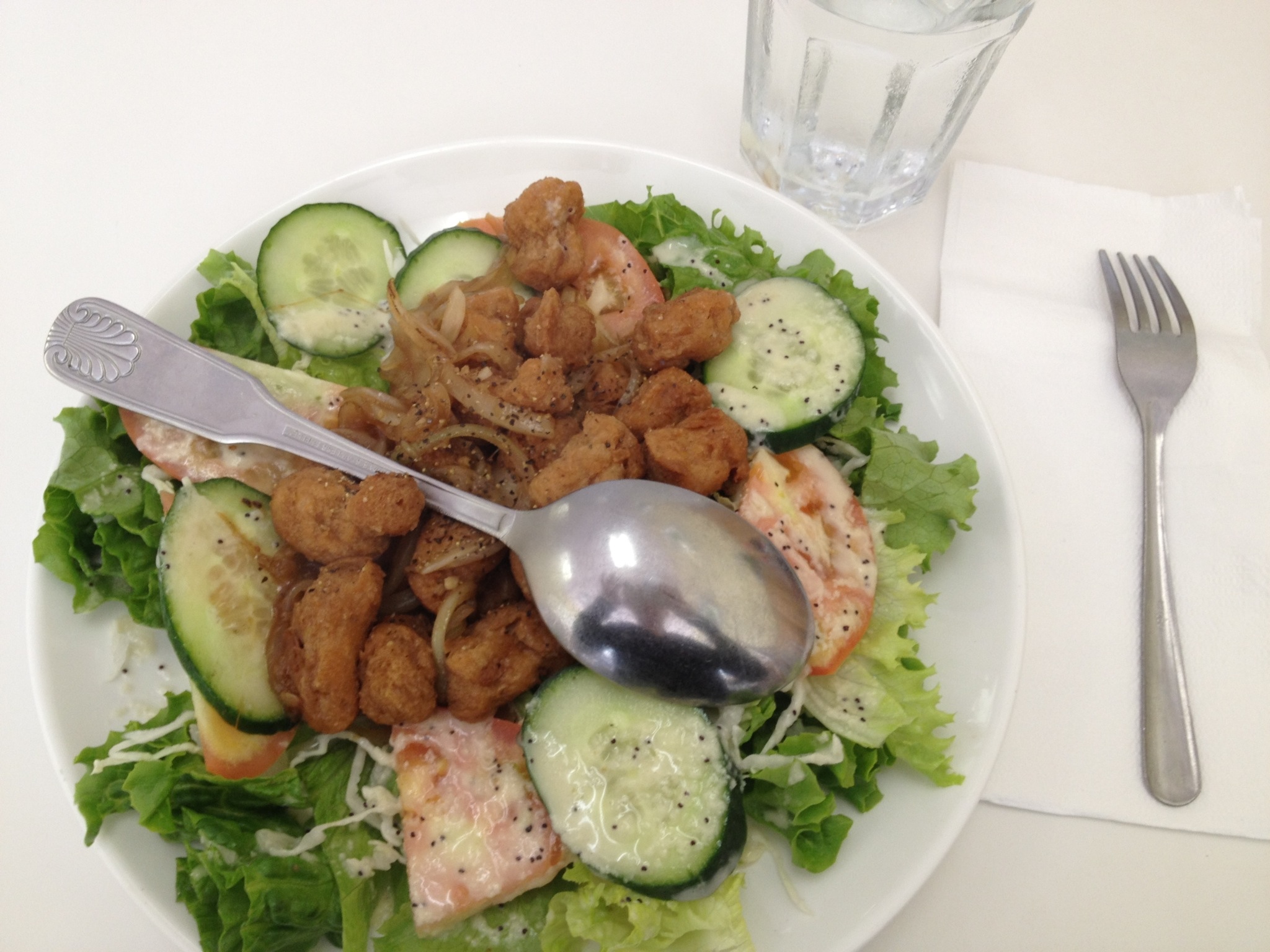 This was pretty tasty — fried soy protein chunks over lettuce, tomato and cucumber in a poppy seed dressing. I didn't pay as much attention to this as I might have. Explanation to follow.
Thai Iced Tea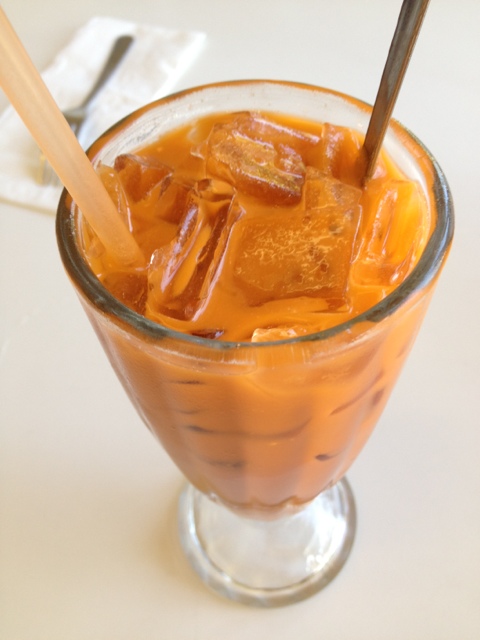 I love the jasmine undertones of Thai iced tea, but this was just too sweet for my tastebuds. I was super pumped to have Thai Iced Tea for the first time in years, but could only drink half the glass. Major bummer.
Takeaways
I generally liked the food at Loving Hut, but there are a couple of reasons that I have hesitations recommending the place.
First, Loving Hut is a cult. A tasty, tasty cult, but there's an element of weirdness nonetheless in the white bamboo furniture, closed circuit TV broadcasting Supreme Master Ching Hai's messages of love and peace, and vegan propaganda posters on the wall. I'm all about veganism, obviously, but pushing it so persistently totally skeeves me out — I'm already there; don't assume that I need convincing.
Second, and much, much pettier: on my most recent visit, the owners' daughter, an impossibly cute 7-year-old, asked me how my meal was before I had started, then proceeded to saddle up at the table and interrogate me with questions.
I'm not particularly fond of children (I know, I know, this makes me the worst person ever), and though she was super adorable, I really wished that she had just left me to enjoy the meal that I had broken my budget for (I paid a huge vet bill for Zeno recently, and meals out have become a luxury). Several staff members walked by and ignored our interactions until finally her father came over and shooed her away.
To me, this is a deal-breaker in a restaurant — it doesn't matter how good the food is: patrons should be able to sculpt their own dining experience without interruption. I get that it's summer vacation and all, but I'm not paying to be a babysitter.
However, I generally liked the food, there are a lot of dishes I still want to try, and at roughly $10 a pop, it's not a terrible indulgence. So, I'll go back with a friend who's a bit better at avoiding first-graders — and won't order anything that has fake shrimp.
Subscribe by email:

Topics

Reading List

resources

cruelty-free shopping

МИР ЯВЛЯЕТСЯ ВЕГАНСКИМ! Если ты этого хочешь.