Posts Tagged 'Food Empowerment Project'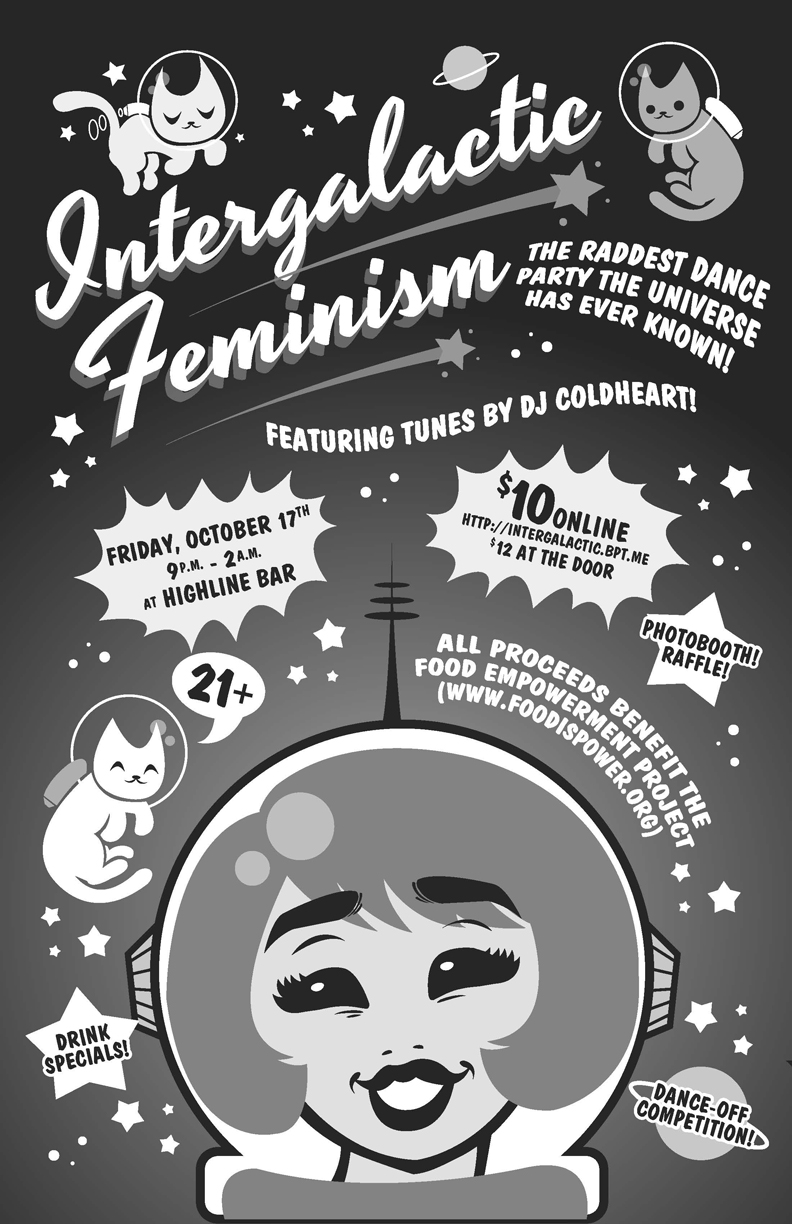 I meet once a month with a group of awesome ladies and a few awesome dudes to talk about smashing the patriarchy and other stuff over drinks and snacks.
We're called Feminist Drinking Club.
What does feminism have to do with a vegan blog, you may ask? Well, veganism is about the equality of all beings. Feminism is about the equality of all beings (mostly a focus on human beings, I guess, but really, all should be included). See?
In addition to drinking and eating and talking, Feminist Drinking Club sometimes also actively does stuff for women and animals.
On October 17, we present to you Intergalactic Feminism: The raddest dance party the universe has ever known! Shake your space booty all night to groovy tunes by DJ Coldheart (Mr. Peter Keller, for those of you who know him) while enjoying drink specials, a drawing with out-of-this-world prizes (including gift certificates from Hothouse, Seattle Cookie Counter, No Bones About it, and more!), a dance-off (ALL YOUR 80s MOVIE DREAMS CAN COME TRUE), and more.
Costumes encouraged (I'm wearing leggings with cats floating in outer space) and the best news: HIGHLINE WILL OPEN THEIR FULL KITCHEN FOR THE EVENT!! Because it is at a bar, it's 21+ only. Sorry, kiddos.
The best part? 100% of the proceeds benefit the Food Empowerment Project, a non-profit organization working to change the food system and aid underserved communities. It's really the whole package: bettering the world for animals, the environment, and people
Tickets are $10 in advance and $12 at the door (if it isn't sold out)!
PS: like the graphic? The wonderful Tammy at TBVC Design created it for the event. Go check out her work!!
PPS: the title of this post is an homage to a poem by an old dead guy and one of the greatest episodes of the Simpsons ever.
PPPS: GO TO THE DANCE!!!
Subscribe by email:

Topics

Reading List

resources

cruelty-free shopping

МИР ЯВЛЯЕТСЯ ВЕГАНСКИМ! Если ты этого хочешь.