Posts Tagged 'Czech'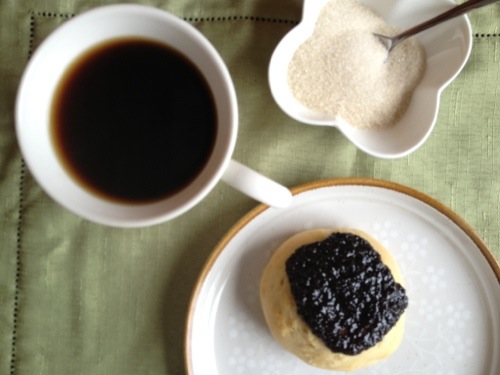 My last name is Pitlick (pit-lick), which is Czech for "scrotum." Yup, hard to believe that it's even worse in its native tongue.
Technically, it should be spelled Pitlyk (or was it Pytlik?), is pronounced peet-leek, and is the diminutive form of the word "bag" or "sack," literally translated as "little sack." Which, of course, colloquially means… scrotum.
Now that we have that out of the way, the only other reminder in my life of my Bohemian heritage are kolaches.
If you're Czech or Texan, you are well aware of kolaches. Kolaches are sweet buns filled with jam or poppy seeds. Texans make savory versions too. Weirdos.
My dad would bake these every once in a while when I was a kid with jam from our apricot tree. I highly doubt his Czech dad made them for him while he was growing up — he confirmed that the recipe he used come from an aunt.
However, when I asked him for her kolaches, he forwarded me an email from a few-times-removed cousin with a couple of recipes from a cookbook, which I combined to suit my own needs.
This version takes much less time to make than I recall, but time passes differently to a child. My dad would add a streusel stopping to the jam, which is delicious but unnecessary.
Vegan Kolaches
Ingredients
2 cups lukewarm non-dairy milk
2/3 cup sugar
2 packages dry yeast
1/3 cup oil
1-1/2 teaspoons salt
6 cups flour, divided
1 can poppy seed filling or jam of your choice
Instructions
Add sugar to lukewarm milk and stir in yeast in a large bowl. Let sit for a few minutes until foamy.
Stir in oil, 3 cups flour, and salt and mix until combined. Stir in remaining 3 cups of flour.
Shape into small balls and place on a greased baking pan about 1 inch apart. Let rise until more or less doubled in size.
Press down centers with your thumb and fill with desired filling.
Let rise again and bake at 350° for 15 – 18 minutes.
Subscribe by email:

Topics

Reading List

resources

cruelty-free shopping

МИР ЯВЛЯЕТСЯ ВЕГАНСКИМ! Если ты этого хочешь.