Posts Tagged 'butternut squash'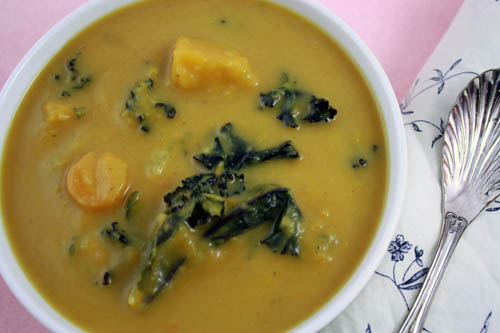 Soup, soup — sweet, simple soup.
This soup may exhibit the exotic flavors of coconut and curry, but it's really just hearty fall peasant fare: a bunch of orange veggies blended together with some purple kale, which ends up looking sort of black when cooked, which would have made it perfect for Halloween, which has now passed.
Hindsight is 20/20.
Here's to Halloween 2012!
Curried butternut squash, sweet potato, carrot and kale soup
Ingredients:
1 sweet onion, diced
1 jumbo clove garlic (or two regular-sized cloves), pressed
Olive oil
1 sweet potato, peeled and diced
1 small butternut squash, peeled and diced
1 bunch small carrots (or a couple large ones), peeled and diced
6 cups water + 1 TBS un-beef broth (or 6 cups broth)
1 tsp curry powder
1/2 cup coconut milk
salt and pepper, to taste
1 bunch purple or green kale, chopped
cilantro, for garnish (optional)
Instructions:
Saute onions and garlic in olive oil until browned.
Add sweet potato, squash, and carrots and saute for a few minutes.
Add broth, coconut milk, curry powder and salt and pepper (to taste). Cook until veggies are soft.
Puree about 3/4 of the mixture with an immersion blender or in a regular blender; return to pot, if using regular blender.
Add kale and cook for a minute or two longer.
Serve with chopped cilantro (optional)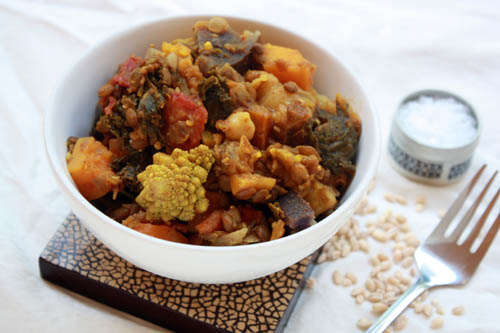 Fall is the best season for produce in Western Washington State.
Think about it.
Butternut squash. Kale. Fractal broccoli. Honey-f@%*ing-crisp apples.
Fall calls for warm, hearty fare, and this stew calls for all of the above. Except for apples — that would be weird. But you can eat apples for dessert after stew… yeah.
Yesterday, I wrote about rainbows — this stew is also a rainbow. Red tomatoes. Yellow squash. Orange carrots. Green kale. Purple potatoes. Other colors of other stuff.
Only (unlike the cupcakes of yesterday's post) this stew is an all-natural rainbow, the kind of oil-free, soy-free, gluten-free rainbow that makes you want to hug your fellow man in a display of universal brotherhood while gently swaying and singing Kumbaya.
I don't really have a real recipe for it, but since it's day 20 of VeganMoFo and I am running out of VeganMojo, here goes.
Kumbaya veggie stew
Ingredients
1 small head romanesco broccoli, chopped
1 small butternut squash, peeled, seeded and chopped
1 bunch kale, chopped
1 eggplant, peeled and chopped
1 bunch baby carrots, chopped
A couple purple potatoes, diced
1 can diced tomatoes
1/2 cup-1 cup tomato juice
1 small onion, chopped
a couple cloves garlic, pressed
1 (1/2″) piece ginger, finely chopped
1 jalapeño, chopped (or more — Sriracha sauce is good too)
1 can garbanzo beans
juice of one lemon
2 tsp cinnamon
1 tsp ground cumin
1 tsp turmeric
1 tsp paprika
salt and pepper, to taste
1 cup dry lentils, rinsed
Instructions
Combine all ingredients except for lentils in a large pot over a medium heat.
In a separate pot, boil lentils and water until lentils are soft, about 20 minutes of boiling; drain and add to veggies.
Cook until all vegetables are tender, about 45 minutes.
Serve over rice, quinoa, barley, etc.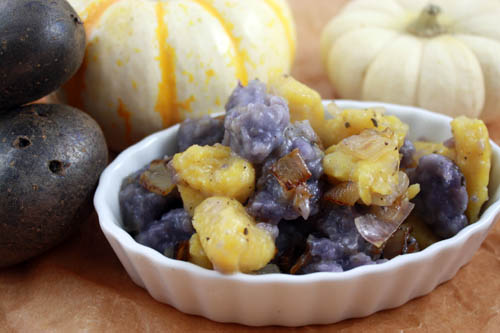 Bow Down to Washington,
Bow Down to Washington.
Mighty are the men who wear the Purple and the Gold,
Joyfully we welcome them within the Victor's fold.
We will carve our name in the Hall of Fame,
To preserve the memory of our Devotion.
College football season is upon us. My one coworker has promised to wear his Oregon ducks T-shirt every Friday, while my dad is excited that the inclusion of Colorado in the Pac 12 opens up new opportunities for sibling rivalry.
For undergrad, I attended a division III school voted by its own alumni as the 6th worst football program in the nation.
Therefore, I've adopted Washington as my NCAA preference. I got my master's there, David has his BA from there, and four of my aunts and uncles and one cousin also hold at least one UW degree.
I could personally care less about football, though I like it when my team wins — it's a fantastic way to arbitrarily feel good about one's life decisions.
Nothing says "Husky pride*" more than a dish made from Washington-grown produce, especially when said produce happens to match school colors: purple majestic potatoes and butternut squash turned into gnocchi.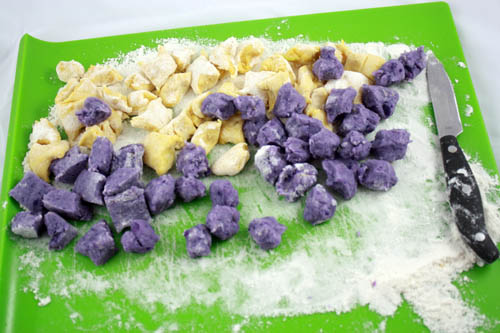 Gnocchi are a little tricky. You want to make sure that you have exactly the right measurements and tools or yours will turn out soft and uneven — sort of like mine did. Lumpy mashed potatoes are usually the best (how else can you tell that they're homemade?), but mashed potatoes for gnocchi need to be perfectly smooth — most recipes call for a ricer or vegetable mill for this.
I used Food.com's vegan potato gnocchi (with just salt and garlic powder for flavor) and sort of winged the butternut squash version: 2 lbs squash, steamed and mashed, mixed with 2 cups flour, 1 tsp salt, and 1/8 tsp cinnamon and nutmeg. It was a little soft and sticky still, so next time I'll follow a real recipe or add more flour.
Regardless, my gnocchi were still very tasty sauteed in chopped shallots, sage and Earth Balance.
Go huskies!
*This color combination will also work for LSU, the Minnesota Vikings, the L.A. Lakers, or any other purple and gold team. Or a unicorn-themed birthday party or something.

Subscribe by email:

Topics

Reading List

resources

cruelty-free shopping

МИР ЯВЛЯЕТСЯ ВЕГАНСКИМ! Если ты этого хочешь.