Posts Tagged 'brussels sprouts'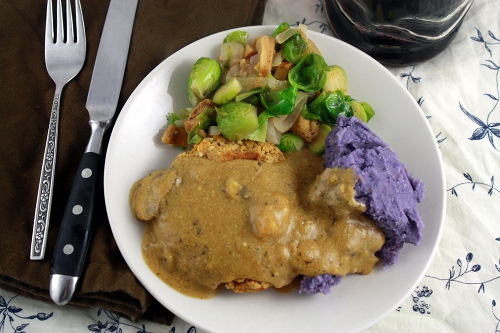 Stop eating your pinko commie hippie sprouts and chia seeds — it's time for something all-American: Veganomicon's chickpea cutlets topped with Blissful Bites' mushroom gravy, brussels sprouts sauteed with shallots and fancy mushrooms, and garlic mashed purple potatoes.
All-American with a hippie vegan twist, I suppose.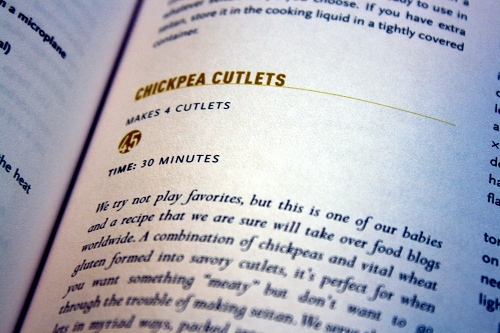 +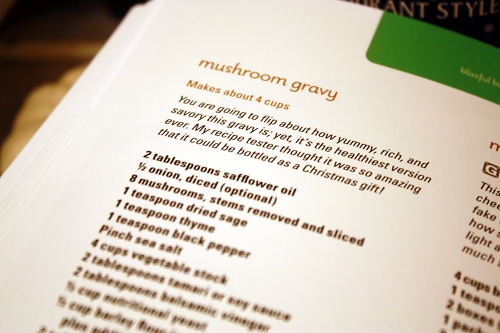 This meal tastes like what your grandma would have eaten, were she vegan. Maybe your grandma was/is vegan. Maybe I'm making judgements.
In full transparency, this post is a copycat of homage to what a couple of other vegan food bloggers have already done: Dawn of Vegan Moxie paired Veganomicon's chickpea cutlets with brussels sprouts and mashed (sweet) potatoes (virtual kick in the pants to try recipe taken!), and Marti, aka "Tofu Mom," is doing a mofo of gravy.
The chickpea cutlets and mushroom gravy are brothers from different mothers: hearty, savory and rich, though also pretty healthy. I baked my cutlets for extra health points, and I didn't notice the lack of fried after smothering them in sauce. They were chewy and dense, in the greatest way possible.
And the gravy. If I suddenly became part of that fringe subculture that entire episodes of popular crime shows are based upon, where skinny people feed chubby people gravy to fulfill sexual gratifications until someone ends up mysteriously murdered (I watched a lot of CSI a few years back), this is the gravy I would demand someone lick off me (or lick off someone), though because there's hardly any oil in this, they'd need to lick a lot of gravy to really fatten up.
If you haven't already, you should go over and visit Dawn and Marti's blogs. Since I have nothing further to say on the subjects of chickpea cutlets, brussels sprouts and gravy that they haven't already, here is a picture of some dahlias from yesterday's farmers market.
So much happy.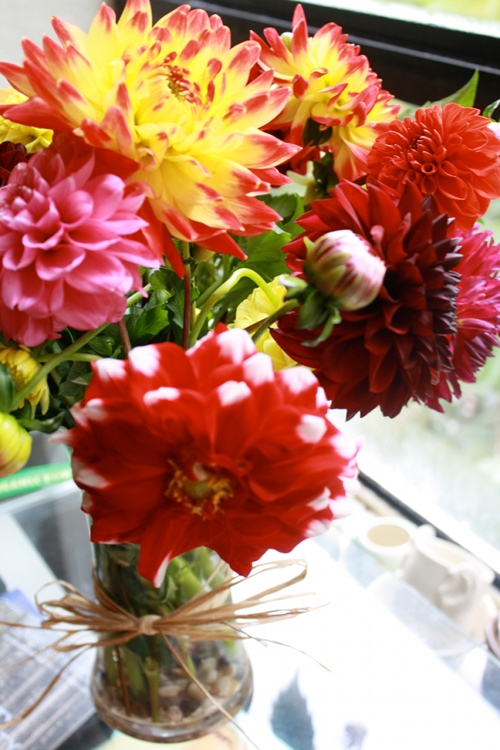 Subscribe by email:

Topics

Reading List

resources

cruelty-free shopping

МИР ЯВЛЯЕТСЯ ВЕГАНСКИМ! Если ты этого хочешь.