Posts Tagged 'bake sale'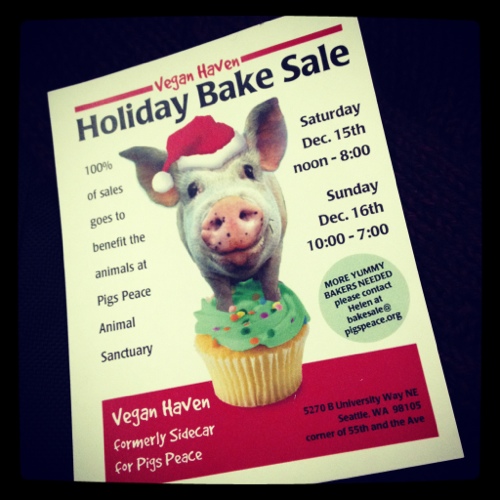 Vegan Haven (formerly Sidecar for Pigs Peace) is holding a bake sale this weekend: Saturday (December 15th) from Noon – 8pm and Sunday (December 16th) from 10am – 7pm. Joan designed the awesome flyer you see above!
I'll be there, pricing goodies (and hopefully not eating too many), so come say hi and pick up some festive sweets.
We also still need bakers! I already detailed the baking requirements, so email me at bakesale@pigspeace.org if you're interested in contributing.
All proceeds benefit the pigs at Pigs Peace Sanctuary in Arlington, WA. Go to the website, look at their faces, and then try not to whip up a few dozen cookies to drop off.
Subscribe by email:

Topics

Reading List

resources

cruelty-free shopping

МИР ЯВЛЯЕТСЯ ВЕГАНСКИМ! Если ты этого хочешь.