Posts Tagged 'Bake and Destroy'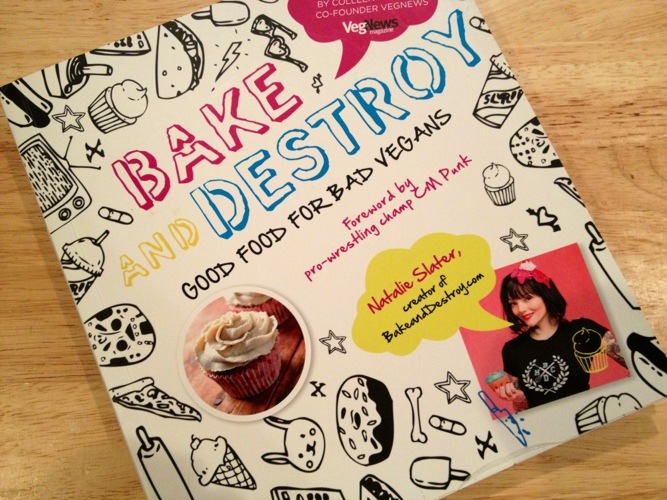 Natalie Slater of Bake and Destroy is definitely one of my biggest food blogging ladycrushes. She's beautiful yet tough, has great style, and comes up with the awesomest vegan dishes (Doritos encrusted tofu, anyone?). Plus, she named her son Teno, which rhymes with Zeno, and y'all know how much I love my Zeno. Also, my childhood cat was named Natalie, so there's that too.
Basically, I love her because she cooks badass food and reminds me of various cats.
CATS.
Anyhow, a while back, my friend Jameson Fink approached me with a proposition (not as shady as that sounds): he had received a copy of Natalie's new book (also called Bake and Destroy) from the publisher, and suggested that we bring our blogs together for vegan meal paired with wine. Jameson writes Wine Without Worry and hosts the podcast of the same name, and while he is not a vegan, is a general lover of deliciousness, meaty or planty.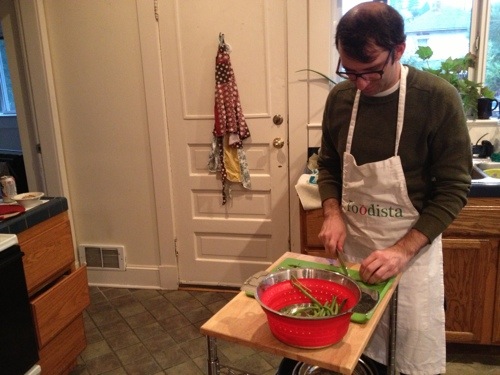 Jameson and I met when we were both with Foodista, me as an intern (also not as shady as that sounds) and him as a freelance wine writer. We're both huge history buffs (he has a masters in it) and adore Bulgakov's The Master and Margarita. Jameson started to build up his own wine writing business a few years ago and I'm always envious of his travels – we had to postpone our initial cooking session because his flight back from a wine tour of Italy was delayed in Heathrow.
He told me to pick a couple of recipes from the book, one sweet and one savory, and he would find a wine that matched. I went for a circular theme with the green bean casserole pizza (pg. 106 – recipe also on GoodVeg, h/t to Jameson for finding that) and frozen lemonade pie (pg. 20), and he selected a couple of dry rieslings to go with them: Pewsey Vale's Eden Valley Dry Riesling (Australian) and Weingut Stadt Krems' Steinterrassen Reisling (Austrian).
You can read his thoughts on the pairing, including probably the best quote on vegan wine I have ever read. And is much better edited than this long and rambling one.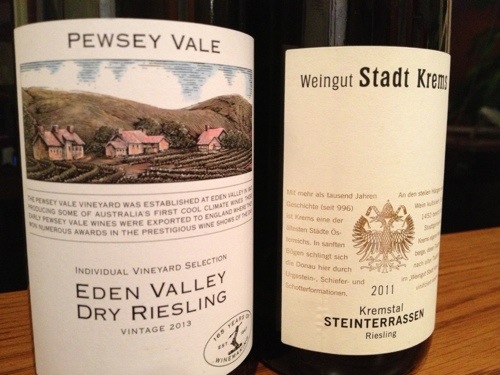 Jameson says of these selections,
Dry Reislings compliment lighter dishes but also have enough liveliness to cut through a rich sauce — like a hot knife through cold vegan margarine. They're vegetable-loving wines, for sure.
Green bean casserole is my absolute favorite part of Thanksgiving (aside from the family and gratitude, I guess), and this pizza is kinda like when you're a kid and you make little sandwiches of everything between Grandma's dinner rolls because food isn't fun enough on its own.
In the interest of saving time, we subbed out Natalie's pizza dough recipe for Trader Joe's (whole wheat, gross, because they were out of the regular type), which worked pretty well. Except don't use whole wheat pizza dough. You're already indulging — might as well go for the real deal. It's pizza, not salad, for crying out loud.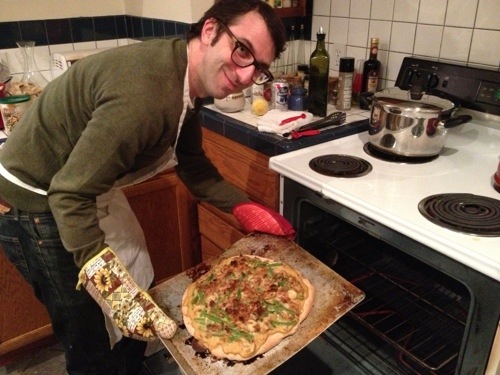 The ridiculousness of the concept aside, this stuff is fantastic and could fool even the most sensitive omnivore palate. My one recommendation is to cut the green beans into bit-sized pieces instead of halving them, like Natalie recommends, which will make it easier to slice and then eat — it's basically knife-and-fork pizza.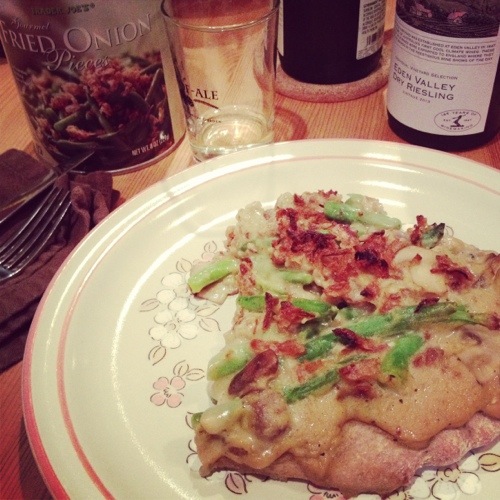 I also can't follow directions, so we elected to sub out the flour for corn starch, as I neglected to add the flour before the stock. Jameson worked in a bakery when he was in grad school, so he was skeptical of adding a warm sauce to a pizza and we let the sauce cool a little, but it all turned out okay. Perhaps that's why the directions instruct you to pre-bake the crust? We also debated whether to maaaybe use a little less sauce, but ended up putting all of it on.
So. effin'. good.
Our frozen lemonade pie was a disaster (mea culpa), as I had never used my roommate's ice cream maker. So, while we weren't able to taste the finished version, the flavors of the soupy pre-churned filling were wonderfully zesty and creamy, and I bet it would have been awesome. Sigh. We did collaborate on another dessert pie from another vegan cookbook, which I am super excited to tell you about in a separate post.
SOON.
The other recipes in Bake and Destroy, ranging from savory nacho cupcakes to spaghetti pie to falafel waffles (but also including your classic mac and yeast and green smoothie), are fun and unconventional and mostly not the healthiest (with some exceptions).
Bake and Destroy is too weird to be your one and only vegan cookbook (unless maybe you aren't vegan), but will convince new vegans that plant-based cuisine isn't boring and is also great for long-time vegans who want to rediscover the magic of cooking. If you have young'uns at home, I bet you'd like this too.
ANYHOW. WINE.
As Jameson said, the dry Riesling cut through the richness of sauce and fried onions like a lightsaber through Luke Skywalker's wrist. Dry Riesling isn't that stuff you might have gotten sick off when your idea of class was chugging cheap wine instead of cheap beer (if you're anything like my roommate Daniel, who paled when I offered him a glass) — it's more robust than a chardonnay, but with a bit of a bite instead of cloying sweetness. I'm a fan.
Even better, Jameson also confirmed with the distributor that both of these selections are vegan. I don't know where you would find them in Seattle, but Jameson might. Go over to his blog and ask him.
You can also do a quick Barnivore search to find a vegan dry Riesling — those of us here in Washington State will be please to know that Chateau St. Michelle's dry Riesling is considered vegan.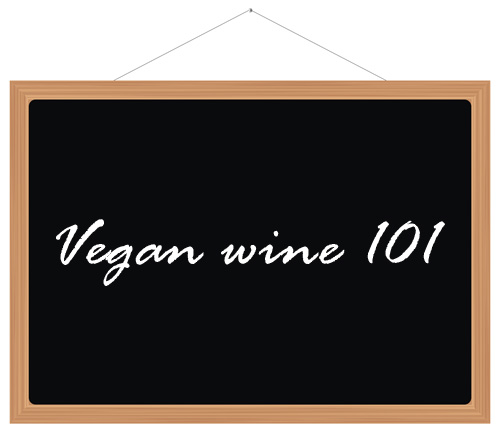 So, this is where the post gets a little technical, because I'm going to talk about vegan wine. If you already know about what makes a wine vegan, you can skip this part and scroll to the picture of Zeno wearing a scarf at the end of this post.
If not, read on and educate yourself.
Though wine's ingredients are all plant-based products, many people (even a lot of winemakers I've talked to) are unaware that wine is not always animal-friendly due to how it is fined (the process of removing impurities).
Basically, after you foot-stomp your fruit and leave it to age in barrels, there are a lot of little grapey and yeasty particles floating around in the liquid that need to be removed so that so that the consumer isn't drinking wine with pulp.
Here is an artist's rendering of what that looks like: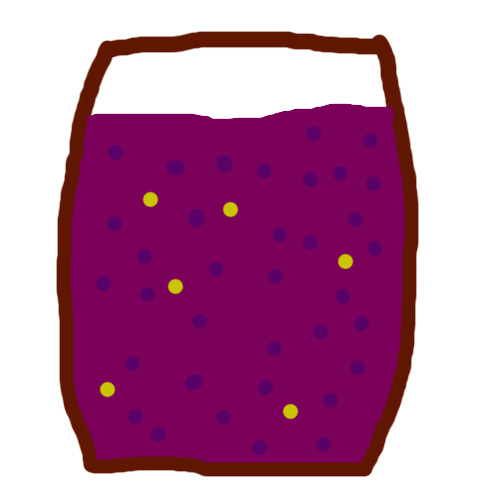 Traditional fining agents are animal based — gelatin, egg white, or isinglass, made from fish bladders. The vintner throws these into a vat of wine, and they float around eating up particles like Pacman.
Vegan wines use benonite, a clay, to filter out impurities and ensure that a purple stain is the only thing caught in your teeth.
According to Wikipedia, some countries, like Australia and New Zealand, require their wines to list animal-derived fining agents as potential allergens, so if you're concerned about vegan ingredients, you might start there. (I don't know if this actually is true in the US. I should ask Jameson.)
So, in conclusion, check out Bake and Destroy and drink more wine.
Here's that picture of my cat wearing a scarf.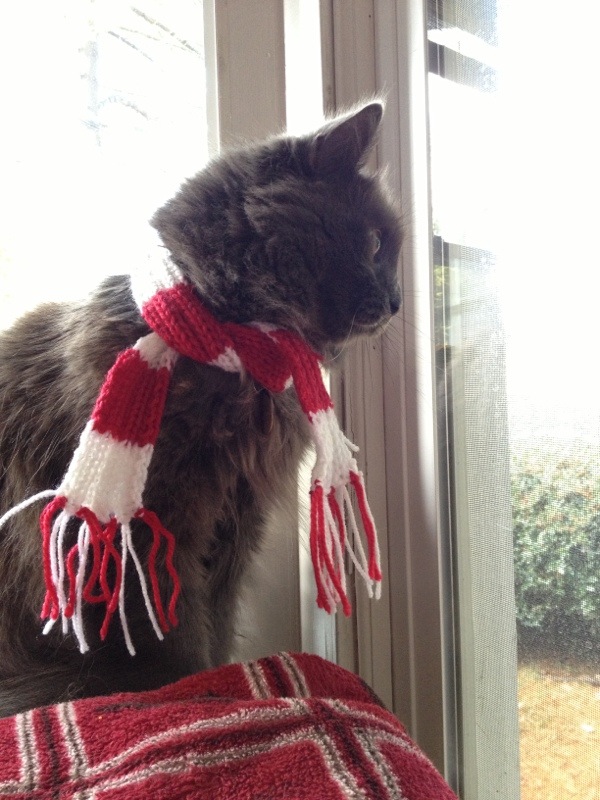 Have you cooked anything from Bake and Destroy? Do you have a favorite wine? Isn't my cat the cutest? I'd love to hear your thoughts (especially about how jaunty my cat looks in his scarf).
Subscribe by email:

Topics

Reading List

resources

cruelty-free shopping

МИР ЯВЛЯЕТСЯ ВЕГАНСКИМ! Если ты этого хочешь.