Archive for the 'events' Category
This is the second consecutive year that I've sold tickets at VegFest. Thanks to the organizers for putting on a worthwhile event.
I always renew my Vegetarians of Washington membership at Vegfest. The goody bag alone is well worth the price of admission and membership: a subscription to Vegetarian Times, two loaves of bread, a half-gallon carton of organic soy milk, a box of tofu, and a bunch of bars, cookies and snacks.
Vegfest is a fantastic opportunity to scope out trends and try new products. Things I'm seeing as trends this year:
Coconut — almond is out, coconut is in: coconut milk, coconut water, coconut ice cream, coconut yogurt, coconut butter, and more.
Spice — from Daiya Pepperjack cheese to a vitamin water-like beverage flavored with capcaisin, vegan food is out to prove that it's neither bland nor wimpy.
Legume chips — falafel chips, lentil crisps, crackers made with garbanzo beans
Vegan seafood — we've done chick'n, faux beef and fakin' bacon to death; it's time to imitate the creatures of the sea.
I'm excited to see some of the products I sampled last year returning. For one, Wayfare is definitely expanding beyond their cheese spreads, which is very, very exciting. Toby's products are always a welcome addition, and I'm pleased that Mighty-O donuts is getting some national recognition.
I wasn't really wowed by anything like I was last year (Wayfare and Toby's) but there were a few memorable products:
Dave's Killer Bread's Sin dawg — an ooey, gooey, cinnamon-y confection. It's like a healthy(er) version of a cinnamon roll.
Small Planet's tofu spreads, locally made on Vashon.
Odwalla, just because they were so generous with their products with me and my fellow ticket sellers.
Also, despite what the New York Times may say, veggie burgers did not have a noticeable presence. Sure, the usual suspects (Boca, Dr. Praeger's, etc) were there, but we've done them. Moving on. (Not unusual for the Times to pick up on a fad after it's already well-established or on its way out.)
However, it's not just about food. There were a number of people gathering signatures for bill 1130, the Prevention of Farm Animal Cruelty Act. The measure will make sure egg-laying hens have enough room to stretch their wings. I signed it– it's a start.
I also really, really enjoyed the free chair massage. Good touch, Veg of WA.
There's a lot of work and planning that goes into Vegfest, and I generally love the event because it's a great opportunity to sample new products and interact with other like-minded individuals.
However, this year it made me a little sad, for the following reasons:
A lot of people attend the event just because it's a ton of free food; the $8 admission price is a small investment for all-you-can-eat samples and things to take home. People get angry when they learn that their Saturday ticket won't allow them to come back to take more on Sunday. They aren't genuinely interested in vegetarianism.
It's crowded, with everyone trying to eat and take as much as they can. (And I am convinced that there is a whole circle of hell reserved for people who bring giant strollers to densely-populated events.)
There was a large section of people peddling Christian propaganda, making us look like members of some cult. I have very little patience for new age-y, spiritual types. Don't do it because you think you'll be rewarded; do it because you know it's right.
The covers of the books Vegetarians of Washington produce are poorly-designed and look a little cheap, making their contents seem illegitimate.
It's clearly vegetarian-centered. I asked the vendor of a margarine product whether her product was vegan. Her response? "It has less than 2% butterfat." So– no. Not the response an informed retailer gives a vegan. Plus, the line at the Daiya booth was suspiciously short.
It sort of has a school science-fair sort of feel. Nothing new, and it's a volunteer-run non-profit organization with a small budget, so I'm not judging.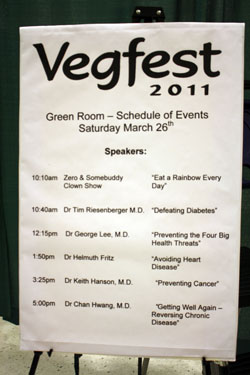 Another criticism is perhaps actually a compliment. Vegfest, perhaps astutely, showcases a unilateral message: a vegetarian or vegan lifestyle is good for your health. Animal rights organizations do have booths there, but all of the speakers and events focus purely on recipes and health.
The health angle seems like the best way to convince folks to go veg (humans are selfish beings), and the least likely to alienate or anger them, but I personally believe that the health of animals and the environment are far better reasons.
A vegetarian or vegan diet is not by definition healthy — many of us eat crap. Half of the foods in the hall, even the vegan ones, were laden with fat and other unhealthy (yet delicious) ingredients, and telling people it's better for you doesn't make it so.
So, Vegfest was good, but lacked the sort of vegan community I'm really looking for right now. Makes me even more pumped for Vida Vegan Con in August. Yep — I'm attending.
I've been surprised and delighted by how many people have come up to me this week and said, "I heard there's this big vegetarian convention this weekend — are you going?"
To which I say, "yeah,and if you come between 10 a.m. and 2 p.m., I'll sell you a ticket."
That's right, Vegfest is happening on Saturday and Sunday at Seattle Center. I'm a Saturday morning volunteer.
Vegfest is the highlight of the Seattle vegetarian and vegan year, a splendor of veggie eats and other delights. I'm lazy, so I'll just say you should check it out and quote sponsor Vegetarians of Washington's site on why:
Taste free food samples, over 500 different kinds to try;
See cooking demonstrations by chefs from all over the country;
Hear the latest information on nutrition from our medical doctors;
Choose from a huge selection of books;
Buy our brand new book, Say No to Meat!The 411 on Ditching Meat and Going Veg; our updated guide book, Vegetarian Pacific Northwest; our new cookbook, The Veg-Feasting Cookbook, and The Vegetarian Solution, your answer to cancer, heart disease, global warming and more. Current and renewing members are able to buy these books at an extra special discount at any Vegetarians of Washington event. Visit our membership table at Vegfest to learn more.
Be there.
You are currently browsing the archives for the events category.
Subscribe by email:

Topics

Reading List

resources

cruelty-free shopping

МИР ЯВЛЯЕТСЯ ВЕГАНСКИМ! Если ты этого хочешь.