A night with Sam's Plant Based Kitchen
This is Sam: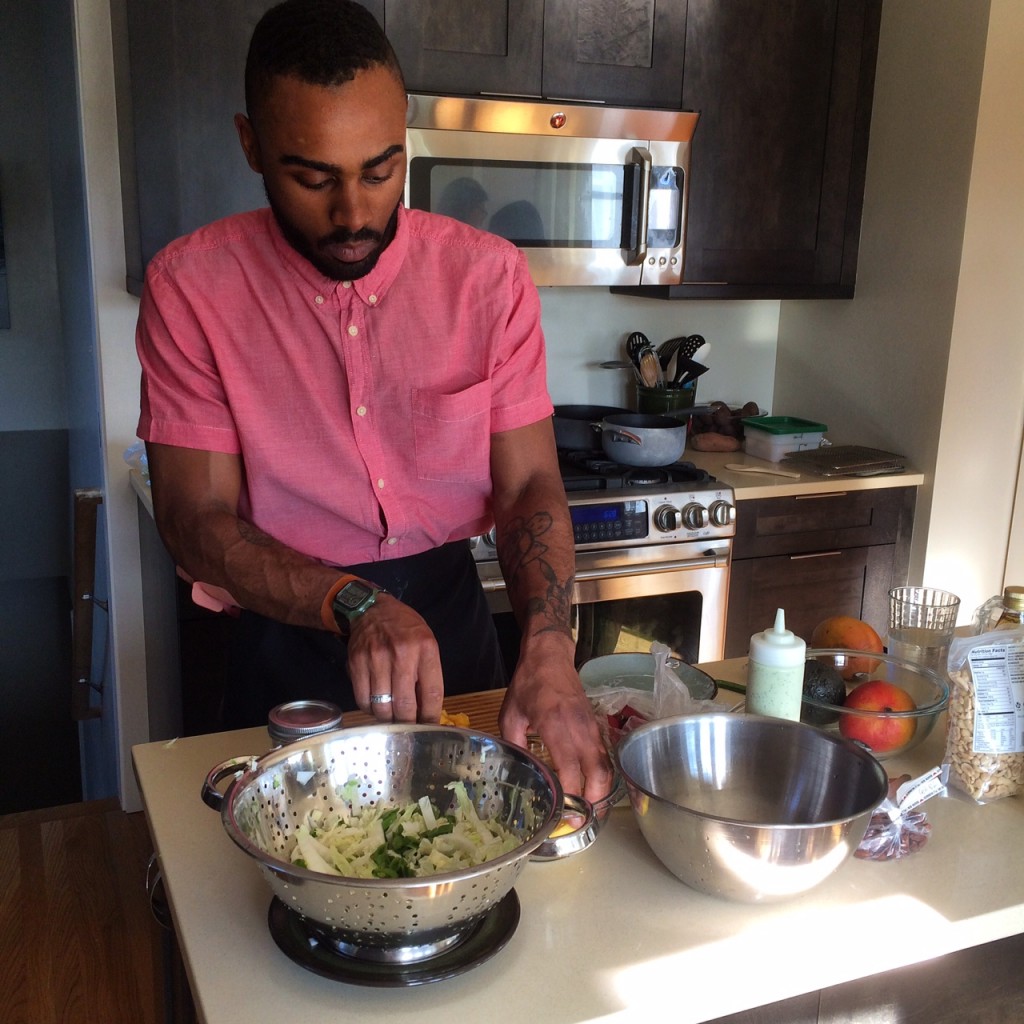 Some of you Seattle folks may know him as a laid-back dude who likes to ride bikes, and some of you may know that he's worked in innovative veg kitchens like Cafe Flora and Chaco Canyon.
He's now launching his love of fresh ingredients and interesting flavors into a new venture: Sam's Plant Based Kitchen!
Sam says,
My cooking takes flight from a lot of ideas, whether it's unique flavors I've never had and would like to recreate or a satellite image from space that might give me an idea on a possible plating concept.
I was privileged to participate in one of his first personal chef-ing sessions at a birthday dinner for our friend Brit, a four-course Thailand-meets-PNW extravaganza, though Sam notes,
All of the menus have a flowing flavor theme. I try not to say 'this is a Thai menu' or 'this is a Latin menu' because not all of my courses are traditional platings/recipes of the various food cultures, but more a reflection of the flavors they offer, so a lot of my menu is inspired by these various cultures and their cooking traditions.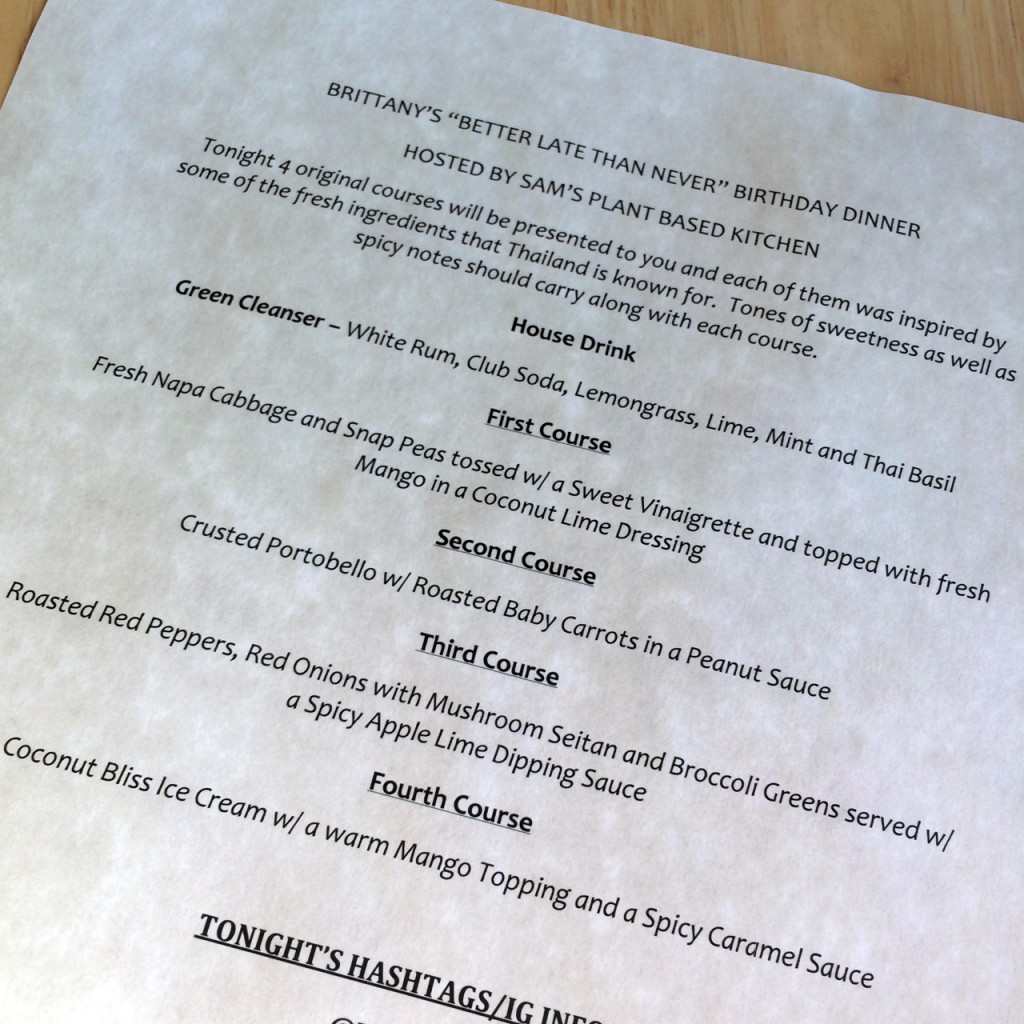 So I kinda cut off the bottom of the menu but please know:
With each menu I give to the guest there will be a list of recommended social media "hashtags" to include with any pictures that are taken during the event. Everyone loves to take photos of their food and share what they are consuming; it makes the joy of eating that much more fun, taking something inclusive and sharing it with a crowd who may not be there.
The evening commenced with Sam's refreshing take on the mojito: an effervescent rum-based cocktail with coconut water, lime, mint, lemongrass, thai basil, and ginger.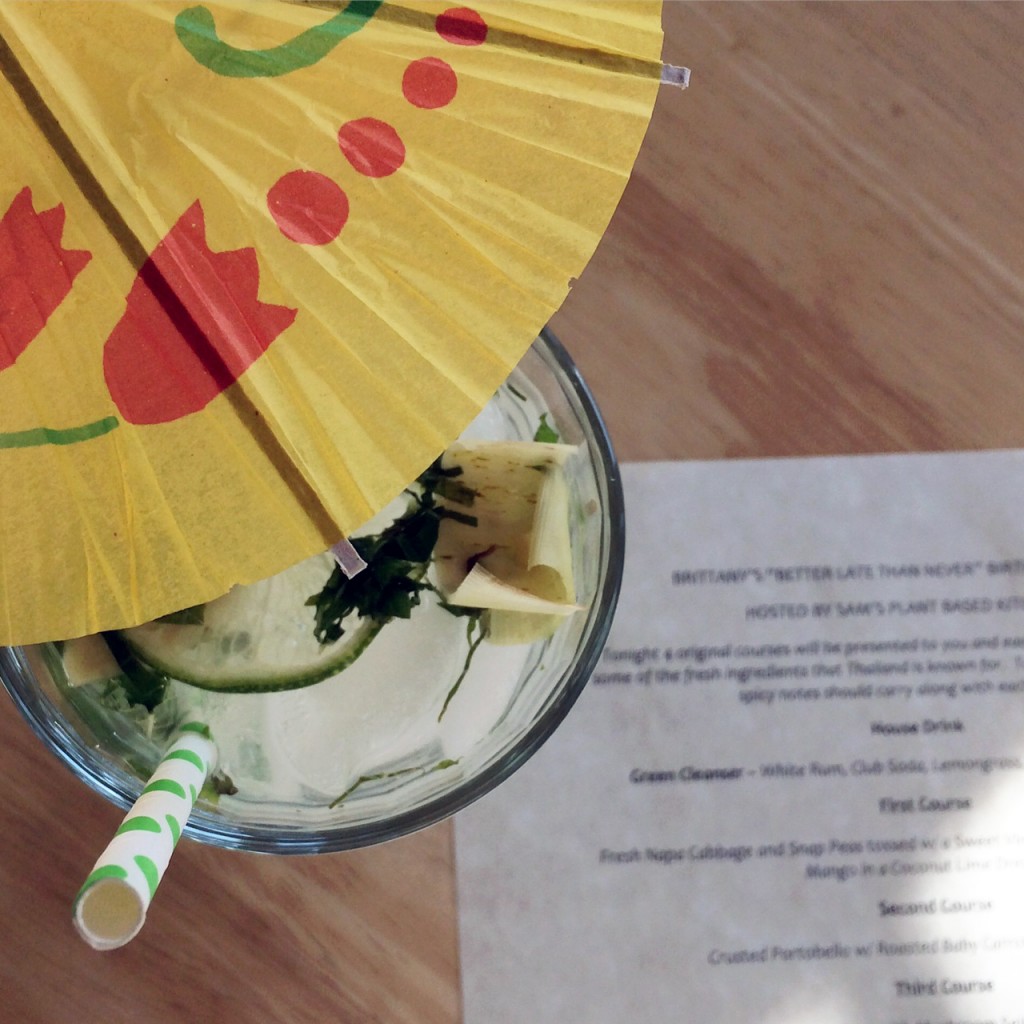 Salad is a great beginning to any meal! The creamy coconut lime dressing of the first course added warmth and complication to cool nappa cabbage, pea, and mango. I have no words for this dressing other than I want to get a jug of it and put it on everything and maybe just spoon it directly into my mouth. (Sam, can you make this happen? Please?)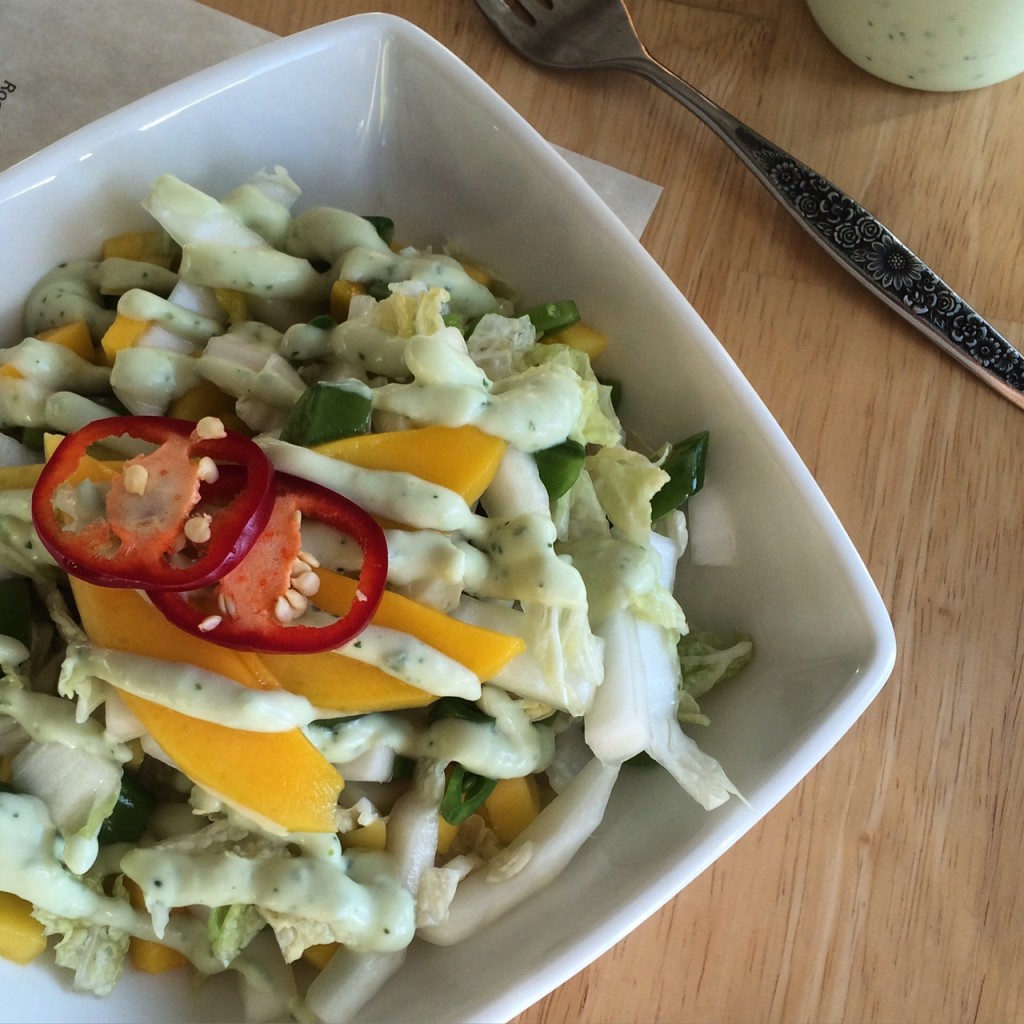 So you know how most foods are really just a vehicle for peanut sauce? Sam's second course of crusted portabella mushroom and roasted carrots provided a sturdy chassis for his homemade version of the nutty favorite. The flavors and textures really worked with the sauce, which was delicately spiced and more savory than you'll find in a typical restaurant (which, obvs, is a good thing).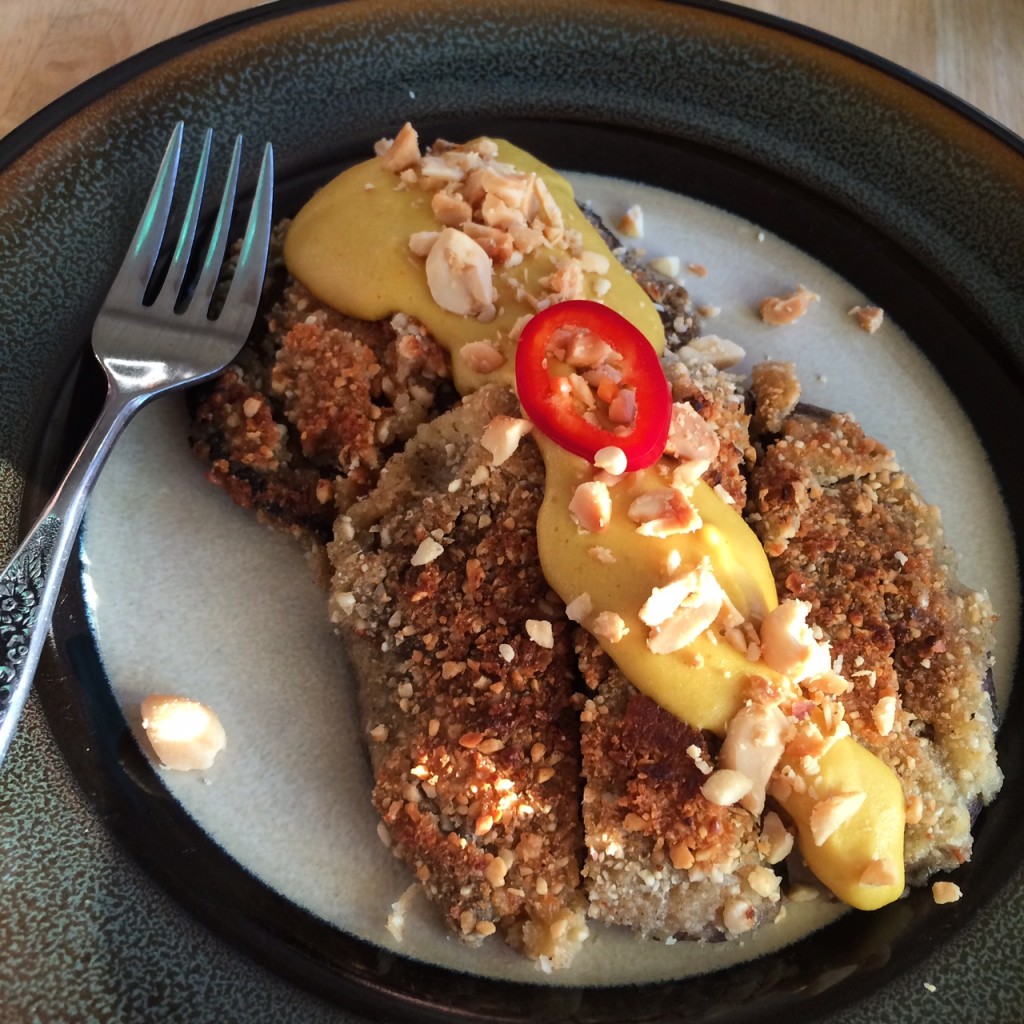 Aren't these carrots gorgeous? The grated orange stuff on them is fresh turmeric.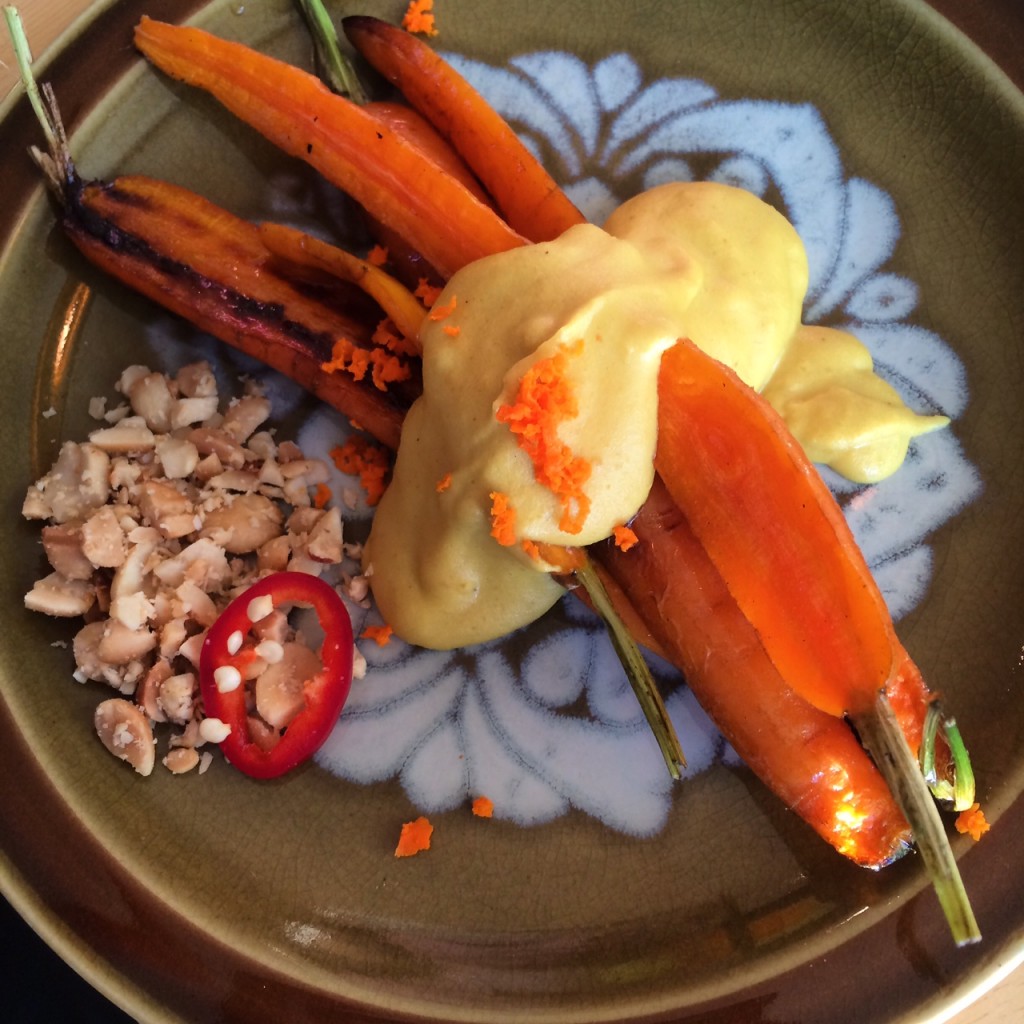 I still salivate thinking of the perfectly sautéed broccoli greens (favorite vegetable ever!!!) and roasted red peppers of the third course, though the mushroom seitan balls and sweet-and-sour apple lime dipping sauce were the true star: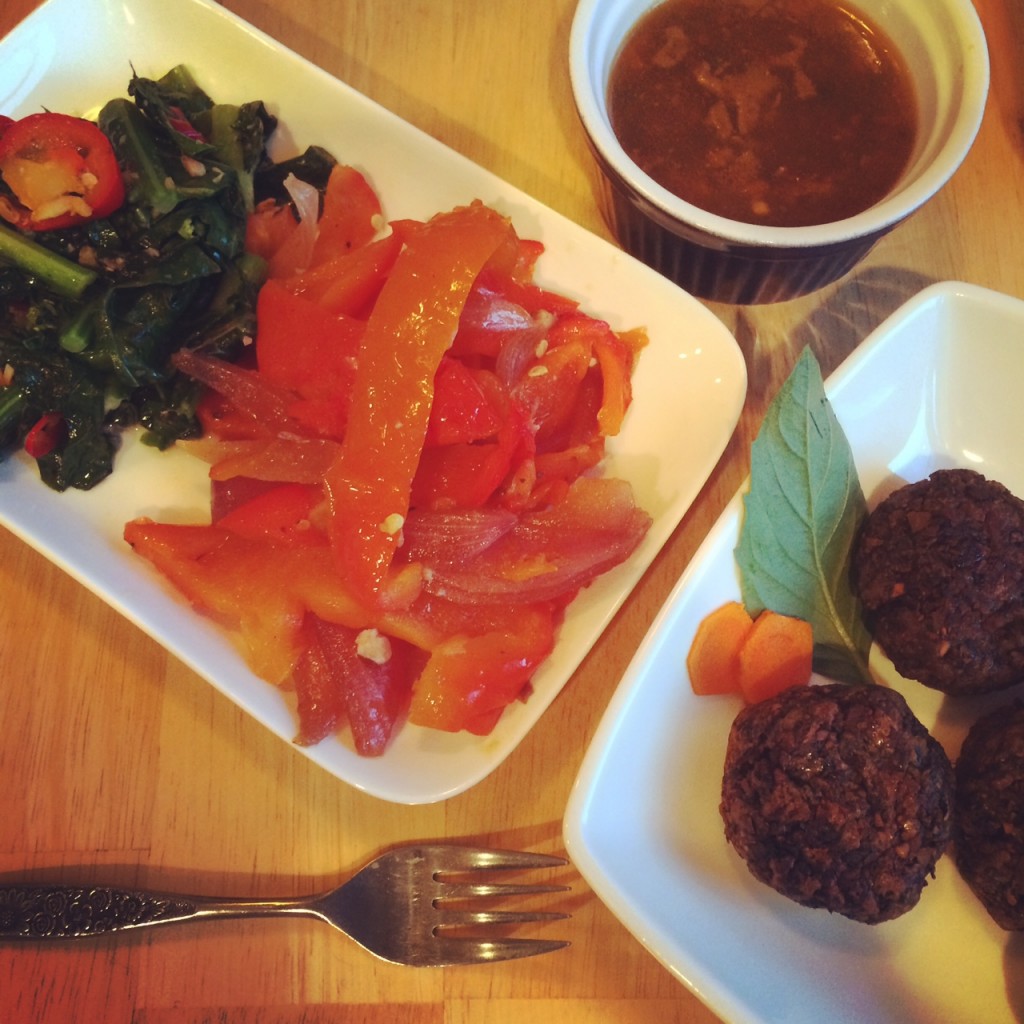 Dessert was an understated yet elegant mélange of coconut ice cream, mango sauce, and homemade caramel, topped with a hint of spice. It was a refreshing, decadent way to end a great night.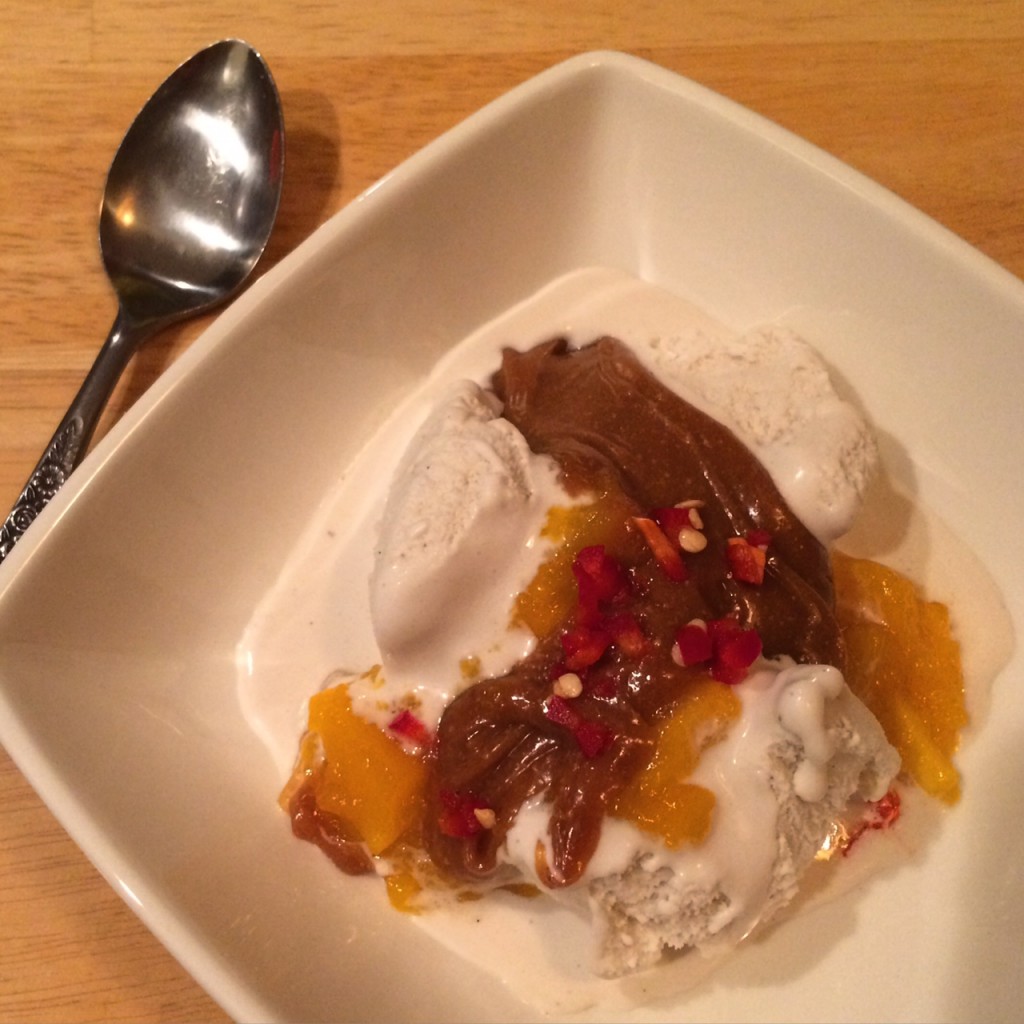 Did you notice a common thread through every course?
Yep, I'm referring to fresh red chili; that little bit of hot pepper connected each dish, which I didn't pick up on while eating but totally blew my mind when I went back and thought about it. Four different experiences merged with this one similarity. Like, whoa.
Sam's Plant Based Kitchen's four-course meals start at $70.00/person, and reservations for 6-10 people are preferred, though he can work with you on other sized groups (within reason. Don't, like, expect him to cater your wedding. Unless your wedding is 6-10 people.)
Every menu is vegan and adjusted based on the dietary needs of each guest and delicious.
Sam is excited to take all your questions and inquiries at samspbk@gmail.com!
Like all these photos? Surprise! They're from Instagram; follow me at @hpitlick.
Tags: personal chef, Sam's Plant Based Kitchen
This entry was posted on Wednesday, August 5th, 2015 at 5:25 PM and is filed under Catering. You can follow any responses to this entry through the RSS 2.0 feed. You can leave a response, or trackback from your own site.
5 Responses to "A night with Sam's Plant Based Kitchen"
Leave a Reply
Subscribe by email:

Topics

Reading List

resources

cruelty-free shopping

МИР ЯВЛЯЕТСЯ ВЕГАНСКИМ! Если ты этого хочешь.