Weird questions I've been asked about veganism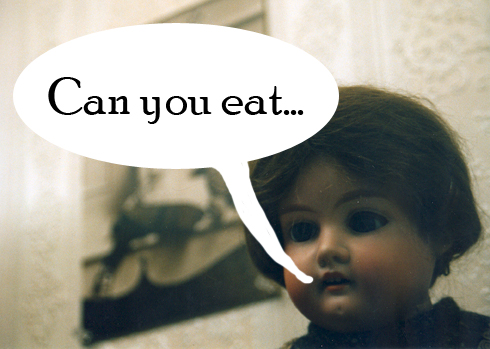 I feel like I've been reading a lot about weird questions vegans get asked lately. It's no longer just "where do you get your protein?" — people want to know all sorts of strange things, ranging from where we get our fat (nachos!!) to whether we would eat our own placenta (gross — but technically okay?)
Maybe this is a sign that veganism has become so mainstream that everyone knows that animals are mistreated (why are you vegan??) and lettuce does not a meal make (are you sure there's nothing you can eat here?), but sometimes, I don't even know what to say.
Here are some of the questions I've been asked about my lifestyle over the years.
Are you allowed to dislike any animals? (friend)
Nope, vegans are contractually bound to love every single animal, ever. Even the mean ones, and the ugly ones, and the ones that have more than four legs, and the ones with no legs, and the ones with scales, and the ones that suck our blood, and the ones that might exist or might not exist, like unicorns — we give unicorns the benefit of the doubt and love them too, just in case.
Just kidding. I hate spiders. They freak me the f@#$ out. Veganism is about treating all animals with respect, and you can totally respect some things you don't like, right? Like Condoleezza Rice. Or yoga.
Can you eat animal crackers? (some random guy)
Many brands of animal crackers are vegan. As with any product, check the label.
I like to bite their heads off while their friends watch.
How do you make pot brownies if you don't eat butter? (lady at the Fremont Fair)
I may live in Washington state, but I'm really more of a beer/whiskey person. So, I've turned to the Internet for this one, and it is possible to make vegan pot brownies! I'm also pretty sure that hits to Vegtastic! are going to skyrocket for writing this.
Vegan pot brownies vegan pot brownies vegan pot brownies.
Do you eat fish? (guy at the Fremont Fair)
Ummm, no? Some people think that "vegan" means "dairy-free" or something. I was dining at a restaurant in my hometown not long ago and the waiter assured me that "the salad is vegan, the eggplant is vegan, the lamb is vegan…"
Vegan = consuming nothing from animals. At all. Unless you count consuming cuddles — those are acceptable.
What about roadkill? Like, it's already dead and all. (my college friend Jon)
So, technically this happened when I was only vegetarian, but my friend Jon once offered me some jerky from this deer he hit with his truck. I didn't eat it, but roadkill is already dead, unintentionally, so why let it go to waste?
As someone who initially stopped eating meat for environmental reasons, the idea of wasting something usable is appalling. However, as I've become an "ethical" vegan (I put "ethical" in quotes because I think environmental concerns are ethical too), I wouldn't eat roadkill because I'm at the point that I do not consider meat to be food, don't want to ever get to that point again, and would probably be sick from eating it. Also, I like my food with grill marks, not tire marks.
Most of us are not faced with the roadkill situation every day, but sometimes we are served accidental eggs, dairy, or meat in restaurants — even at restaurants that should be very vegan friendly.
What's a vegan to do? Again, part of me says, "it's already here and if you send it back, it will just be thrown away. Just eat it."
But, it already exists and will already be wasted whether I eat it or not, either in the garbage or in my digestive system, so I am not wasting the animal product by not eating it any more than it has already been wasted.
So… don't eat it.
This has soy sauce, which has wheat. But just a little wheat. (Waitress at a place)
Contrary to popular belief, being gluten-free and being vegan are not the same thing!! There are indeed gluten-free vegans, and sometimes restaurants or bakeries lump the two diets together to save work, and most gluten-free people are as whiny and obnoxious as vegans (kidding, kidding), but please don't confuse the two. I love me some gluten.
If you were stranded on a desert island with a pig… (okay, this isn't that unusual of a question, but it's still weird, right?)
The people who ask me this question have a pretty overinflated sense of my ability to survive in the wild. I took that Buzzfeed quiz and got, like, 3 days. The pig would eat me.
Who can really say what each of us would do in a life or death survivalist situation? I would probably eat an animal, or even a person. Some people are pretty tender, I'm guessing.
Me possibly eating some pork, if it came down to life or death, in a completely improbably scenario, is not a reason for you to not be vegan in Seattle, WA in 2014.
What are your thoughts on Venus fly traps? (Mary)
My friend Mary asked me once what I thought about Venus fly traps and other carnivorous plants. I'm okay with them, but only if they're rescued from plant shelters and not bought in stores. As the guardian/imprisoner of an adopted cat that I love to smithereens, I'm aware of the struggle to balance my vegan pledge to primum non nocere and my fluffy buddy's desire to kill kill kill. Zeno reminds me a lot of a cuddly version of the murderous plant in Little Shop of Horrors ("Feed me, Helen! Feed me blood!"), so is a Venus fly trap really any different from a cat?
Cats and Venus fly traps aren't conscious of their actions in the same way that humans are (is that a speciesist thing to say?) — they can't choose ethics over instinct. Even if they could, cats need meat to survive, and Venus fly traps probably need flies. Can you deny an animal that already exists what it needs to keep on living?
That said, I am against the creating of new predators through breeding or laziness (i.e., not spaying/neutering). Don't breed or buy while shelter Venus fly traps die!!
Also, flies are gross and spread disease. I should probably get a Venus fly trap to do my dirty work. Also, cats are awesome. Also, I probably have this parasite in my brain that makes me choose my cat's desires over my own.
I didn't think this one out very hard.
Vegans: what's the weirdest question you've been asked? Non-vegans: what's the weirdest thing about veganism that you want to know?
This entry was posted on Thursday, March 13th, 2014 at 9:17 AM and is filed under opinion. You can follow any responses to this entry through the RSS 2.0 feed. You can leave a response, or trackback from your own site.
43 Responses to "Weird questions I've been asked about veganism"
Jessie says:
Mary says:
Helen says:
Jes says:
Baeb says:
Barb says:
Toni says:
Ty says:
how to stop snoring says:
Peter says:
Helen says:
wildflower says:
healthyvoyager.com says:
Emily from Quorn says:
Michell says:
dumex milk powder price says:
des casinos en ligne says:
humax tv portal problems says:
Cheap Pandora Beads Sale says:
Oil Containers says:
QUESNELL says:
No2 Blast Review says:
casino en ligne says:
basketball shoes for women says:
microsoft toolkit 2.5.1 says:
Domitila P. Sovey says:
Clarine I. Danese says:
https://delicious.com/ says:
instapaper.com says:
Dani says:
Myron says:
homes for rent in dundee scotland says:
xxx says:
Máy Ozone gia đìNh says:
Craig says:
internetprovidersinmyarea says:
Www.facebook.com says:
Krampus kickass torrent says:
Tamasha 2015 Torrent says:
Pansy says:
twitter says:
health and beauty says:
群馬 脱毛 says:
Leave a Reply
Subscribe by email:

Topics

Reading List

resources

cruelty-free shopping

МИР ЯВЛЯЕТСЯ ВЕГАНСКИМ! Если ты этого хочешь.