Vegan Cuts Beauty Box (October box)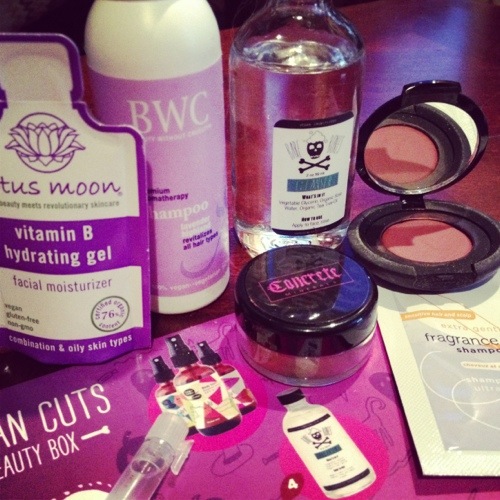 Have I ever told you about how much I procrastinate? I've probably been putting it off.
Well, a couple of months ago, I received an email from the fabulous Melisser at Vegan Cuts asking if I would like to review the October Vegan Cuts Beauty Box.
Would I? Oh yes.
My beauty routine is fairly minimal. I sometimes go days without combing my hair (the brush just gets caught in all the split ends, okay??), and while friends have commented that one can gauge my mood by how much eye makeup I am wearing (just mascara = normal, a little eyeliner = feeling good, full-on-raccoon = feeling bad, none = I'm slowly giving up on life), I don't tend to use  many other cosmetics, so this opportunity seemed like the perfect excuse to get out of a rut.
It's now December, but here's my review!
The contents
Beauty Without Cruelty lavender shampoo: I'm a huge fan of BWC's mascara and face wash and have been enjoying a sample bottle of their Vitamin C lotion from VVC, but their shampoo didn't de-grease my hair as thoroughly as I would like from a hair-cleansing product.
Earth Science Pure Essentials Fragrance Free Shampoo and Conditioner: these, on the other hand, made my hair look/feel/smell (JK — it's unscented) awesome. I've never going to give up the hippie mud shampoo I've been using since high school, but I did go out and purchase a bottle of this conditioner at Central Co-op for a fairly reasonable price ($8.95), even though I'm pretty sure that conditioner is an unnecessary luxury that Big Soap has manipulated us into thinking is critical to our hair not falling out. (Maybe this is where all my split ends come from. Or maybe I should get my hair cut more than twice a year.)
All Natural Face Matte Cream Blush: This stuff makes me feel so pretty, and works as lipstick or rouge — I like wearing both simultaneously for a natural(ish)-looking glow. Vegan Cuts gave us Dusty Rose, which is more neutral than the whorish pinks and reds that I usually pick. Use your fingers to apply it — super easy, and the case even has a little mirror to prevent you from giving yourself clownface when applying on-the-go. Plus, using your fingers allows you to spread it to the contours of your kisser better than any stick — I apply lipstick like a toddler. But wait — there's more: it's only $5.75!! ZuZu luxe lipstick is going to cost you three times that. Hells yeah.
Concrete Minerals eyeshadow: okay, I don't know how to wear dark purple eyeshadow without looking like I've been in a bar fight, but I like the eggplanty color and shimmer of the eyeshadow that was in the box. It's easy to apply, as long as you, umm, know what you're doing, and at $7 a pop isn't too unreasonable a price. Plus, Concrete Minerals' products have fun names like "Blood and Guts" and "The Vaccine."
Bare bones facial cleanser: this stuff is kinda an IQ test. The first time, I got my face all damp like I was going to be applying normal soap, then was all "MY FACE FEELS LIKE CRAP" after using it. Turns out, I just did it wrong because… it's not soap. Ahhh. So, the next day, I applied it to dry skin, and, voila, squeaky-clean face — very nice. I'm fairly acne-prone so I'm hesitant to change my face routine much, but this stuff was developed with sensitive skin in mind. I'm going to use the rest of the tester bottle before I decide whether to buy again, but I like that the company is a one-woman operation and would like to support her!
Lotus Moon Vitamin E hydrating gel: you know that scene in Alien where they're playing the knife game and that one cyborg guy cuts his hand and that white goo comes out and everyone's all "OMG, he's a robot"? It's basically the first scene in the movie, so I'm not really giving anything away. (Spoiler alert: AN ALIEN POPS OUT OF A GUY'S CHEST LATER ON!) Well, the color and consistency of this stuff sorta reminds me of that goo. That said, I like the way it makes your skin smooth, soft, and hydrated without feeling greasy or heavy — it's designed for oily, acne-prone skin like mine. My mom says I need to moisturize, so I'm thinking of buying a vial, even though it is a spendy $27.95. Who can put a price on looking good though, right? (Me, that's who.)
Meow Meow Tweet Bergamot face & body tonic: I don't really know how to use this – Meow Meow Tweet's website says to mist it on your face, but the sample came in a pour bottle, so all I can really say is… it smells nice? I love the name and idea of the company, though, (CATS! TWITTER!) and may explore their offerings in the future — their gift packs look like they would make adorable holiday presents (though never, ever, ever get a girl random body products as gifts unless there is some sort of additional personal meaning attached or you want her to know that you know absolutely zilch about her personality — nothing says "I haven't bothered to figure out what you really like" more than miscellaneous lotion and soap. If it's a scent she likes or something fancy she's been wanting or smells like kittens, sure, but just generic stuff, no. Since these are vegan and small-batch and artisinal and cute, these fit in with the "additional personal meaning" part and are acceptable.)
The culmination of it all: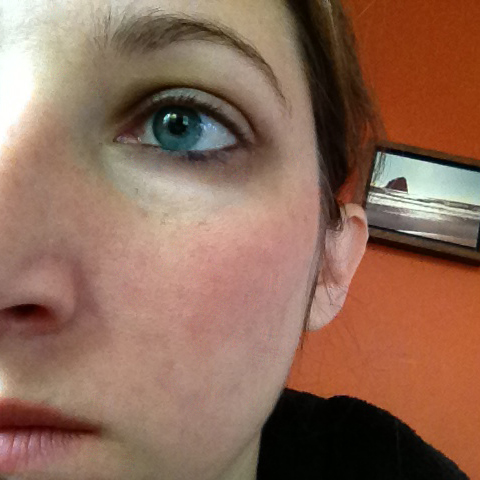 TELL ME I'M BEAUTIFUL, INTERNET!! IGNORE THE CROOKED PHOTO BEHIND ME!!
Not gonna lie — I Photoshopped out some blemishes and fine lines here. I already admitted I don't brush my hair — girl's gotta maintain some vanity.
The Box
Like the Vegan Cuts snack boxes, the beauty box makes a great gift and is wonderful for discovering new favorites — I bought some Earth Science conditioner, and ordered another pot of All Natural Face cream blush for me (in a whorish red), the dusty rose for a friend, and a couple of tubes of their lipstick just to try them.
I can't see myself subscribing regularly, since I don't realistically need that much cosmetic stuff, but the beauty box is a sweet little boost out of the occasional rut. I highly recommend it as a fun sometimes treat!
Tags: Vegan Cuts
This entry was posted on Tuesday, December 10th, 2013 at 11:47 AM and is filed under beauty. You can follow any responses to this entry through the RSS 2.0 feed. You can leave a response, or trackback from your own site.
23 Responses to "Vegan Cuts Beauty Box (October box)"
Leave a Reply
Subscribe by email:

Topics

Reading List

resources

cruelty-free shopping

МИР ЯВЛЯЕТСЯ ВЕГАНСКИМ! Если ты этого хочешь.