Wild mushrooms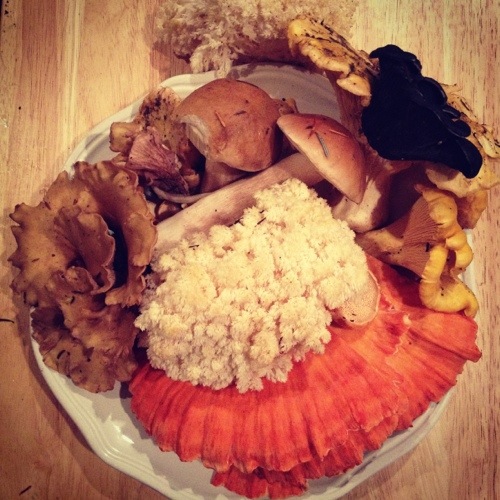 As I've written before, mushrooming is a popular pastime in Russia and other Slavic countries.
It's also a favorite hobby of my new roommate, Steve, an all-American dude from Wisconsin who spends a lot of time on Mt. Rainier for his job.
He returned yesterday from a few days of collecting data with three bags of assorted species of fungi, all of which, he assured me, are edible.
Steve displayed his finds on a plate, educating me on each variety and how comfortable he felt eating them. The chanterelles — two varieties, golden and blue — for sure, the chicken of the woods — probably, the porcini — mosttttt likely.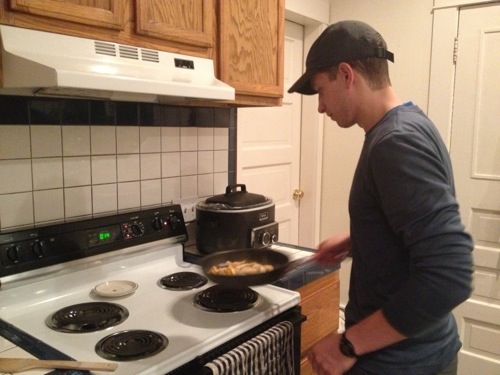 He invited me in on the tasting, starting with the safest: the chanterelles. He washed a large one (even though you supposedly shouldn't, as it makes them waterlogged), chopped it, and sauteed it in olive oil with some sea salt, garlic powder, and black pepper until the flesh reached a golden sear. He said that I was under absolutely no obligation to sample it, and he would understand if I didn't.
With eager trepidation, I took a small piece. It was delicious: buttery, savory, earthy, in a familiar way. Definitely a chanterelle.
We put the others in the fridge, and I don't think I'm brave enough to try them. Steve has a scientist's eye and they all resemble the pics of safe mushrooms in his mushroom hunting book (no white gills — "white gills kill") but I'm going to let him confirm.
Supposedly the most common cause of mushroom sickness is the placebo effect — the stress of thinking you've eaten a poisonous mushroom when it's really the edible variety.
I'd just rather not find out.
Tags: mushrooms, Vegan MoFo, Vegan MoFo 2013
This entry was posted on Thursday, September 26th, 2013 at 7:14 AM and is filed under misc.. You can follow any responses to this entry through the RSS 2.0 feed. You can leave a response, or trackback from your own site.
6 Responses to "Wild mushrooms"
Leave a Reply
Subscribe by email:

Topics

Reading List

resources

cruelty-free shopping

МИР ЯВЛЯЕТСЯ ВЕГАНСКИМ! Если ты этого хочешь.