Vegan marshmallow vodka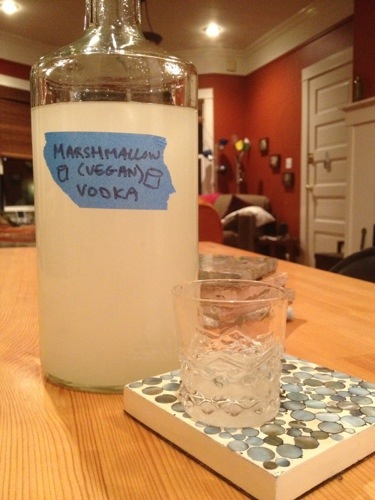 I was going to post this yesterday, but I got all distracted painting transitional housing for AIDS patients as part of United Way's Day of Caring. Then I was going to take better pictures this morning, but I had to rush off to Farm Sanctuary's Walk for Animals.
I'm just going to take a moment to pat myself on the back and to let you fully grasp what a good person I am.
Okay, that's enough.
There are a lot of disgusting vodka flavors on the market right now. I don't know why or how this trend started (FYI — commercially made Strawberry vodka is the grossest stuff ever) but, like Russia's laws on homosexuality, I'd like to see it go.
However, if you are intrigued by the whipped cream or marshmallow flavors and question whether or not they are vegan, do I have the equally disgusting solution for you: make your own by soaking half a package of Dandies in 750 mL of vodka for a few days and then straining.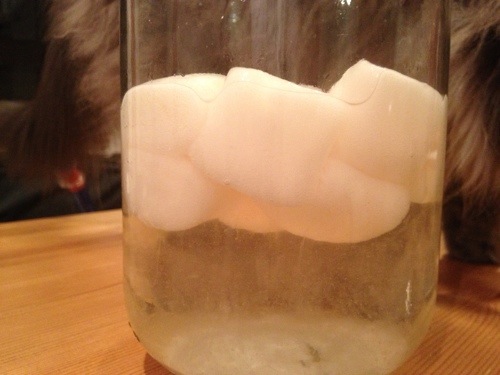 The vodka will take on a marshmallowy flavor and a delightful cloudiness, and the Dandies will turn into these weird opaque blobs.
I wish I could better capture the otherworldly jiggle of a vegan marshmallow that has been soaking in vodka for three days, the plop of alcohol-soaked Dandies hitting alcohol-soaked Dandies as they're poured into a strainer.
Drink it in juice, cocktails, or never.
Tags: Vegan MoFo, Vegan MoFo 2013, vodka
This entry was posted on Saturday, September 21st, 2013 at 11:06 AM and is filed under beverages. You can follow any responses to this entry through the RSS 2.0 feed. You can leave a response, or trackback from your own site.
4 Responses to "Vegan marshmallow vodka"
Leave a Reply
Subscribe by email:

Topics

Reading List

resources

cruelty-free shopping

МИР ЯВЛЯЕТСЯ ВЕГАНСКИМ! Если ты этого хочешь.