Vegan Julienne (Russian mushroom casserole)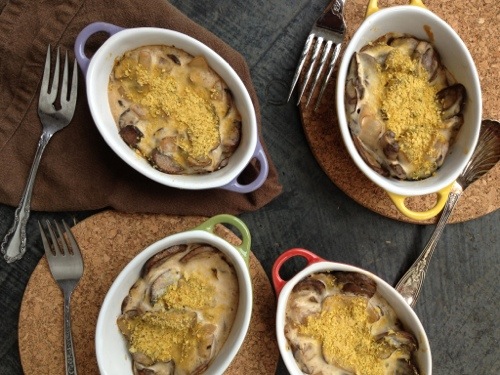 Without stooping down for the mushroom, you cannot put it in your basket. ~Russian Proverb
Mushrooming is a popular activity in Russia. Families escape the bustle of the city for rural dachas in the summer and hunt for mushrooms to eat or preserve.
Mushrooms are a common ingredient in Russian cooking. One of my favorite examples is Julienne: mushrooms sautéed with onions, then baked with cheese in sour cream. You can do this casserole style in a big dish, or class it up by preparing it in individual ramekins.
I halved and veganized this recipe from Everyday Russian to christen the oven in my new apartment. I elected to use nooch instead of vegan cheese, but I bet it would be great with Daiya.
Ingredients
8 oz sliced crimini mushrooms
1 small onion, diced
Olive oil, for sautéing
1/2 tbs all purpose flour
1/2 cup vegan sour cream
3-4 oz shredded Daiya (cheddar or mozzarella — optional)
2 oz vegan bacon (optional)
Salt and pepper to taste
Instructions
Preheat oven to 350
Sautéed mushrooms and onions until onions are brown and mushrooms are soft. Pour into a medium bowl.
Mix in sour cream and flour and divide into ramekins. Top with cheese and vegan bacon (optional) and bake for 10 minutes.
Tags: Russian, Vegan MoFo, Vegan MoFo 2013
This entry was posted on Wednesday, September 4th, 2013 at 2:39 PM and is filed under side. You can follow any responses to this entry through the RSS 2.0 feed. You can leave a response, or trackback from your own site.
5 Responses to "Vegan Julienne (Russian mushroom casserole)"
Leave a Reply
Subscribe by email:

Topics

Reading List

resources

cruelty-free shopping

МИР ЯВЛЯЕТСЯ ВЕГАНСКИМ! Если ты этого хочешь.