Soy-free vegan sour cream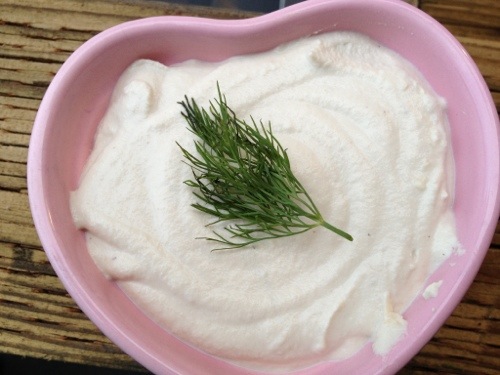 Sour cream — smetana — is a staple in Russian (and presumably other Eastern European) cuisine.
Tofutti's vegan version is awesome, but not great for people with soy sensitivities. I also worry about eating processed foods, though you wouldn't know it based on how often I eat them.
While watching football at the Redwood recently, a friend got a little too liberal with malt vinegar — its flavor on french fries reminded me of dairy sour cream. So, I combined 1 cup cashews (soaked overnight), a couple teaspoons of malt vinegar, a pinch of salt, and about 1/3 cup water in my Vitamix for a creamy, soy-free, no-cow alternative.
It's okay, though I might just stick with a recipe from the pros.
Tags: condiment, Russian, Vegan MoFo, Vegan MoFo 2013
This entry was posted on Wednesday, September 25th, 2013 at 11:50 AM and is filed under dips/spreads. You can follow any responses to this entry through the RSS 2.0 feed. You can leave a response, or trackback from your own site.
2 Responses to "Soy-free vegan sour cream"
Mary says:
Helen says:
Leave a Reply
Subscribe by email:

Topics

Reading List

resources

cruelty-free shopping

МИР ЯВЛЯЕТСЯ ВЕГАНСКИМ! Если ты этого хочешь.