Russian dogs at Cyber Dogs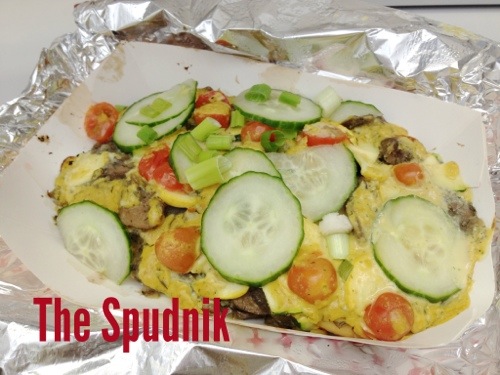 I love Cyber Dogs, and guess what: it's Russian-owned! They also serve a number of Slavic-inspired dogs: perfect for Vegtastic!'s Vegan MoFo theme.
I had the pleasure of being served by bubbly owner Tania Harrison on my most recent visit — it's near (but not super near) my work, so I make the trek on days I want a little walk or a big meal.
Tania wished me a happy Jewish New Year while preparing my Spudnik (a vegan dog topped with potatoes and mushrooms), and let me know that "All our hot dogs are kosher — they are made from soybeans killed humanely."
While Dr. Strangelove played on the TV (with the soundtrack to TransAmerica), Tanya gave me a little USSR history lesson: regular Russians never felt any antagonism towards Americans during the Cold War. It was all a political thing.
Also, a popular joke of the time: in case of nuclear attack, put a white sheet over your head and run to the cemetery.
She proudly showed me my dog before wrapping it in tin foil (because it never is as pretty when you eat it at your desk) and was joking with a couple from the Netherlands on my way out.
Tags: Vegan MoFo, Vegan MoFo 2013
This entry was posted on Thursday, September 5th, 2013 at 5:20 PM and is filed under restaurants. You can follow any responses to this entry through the RSS 2.0 feed. You can leave a response, or trackback from your own site.
5 Responses to "Russian dogs at Cyber Dogs"
Leave a Reply
Subscribe by email:

Topics

Reading List

resources

cruelty-free shopping

МИР ЯВЛЯЕТСЯ ВЕГАНСКИМ! Если ты этого хочешь.