Potato croquettes with mushroom-lentil gravy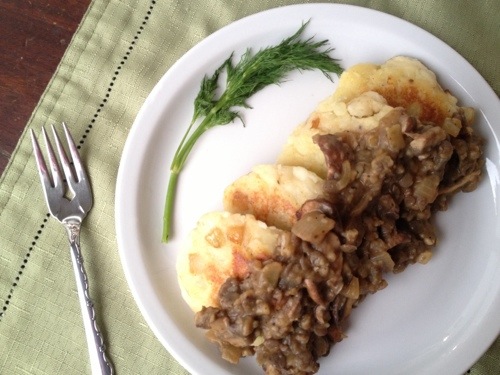 "Russian food is heavy and your host mother will want to feed you," they told me. "If you eat a lot on your first day, she will be offended if you don't eat that much at other meals. You're setting a precedent."
With visions of gaining 25 pounds in a semester*, I tried to restrain myself when my host mother served me a giant plate of fried potato croquettes and mushroom gravy several minutes into my stay, but the hunger of a four-hour train ride and deliciousness of her cooking compelled me to devour the entire plateful, thus sending me on a downward spiral of food consumption that would persist for the next few months.
My attempt to recreate this meal turned out to be similar to large, fried gnocchi, not crisp deep-fried patties like hers were, but I'm not complaining. I'd try to deep fry them more next time, and if you have pointers for how to make them more croquette-like, please share.
Potato croquettes
Ingredients:
1 lb potatoes, skinned and boiled

1/2 cup flour

1/2 small onion, diced and fried until brown

salt and black pepper, to taste

1/2 TBS water

1 tsp oil
Instructions:
Mash potatoes and stir in all other ingredients.
Fry for a few minutes on each side.
Mushroom-lentil gravy
Ingredients
4 oz. mushrooms

1/2 small onion, diced

1 clove garlic, crushed

1/2 cup cooked lentils

1 cup broth

2 TBS flour

salt and black pepper, to taste
Instructions:
Saute mushrooms, onions, and garlic until basically cooked.
Add broth, lentils and salt and pepper and simmer for 10-15 minutes.
Stir in flour to thicken.
* yeah yeah yeah, body shaming blah blah — I know. I was 20, okay?
Tags: Russian, Vegan MoFo, Vegan MoFo 2013
This entry was posted on Tuesday, September 24th, 2013 at 12:05 PM and is filed under dinner. You can follow any responses to this entry through the RSS 2.0 feed. You can leave a response, or trackback from your own site.
2 Responses to "Potato croquettes with mushroom-lentil gravy"
Helen says:
Susan says:
Leave a Reply
Subscribe by email:

Topics

Reading List

resources

cruelty-free shopping

МИР ЯВЛЯЕТСЯ ВЕГАНСКИМ! Если ты этого хочешь.