Poppy seed cookie fail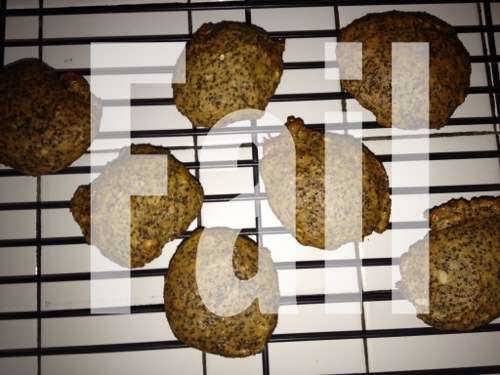 I tried to veganize Aguonu Sausainiukai, Lithuanian Poppyseed Cookies, by subbing out 2 TBS flax for two of the eggs, 1 1/2 tsp EnerG for the other egg, Tofutti for the dairy sour cream, and canola oil for melted butter.
They turned out puffy and soft, not golden and flat like the picture. Any idea what I might have done wrong?
Tags: Vegan MoFo, vegan mofo2013
This entry was posted on Monday, September 16th, 2013 at 8:52 AM and is filed under misc.. You can follow any responses to this entry through the RSS 2.0 feed. You can leave a response, or trackback from your own site.
2 Responses to "Poppy seed cookie fail"
Roxanne says:
Helen says:
Leave a Reply
Subscribe by email:

Topics

Reading List

resources

cruelty-free shopping

МИР ЯВЛЯЕТСЯ ВЕГАНСКИМ! Если ты этого хочешь.