Pickled Mushrooms ala The Master and Margarita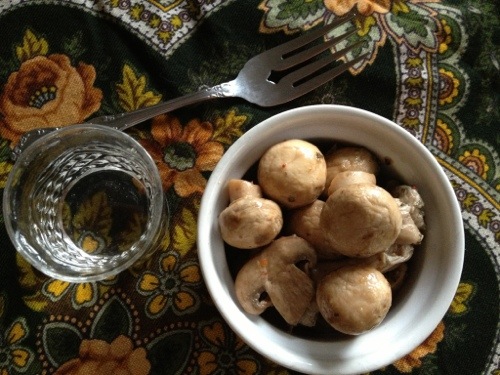 The Master and Margarita is one of my all-time favorite books. It's a fantastic fantastical satire of Soviet society published in the mid-60s but written during Stalin's reign.
The idea is that the devil visits Moscow with an entourage and befriends a woman named Margarita, whose lover has been jailed for being a writer. Margarita is a witch, and shenanigans pursue. There's also a backstory involving Jesus. You should read it if you haven't.
One of the devil's entourage is a large talking cat named Behemoth. He carries a gun and a gas stove and is kinda a jerk, as cats tend to be.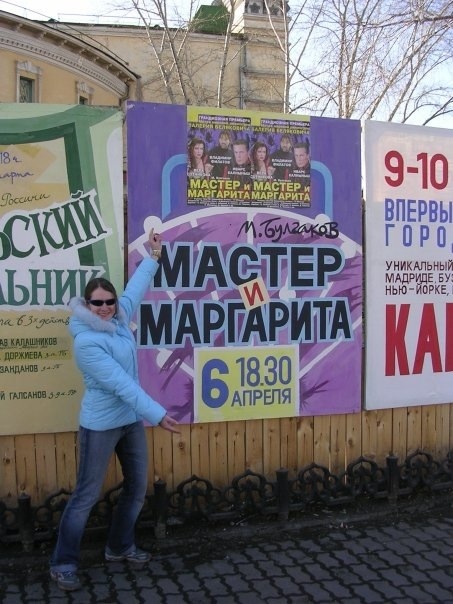 Sue was tickled to see this in Ulan Ude. M&M is her fave too.
In one scene, Behemoth eats pickled mushrooms with a fork, and for some reason this image stuck with me, mainly because I'm fond of both cats and mushrooms.
So, I had to make pickled 'shrooms for VeganMoFo — I modified a pickled mushroom recipe from Food.com using a mix of white and fancy fungi. They're super simple to make but look classy enough on an appetizer tray.
Zeno would not comply when I asked him to pose with the pickled mushrooms as a Behemoth stand in, thus again proving that cats are jerks.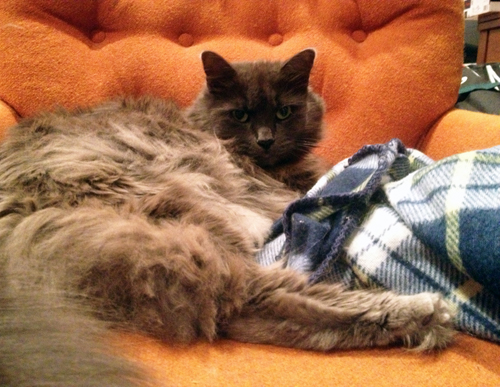 What a jerk.
Ingredients
1/4 cup dry white vinegar

1/4 cup red wine vinegar

3 tablespoons water

2 teaspoons olive oil

2 large garlic cloves, crushed

1 teaspoon sugar

1/2 teaspoon dried basil

1/2 teaspoon red pepper

1/4 teaspoon salt

1/4 teaspoon pepper

12 oz mushrooms, cut into quarters if they're big
Instructions:
Combine all ingredients, minus the mushrooms, in a small saucepan. Boil over medium heat for 3 minutes.

Add mushrooms, bring back to a boil, and stir for another minute.

Chill overnight to allow flavors to combine and mushrooms to marinate. Serve cold.
Tags: Russian, Vegan MoFo, Vegan MoFo 2013
This entry was posted on Thursday, September 19th, 2013 at 10:50 AM and is filed under side. You can follow any responses to this entry through the RSS 2.0 feed. You can leave a response, or trackback from your own site.
3 Responses to "Pickled Mushrooms ala The Master and Margarita"
Susan says:
Helen says:
Jes says:
Leave a Reply
Subscribe by email:

Topics

Reading List

resources

cruelty-free shopping

МИР ЯВЛЯЕТСЯ ВЕГАНСКИМ! Если ты этого хочешь.