Pan-grilled vegan khatchapuri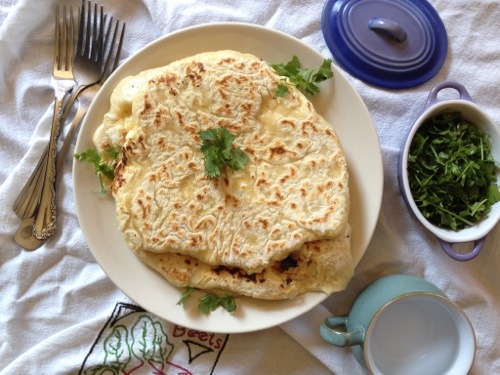 I apologize in advance for an overly dramatic post. I have very strong feelings about khatchapuri (ha-chee-purr-ee), this wonderful cheese-filled Georgian bread.
Khatchapuri has been described as Eurasian pizza or a Caucasian quesadilla, but it's so much more. Yes, the wheat and dairy factor is a commonality between the three, but khatchapuri triumphs over her lesser bready/cheesy brothers with the salty tang of pickled cheese. She's rustic, a little wild, and not the prettiest, but she makes you feel at home. Comfortable.
Once you've had a little taste of khatchapuri, you just want more. You're hooked. Pretty soon, you're booking flights to Tbilisi. Taking too much time off work. Maxing out credit cards and selling your possessions, then your hair, then your body, just to get your fix. Because you can't just have one bite of khatchapuri — oh no. What a fool you were to think you could try her and then just walk away.
Khatchapuri consumes you. Haunts your dreams. Reduces you to a fragmented shard of a human being. Destroys you.
Needless to say, I really like the stuff. Unfortunately, it's not very vegan. So, here's my attempt to veganize it!
Mo has already veganized khatchapuri, but her version — which looks amazing — is a little different from the one I remember: every region of Georgia has a different take on it.
My khatchapuri, adapted from Delights of Culinaria, didn't turn out quite as delicious as I remembered, but they weren't bad.
Pan-grilled vegan khatchapuri
Ingredients:
2 1/2 cups plus 2 TBS cups all purpose flour, plus more for kneading

1/2 teaspoon salt

1/2 teaspoon sugar

1/4 teaspoon baking soda

1 1/2 cups soy milk

1 1/2 tsp lemon juice

1 cup "suluguni" cheese (see below)

1 package Daiya, cheddar or mozzarella

1 garlic clove, pressed

2 TBS chopped cilantro

oil
Instructions:
Add lemon juice to soymilk and stir until mixed. Combine flour, salt, sugar, and baking soda in a large bowl. Add soy milk/lemon mixture and knead until it forms a soft mixture.

In another bowl, combine Daiya, "sulugini," garlic, and cilantro.

Oil your hands and place 1/4 of the dough onto a generously floured surface. Press it into a pancake, making sure that the dough doesn't stick. Place 1/4 of the filling in the middle, and fold the edges over all around (making sorta a big dumpling). Sprinkle it with some flour and flatten it out again. Do this three more times.

Heat skillet to medium, spray with a little oil, and grill khatchapuri about 3-4 minutes on each side. Optional: brush each side with oil when done.
Vegan "suluguni"
Ingredients:
1 lb tofu
2 tsp miso
2 TBS red wine vinegar
1 tsp salt
Instructions:
Combine all ingredients in a blender until just combined. It should be a little grainy.
Tags: Georgian, Vegan MoFo, Vegan MoFo 2013
This entry was posted on Thursday, September 12th, 2013 at 5:59 PM and is filed under bread. You can follow any responses to this entry through the RSS 2.0 feed. You can leave a response, or trackback from your own site.
One Response to "Pan-grilled vegan khatchapuri"
Susan says:
Leave a Reply
Subscribe by email:

Topics

Reading List

resources

cruelty-free shopping

МИР ЯВЛЯЕТСЯ ВЕГАНСКИМ! Если ты этого хочешь.