Medova z pertsem ("honey" and pepper) vodka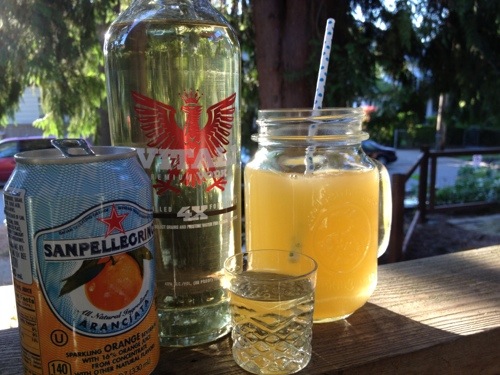 Hyperforeignism is the term for making foreign things more exotic then they're supposed to be — I credit Ty for teaching me this.
Habanero peppers are a good example. You often see a tilde over the n: habañero. This is incorrect. No ñ. Just a plain ol' boring n-as-in-Nancy.
Vodka is kinda the same way. Take my friend Vitali here. He's from St. Louis.
But where is he really from, you might ask.
St. Louis.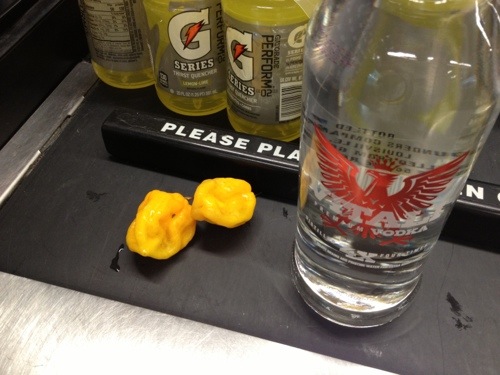 classiest grocery run ever
I only use cheap American vodka in my infusions. The Russian vodka we get over here is going to be either far better quality or far more expensive, so I go with the cheapest rotgut possible: the flavor of whatever you're going to infuse it with will counteract the alcohol flavor anyhow. Just as you don't put Johnny Walker into Coke, you don't use nice liquor for infusions.
I'm also supporting the boycott on Russian products because of the country's policies towards homosexuality (even though the New York Times says this won't do anything to help Russia's gays). It may not do anything, but it might, and we really don't need to be importing goods from Europe anyhow, right?
And, before you go judging someone for drinking vodka, a lot of the vodka you see in stores or bars isn't actually from Russia. Grey Goose and Cîroc are French, Absolut is Swedish, Belvedere is Polish, and all the crap you buy in plastic bottles with handles is as American as Budweiser.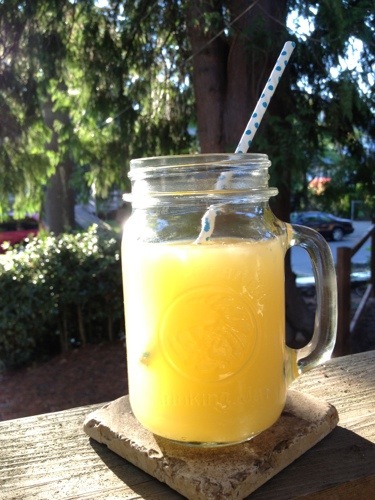 Anyhow, when I was in Russia, I loved this Ukrainian liquor called gorilka (horilka in Ukranian) with honey and peppers. It was a little spicy and a little sweet, but definitely not vegan.
So, I cut a couple of habanero (sans ñ) peppers in half and let them soak in 750 ml of vodka for a couple of days. I strained it, discarded the peppers, poured it back into the original bottle, and added a TBS of agave to give it that horilka brown.
It's insanely spicy, which is delicious mixed with fruit juice (like the orange San Peligrino above).
Tags: Vegan MoFo, Vegan MoFo 2013, vodka
This entry was posted on Friday, September 13th, 2013 at 6:50 PM and is filed under beverages. You can follow any responses to this entry through the RSS 2.0 feed. You can leave a response, or trackback from your own site.
2 Responses to "Medova z pertsem ("honey" and pepper) vodka"
Jackie says:
Ty says:
Leave a Reply
Subscribe by email:

Topics

Reading List

resources

cruelty-free shopping

МИР ЯВЛЯЕТСЯ ВЕГАНСКИМ! Если ты этого хочешь.