Vida Vegan Con 2013 — a (sorta) wrap-up
Hey guys. Long time, no see, right?
So, a couple of weekends ago, I attended this little thing called Vida Vegan Con. Maybe you've heard of it?
It's just 300 or so awesome vegans coming together for a long weekend of education, togetherness, and partying.
Shenanigans pursued. Some of us got cattoos. Some of us came back with a lot of $2 bills (*wink wink*). Some of us roomed with awesome ladies and took hot prom shots before the Galarama.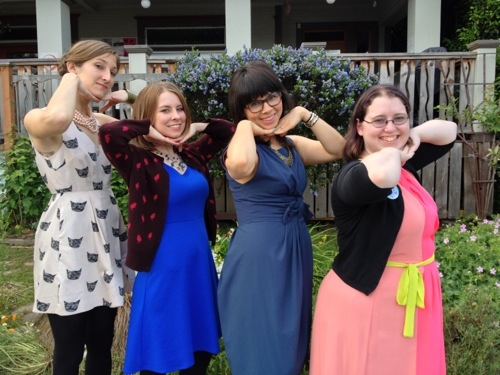 All of us made new friends and met old heroes.
To be honest, I didn't just attend this time (like I did last time) — I spoke at it, with Dawn. This was a huge, huge honor. Our presentation (which didn't actually work at the conference — curse you, technology!!) is here:
This post isn't a recap of the conference — for that, you can read Vegan Culinary Crusade; Diet, Dessert and Dogs; Vegan Eats and Treats; Bonzai Aphrodite; Vegan Crunk; Sews Before Bros (she has a ton, so you kinda have to search); or many others. Nor does it discuss food, though as Vegan Yack Attack demonstrates, we ate very well.
I'd rather focus on what I learned and mulled over as a result. Let me share my three biggest takeaways with you.
Don't favor one cause (veganism) at the expense of others
Megan paraphrased something that Jamie said on panel that I did not attend, but it was the most powerful sentence of the conference:
I don't think we should throw other movements under the bus.
Just because veganism/animal rights is an important cause, and the most important cause to me and probably you, doesn't mean that other problems aren't equally relevant. Poverty, homelessness, civil rights, women's rights, environmental degradation, epidemics, access to clean water: these are all also critical issues.
To try to solve everything that's wrong with our world is impossible and would drive you crazy, but don't think that because you live a plant-based lifestyle you're off the hook for everything else, or worse, degrade other movements or think of them as "lesser."
Causes don't need to be mutually exclusive — you can be pro-vegan and pro-environment and pro-social justice, simultaneously. For example, many of us have fallen into the trap of being so excited to find pleather shoes at Payless that we forget that these kicks were made by children in a sweatshop from materials that destroy the environment.
Veganism should be completely, utterly, positively compassionate to all and cruelty free — no palm oil, pleather, or packaging.
Being a forced ambassador for veganism
This came up in the Vegans of Color panel with a racial/cultural context attached to it, but I feel like veganism is still so fringe to many people (seriously — more folks in the US believe that lizard people control our government than champion a plant-based lifestyle) that we're all ambassadors, no matter the color of our skin or our heritage.
Laura Hooper Beck mentioned in a different panel that she's always seen as "the cool vegan." This resonated with the room — it seems all of us, all different, are "the cool vegan" in our respective social circles. But wait — how can we all be "the cool vegan"? Maybe because the uptight, judgmental, outspoken vegan myth won't die? Maybe because vegans are shockingly normal, once you get to know us?
As Mo and Terry asked the Vegans of Color audience to demonstrate, no one has the same idea of what personifies a vegan, and we're all up against this shape-shifting stereotype.
We're rich white women who practice yoga and shop at Whole Foods. Or we have eating disorders. Or we're paint-throwing activists. Or we're radical anarchists. Or we're dirty, hemp-wearing, patchouli-showering hippies. Or tattooed punks. Or high school girls going through a "phase."
And we all. love. freakin'. Morrisey.
As a well-educated white woman, I fit a few of these stereotypes, but not most of them, and I always wonder if what I am is somehow turning people off from veganism.
Do they look at my bad skin (totally genetic) and think that veganism caused it?
Or think, "she's just a crazy cat lady — of course she's too soft to hurt animals"?
Do they somehow judge my style or what they see me eating and think, "that's not for me — I won't do it" and not realize that they have so many, many other options?
What other perceptions and preconceptions do I need to diplomatically overcome in my forced ambassador role?
I guess the idea is to be yourself, and not be a jerk, because you never know through which lens folks are going to be viewing you, and no one likes an asshole. While there are always going to be some situations where you might not want to let your freak flag fly (leafletting a rodeo? Might want to take off the liberal message tee. Oh wait — did I just throw down a stereotype? Yes I did!!) mostly just winning people over with kindness and openmindedness is the way to go.
What I'm doing with Vegtastic!
As my faithful readers know (thank you, all both of you), I haven't updated Vegtastic! much in the past year.
It's been a strange 12 or so months, with many transitions, and I've been trying to determine how food blogging fits into this. I'm not the best photographer or a crafter of lush prose or a great recipe developer or a passionate AR activist or a lovely fashionista, but I am really good at being a low-key everyday vegan.
So, I'd rather focus on showing that veganism is easy and approachable. And that's where I'm gonna take this thing.
But I really want to make it more about just veganism, to fit in with the first thing I leaned at VVC. As corny as it sounds, I want it to be a "making the world a better place" blog. Or, more realistically, a, "f@#$ing up the world less" blog.
Thanks a ton, Janessa, Jess, and Michele, for another great VVC!!
Tags: Vida Vegan Con
This entry was posted on Tuesday, June 18th, 2013 at 7:38 PM and is filed under events. You can follow any responses to this entry through the RSS 2.0 feed. You can leave a response, or trackback from your own site.
5 Responses to "Vida Vegan Con 2013 — a (sorta) wrap-up"
Ty says:
Helen says:
Vegan Bloke says:
Vida Vegan Con 2013 — a (sorta) wrap-up - The best veggie recipes from around the net. - Veggie-Recipes.net says:
xr550v cable dcables says:
Leave a Reply
Subscribe by email:

Topics

Reading List

resources

cruelty-free shopping

МИР ЯВЛЯЕТСЯ ВЕГАНСКИМ! Если ты этого хочешь.