Austin vegan adventures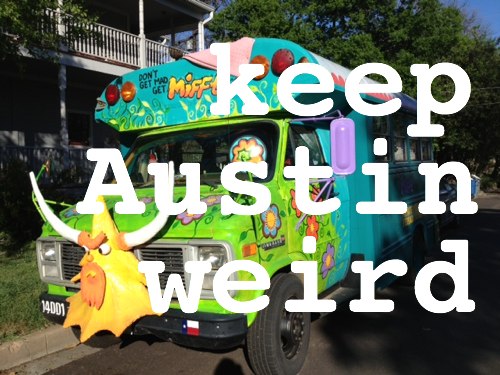 Austin, TX, is a fun and friendly town reminiscent of Seattle, Portland, San Francisco, L.A., Oakland or Brooklyn but with a feel all its own. Namely, the feel of sunshine on your pale PNW skin. Mmm… vitamin D.
I loved the 6 or so days I spent there recently.
Festival
Texas Vegfest was the catalyst for the trip and marked the midway point of my adventure — I wrote more about it in another post.  To prepare for Texas VegFest, I kept a strict regimen of diet and exercise — walking around town until massive blisters sprouted on my feet and consuming four square meals of Austin's finest daily.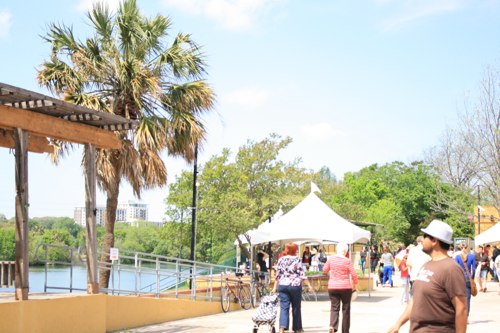 The festival is at scenic Fiesta Gardens along the water in East Austin. Perfect weather, vegan food from all over the state, vendors from all over the country, animal activist groups, awesome speakers, bands — you really couldn't ask for a more enjoyable day. Here's Christy Morgan speaking: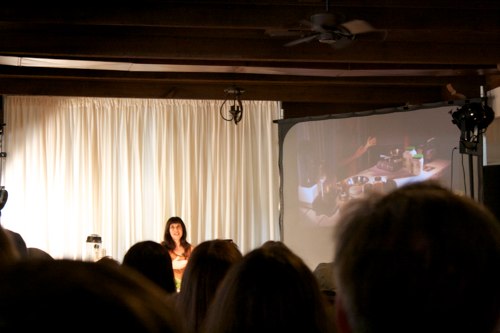 My high school friend Kat, who is getting a PhD at UT, attended with me — her sister is vegan, and most of the vendors answered Kat's questions about veganism. Kat's scientific, inquisitive, and frank nature made her an ideal omni companion — she sampled everything (even the vegan crab cakes!) and gave me her honest opinion about what she thought.
Tons of fun — great job, Texas Veg Foundation. I'd highly recommend Texas Vegfest as an excuse to visit Austin, as if you need one.
Food
Hoboken Pie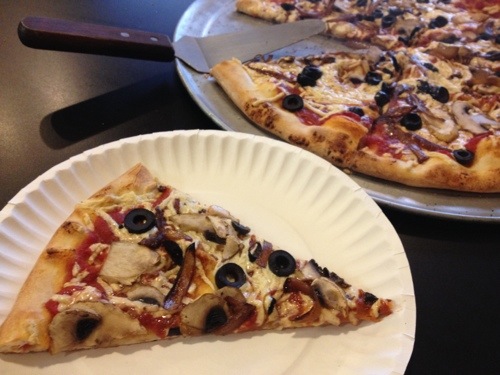 After arriving on a Wednesday evening around 6 p.m., starving, at my home base for the next 6 days, the Firehouse Hostel (very clean and nice place, though loud due to its proximity to Sixth Street), I consulted my Austin vegan dining bible and found Hoboken Pie to be just a few blocks away.
Hoboken Pie served probably the best pizza I've eaten since going vegan – crisp, bubbly cornmeal-bottomed crust with gobs of melty Daiya, topped with mushrooms, caramelized shallots, and olives (my selections). Only in Texas does a 14" pizza serve 1-2 (I'd say more along the actual lines of 2-4) but I managed to eat ½ the pizza with relatively little effort – the rest served as two breakfasts and one late night drunk snack. It's not a big place, maybe 2-3 tables, but the staff were all these adorable tattooed boys who happily gave me vegan-friendly bar recs.
Casa de Luz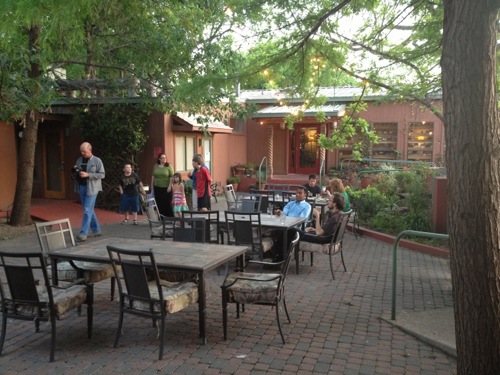 I dined at macrobiotic heaven Casa de Luz (or "Casa," as the cool kids call it) three times on my stay – once for lunch and twice for dinner. Each time was a different experience, since the offerings rotate, and I didn't regret the duplicity because it's a fairly unique experience – I can eat freeto pie or gutbuster burgers in Seattle or Portland, but this sort of hippie goodness isn't readily available near me.
The way is works is this: for $12, you (and everyone else) get hot tea, iced tea, a bowl of soup, a salad, and a plate of assorted deliciousness: beans, rice, veggies, and greens topped with various sauces — it's great for people like me who dread making decisions. If you want dessert or a second helping, you just pay more.
Here's the assortment of what I ate: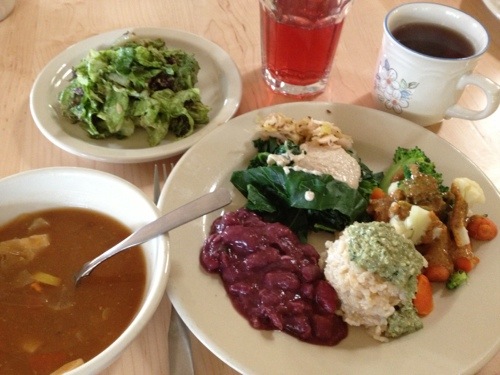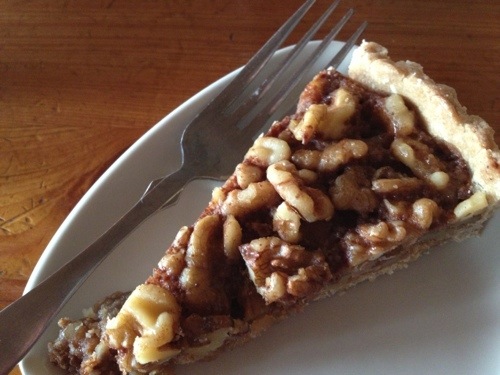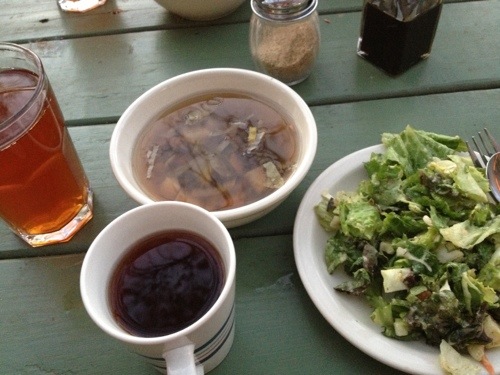 You can sit inside or outside, alone or with other people (though on a busy day, you'll probably sit with other people). This is the group I dined with for lunch — I only knew one of them coming in: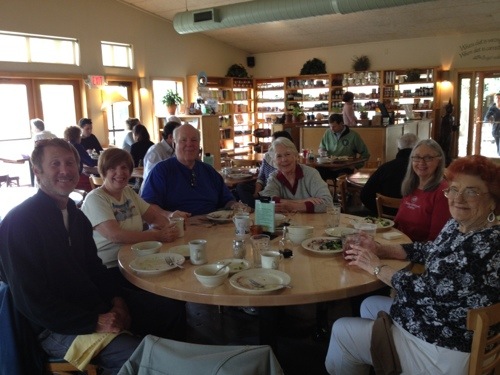 Casa is rumored to be popular with local celebrities, which I can confirm because a guy who looked at lot like Owen Wilson and turned out to be Owen Wilson was there at lunch. As much as I would have loved to tell Owen Wilson how much I love Wes Anderson's movies, I didn't work up the courage to speak to him.
Owen Wilson is in this picture but you can't really see him, as he is engulfed in the glow of fame and natural light: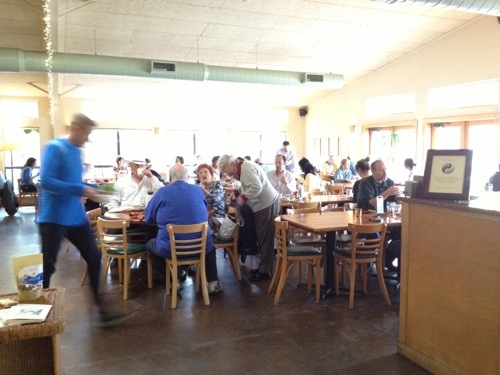 I always wanted to be a Tenenbaum, you know?
Curra's Grill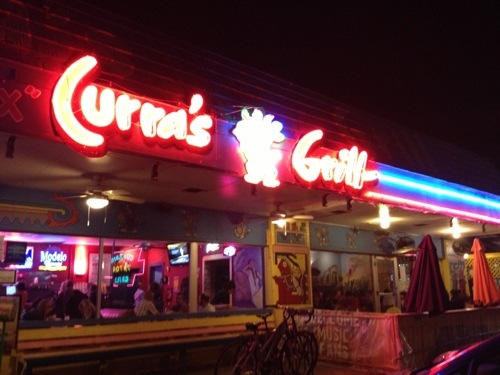 Christy, The Blissful Chef, picked me up at my hostel after a failed SoCo bridge bat sighting attempt (more to come on that) and whisked me away to this taco and margarita paradise.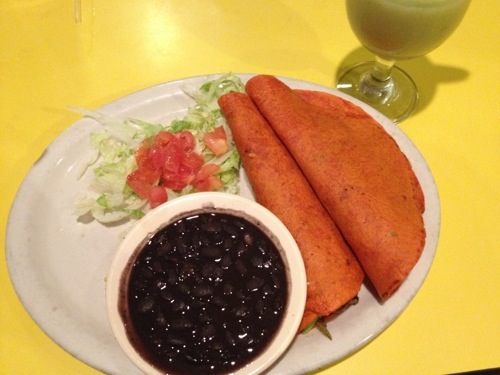 While it's mostly meaty and the rice isn't vegan, I thoroughly loved Curra's cactus, mushroom, and soy chorizo tacos and avocado frozen margarita. I think a few other menu choices were vegan, though I probably wouldn't go here unless I also had a thirst to quench and a sobriety to destroy — it was kinda far off the beaten path.
Whole Foods
Whole Foods got its start in Austin just a few blocks away from the current mecca on Lamar. The flagship store is nuts: it's got a juice bar, a salad bar, a cookie bar, and even a bar bar, serving fine craft beer. I ate a quick dinner there one night consisting of pesto-Daiya portobello, kale-avocado salad and soup, and breakfast tacos another morning.
Seriously: breakfast tacos to a Seattleite are like breakfast pizza or breakfast cake or breakfast leftover Ethiopian food, but they're an actual thing in Austin. $4ish got me a massive creation of tofu scramble, soy chorizo, potatoes, guac, salsa, and a variety of other toppings. Two corn tortillas could not contain the delight.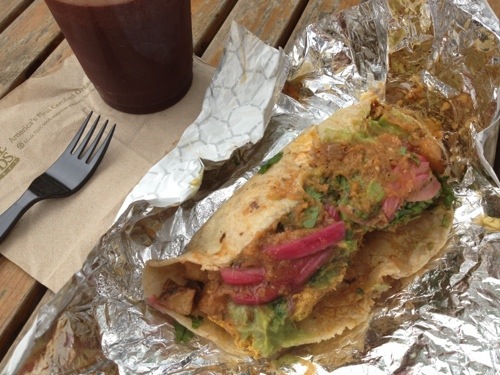 Yeah, it looks kinda sloppy-gross, but it was oh-so tasty.
Wheatsville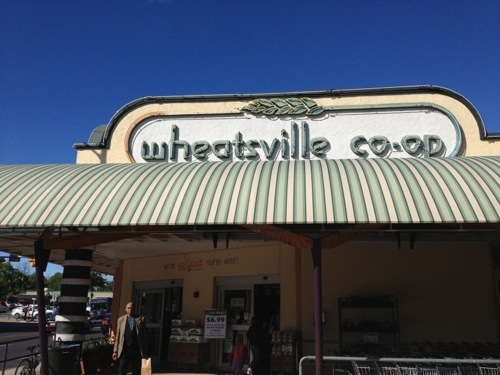 This crunchy co-op near the University reminds me a lot of Madison Market – same sort of offerings, same vibe, same crowd. Which means I loved it. Their popcorn tofu made the PPK 100 this year for good reason – it's amazing: salty, spicy morsels of chewy delight. I made a plate of this with beet salad, chased with a Red Rabbit maple walnut donut, washed down with awesome local kombucha.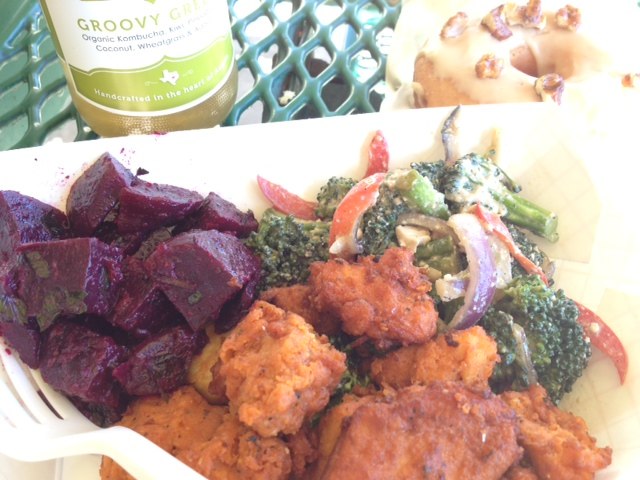 Mmm… buffalo sauce.
Capital City Bakery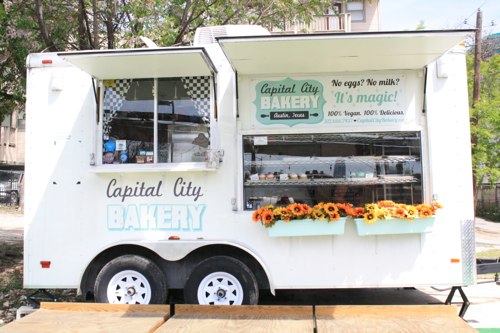 This tiny food truck is in parking lot near the university along with Conscious Cravings, a vegan-friendly falafel stand, and something else that I can't remember. If you don't follow owner Kristin Davenport on Instagram, do it now, and then dare to tell me you don't want to chow down on everything she makes. You just can't not love her gorgeous baked goods, which happen to be as scrumptious as they are beautiful. And she's adorable!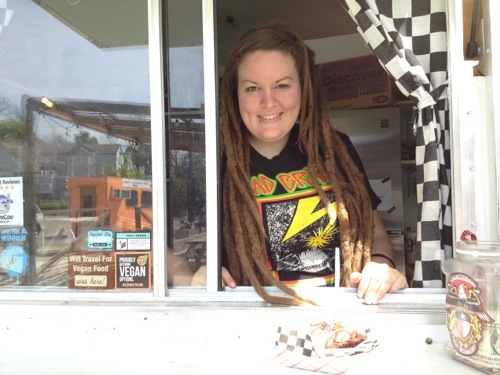 After waffling between a massive oatmeal sandwich cookie, a vanilla cupcake, and a frosted brownie, I went with the brownie, which turned out to be the best decision of the trip: it was the chewiest, densest, chocolatiest brownie I have eaten in a long time, possibly ever. The brownie alone would have been amazing, but the smooth peanut butter-tinged frosting and drizzle of fresh ganache elevated it to uncharted levels of indulgence.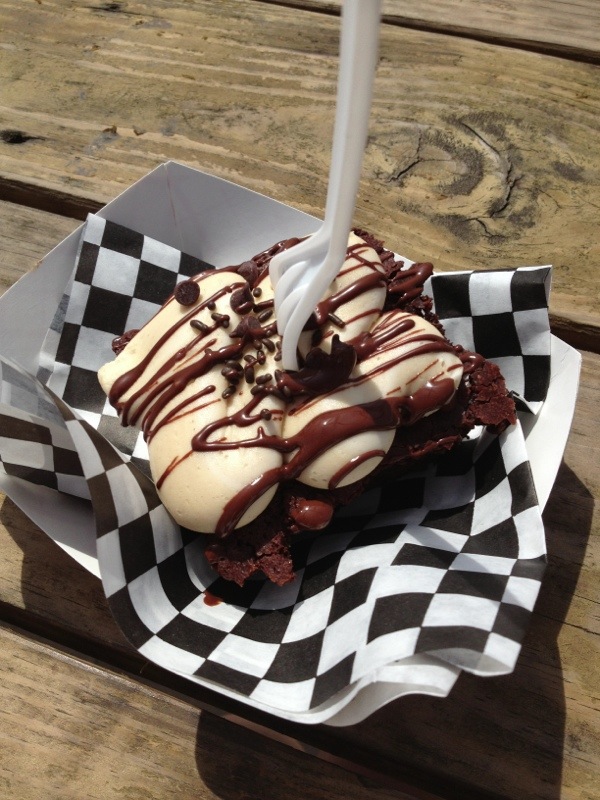 Goddamn, girl – you are going places.
Mr. Natural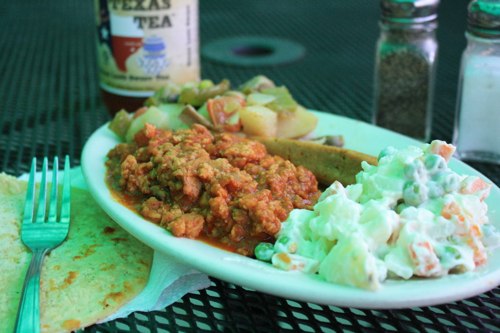 I guess this is an Austin vegetarian staple, and there are two locations – a dining companion at Casa de Luz told me the Cesar Chavez location is better. I wasn't overly wowed but I enjoyed my meal.
The way it works is this: half the place is a sorta cafeteria-style deli and bakery, and the other is a natural foods store. If you decide to eat, you get your choice of a salad, an entree, and a couple of sides (they'll throw in a tortilla) for a reasonable price. Not everything is vegan, but I was happy with my selection — soya in sauce, potato salad, a tofu/sunflower seed tamale, and a mushroom-potato-pepper hash. It was all a little oily, but good.
Arlo's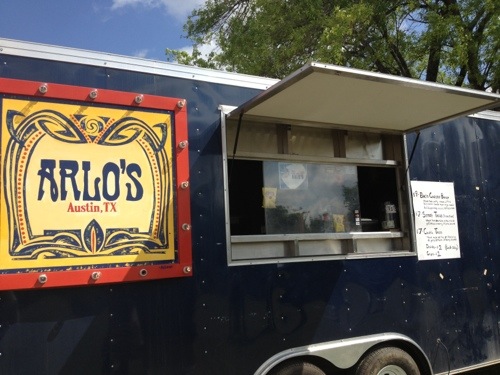 Arlo's vegan bacon cheeseburger is supposed to be amazing, and I am remiss to say that I did not try it. This food cart is usually located at Cheer Up Charlie's, though long lines for it formed at VegFest. I was part of one of these lines.
Their seitan tacos are also fantastic — chewy cubes of seitan, slightly crisped, lettuce tomato, and a creamy chipotle dressing.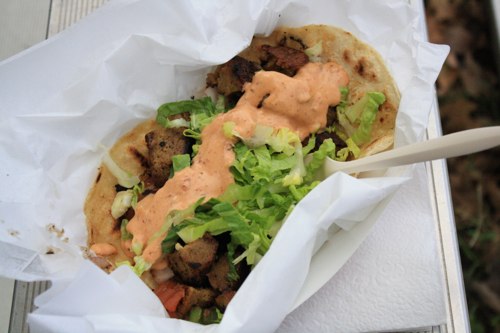 Mmm… tacos.
Me So Hungry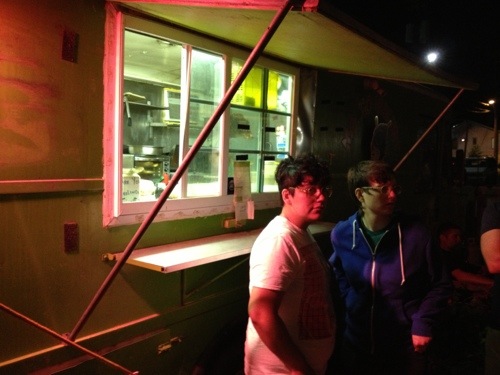 I missed out on the ATX Vegan Drinks at Cheer up Charlie's, but decided to check out the bar after VegFest. I wasn't really hungry, but the fellow in the group nice enough to share their picnic table with me had positive things to say about his Me So Hungry tofu banh mi, so I figured, "well, I need breakfast tomorrow, so…"
Me So Hungry isn't 100% vegan, but will make most of their items vegan, including subbing a vegan sauce for the non-veg one. Despite being a weird pink color, the barbeque tofu was perfectly spiced on chewy toasted bread.
Steeping Room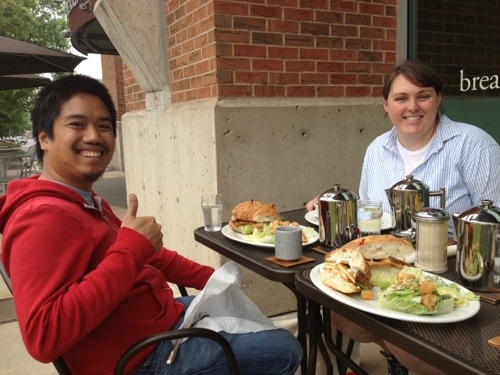 I met Marie and Daniel of Red Hot Vegans and Austin Vegan Drinks while waiting for my banh mi at Cheer Up Charlie's – Daniel was wearing a vegan shirt, and in a rare act of kale lime ginger margarita-fueled outgoingness, I introduced myself to their group. Marie and I made plans to meet up for lunch on Monday at Vegan Nom. Only Vegan Nom is closed Mondays.
Tea-themed cafe The Steeping Room was no consolation prize: picture Remedy-level tea selection, GLT-caliber sandwiches, and awesome soups and salads. My tempeh bacon, tofu, tomato, and vegenaise sandwich with cashew caesar salad served as both lunch and airplane dinner. Between that salad and those at Casa de Luz, I didn't have a boring dressing experience the entire time. The Steeping Room's strip mall atmosphere is a little chain-y, even though there's just two locations, but the wait staff was super nice and doted completely on Lily, Marie and Daniel's absolutely precious dachshund.
Via 313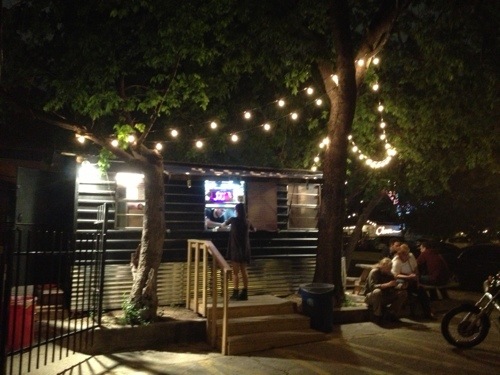 Daniel tipped me off to this Detroit-style (sauce on top of the cheese) pizza cart by the Violet Crown Social Club, which will sub Follow Your Heart (old-school in the Daiya age!) for dairy on their offerings. I went there on my last night in town, and my order of this square, chewy-crusted pie didn't last long.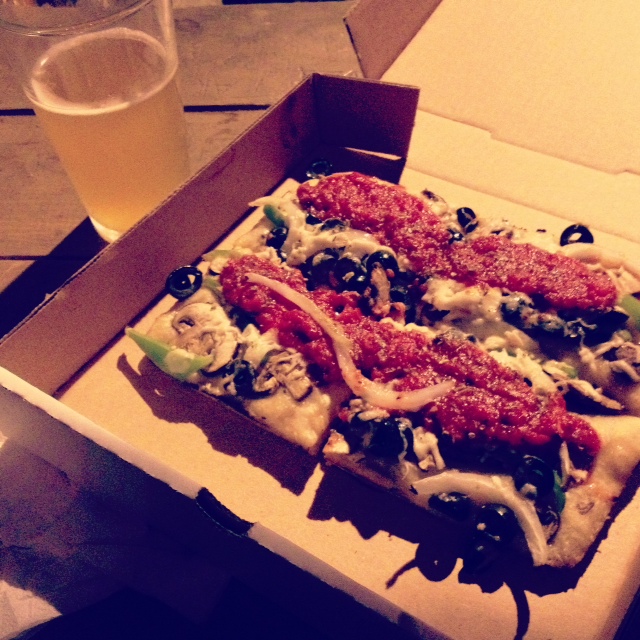 I was going to save it half for breakfast the next day, but then was all like, "YOLO!" and ate the whole thing.
Sweet Ritual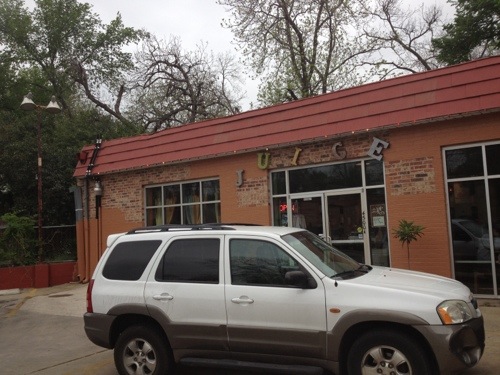 Don't be fooled by the healthy-sounding facade. Though Sweet Ritual is inside of a juice bar, there is plenty of thigh-widening amazingness inside.
They serve both hard ice cream and vanilla soft serve. Deciding between the two was difficult, but as a reformed Dairy Queen fan, the thought of a creamy vanilla soft serve sundae topped with Chick-o-sticks and housemade salted caramel sauce tickled my fancy.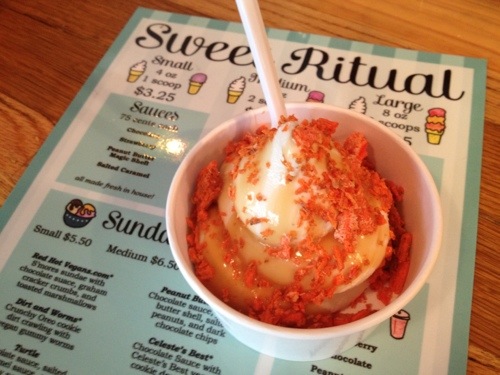 It was delicious.
Green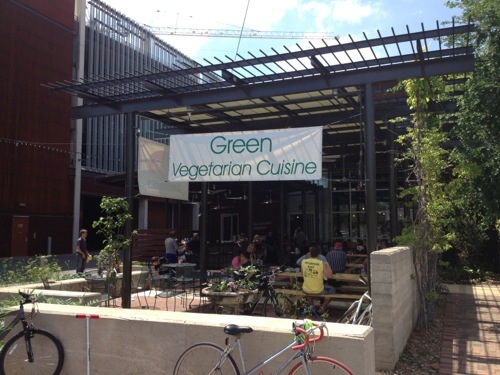 If anyone tells you not to go to San Antonio ("I think if you didn't grow up in Texas, the Alamo could be verrrry underwhelming" – jackass Texan friend who will remain unnamed. It's the freakin' Alamo, dude. Davey Crockett? Jim Bowie? Remember it? I'm not from New England but the Battle of Bunker Hill still means something to me because I'm a citizen of the U.S. of A.), don't listen to them.
San Antonio has a completely different feel from Austin's Seaportoakciscolyngeles atmosphere – more frontier, while still hip and fun. Do as I say and not as I did and plan on spending more than 4 hours there ("you need 4 hours in San Antonio for Margaritas and TexMex alone!" a client tweeted at me).
The Alamo is frustratingly crowded and a little hokey, but you aren't a real American until you've seen it – the moment I crossed the threshold, a latent appreciation for country music and light beer awakened within me.
I balanced this newfound love of 4×4s and firearms by dining at a commie pinko vegetarian restaurant: Green Vegetarian Cuisine, a lovely 1.5 mile or so walk up the scenic riverway away. It was crowded, but I found a place on the patio bar and sipped unsweetened hibiscus iced tea.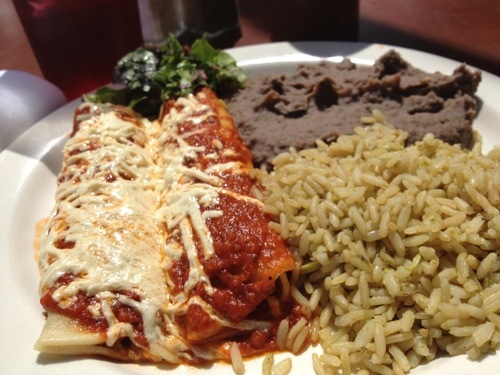 My Daiya-smothered enchiladas were not the best of Tex Mex cuisine (the sauce sorta tasted like Prego. Also, what is TexMex cuisine? As a Californian, I'm pretty sure we eat a ton of TexMex, only we just call it "Mexican food," and it's not any worse than what you find in Texas, despite what every Texan will tell you), but they were tasty nonetheless – I should have trusted my gut and gone with one of Green's macro-ish bowls, which looked fabulous.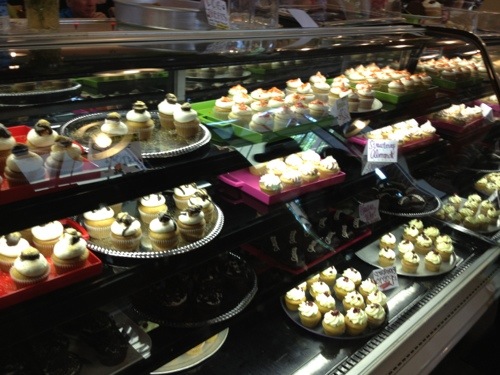 What really blew my mind was the selection of baked goods – the feather-light frosting, awesome ganache, and perfect crumb of my s'mores cupcake made up for the somewhat average entree.
Fun
White Horse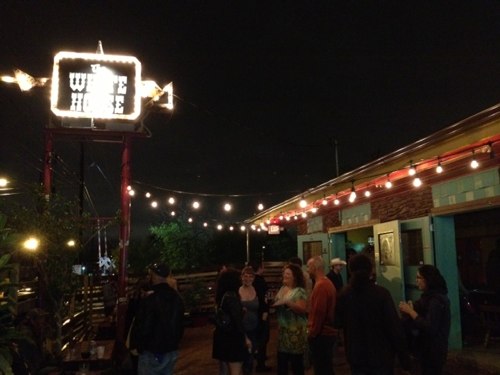 Neil has a friend who bought a Cricket trailer and then camped out in Austin with a bunch of hippies and some goats for a month. I arrived in town right before he left for Santa Fe to search for the treasure of Forest Fenn, but prior to doing so he took me dancing at this Austin favorite. Seriously, every friend who has been to Austin loves this bar. The place was packed on a Wednesday night with young and old alike two-stepping (which is actually kinda three steps?) to awesome alt-countryish bands. Tons of fun. Be sure you boogie with everyone wearing a cowboy hat.
Capitol building
Some people don't like doing the tourist things in cities, but I do. I mean, when else do you have the opportunity to enter the building where so many educational, LBGT and women's rights are taken backwards?
It's a really pretty building though.
If I were Rick Perry, what would I do?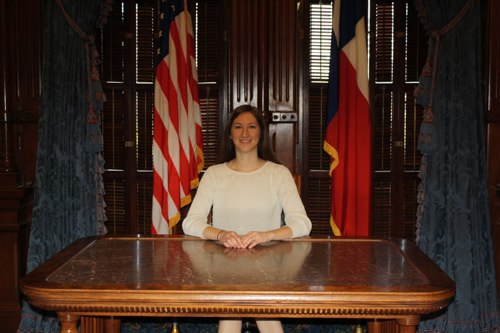 Equal rights for all! Abortions for some! Miniature American flags for others!
Bat Bridge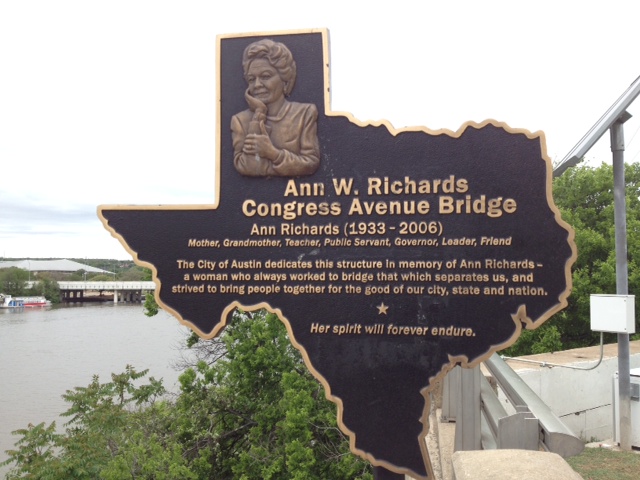 Austin is home to the world's largest bat colony, and every night right at sunset, they supposedly swarm out from under the South Congress Bridge en masse to nibble on the insects that live by the river. I twice stood on that bridge, freezing, and the rabid little f*ckers never appeared.
South Congress Street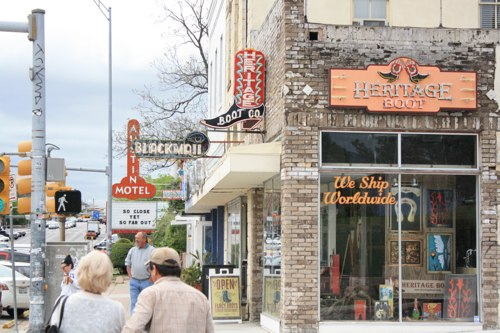 If you're looking for cowboy boots (umm, not vegan), cute boutiques, and vintage clothes, SoCo is a fun place to shop — Uncommon Objects is especially neat. There are also classic Austin watering holes like the Austin Motel (whose sign has made its deserved appearance on this Instagram account, hehe), the Hotel San Jose (lovely outdoor patio bar), and the Continental Club. The coffee shop next to the Hotel San Jose had vegan muffins, and Christy said that a dosa cart was vegan friendly, but I didn't really explore the vegan options around here.
Sixth street downtown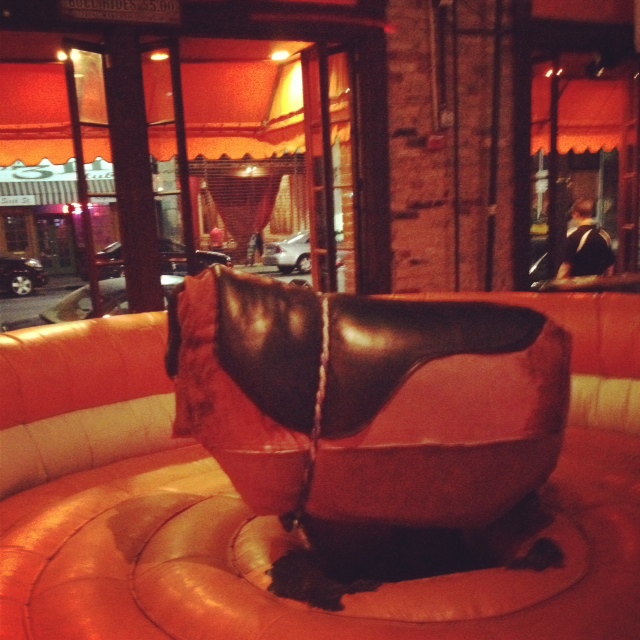 … is ridiculous. Think Belltown, multiplied by infinity — a spectacle of drunken "this is why people hate America" debauchery. There's nothing but bars for blocks and blocks and blocks. A coworker who attended UT warned I might get punched in the face if I went there, but it was right around the corner from my place of lodging so I needed to check it out, right? Sh*tshow. (Not on my part.) Walk a few more blocks east and you get to good stuff.
I totally rode that mechanical bull though.
Cheer-up Charlie's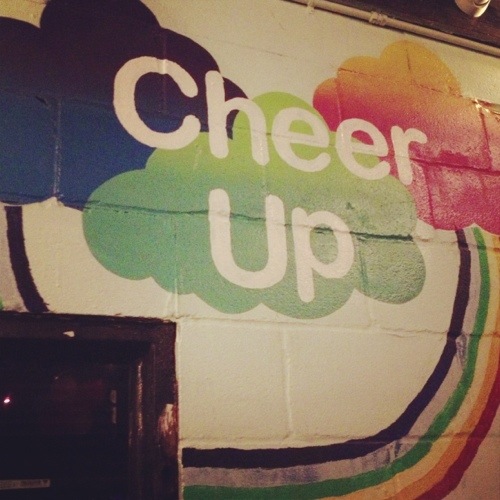 I loved Cheer Up Charlie's! This place on E. Sixth (the good part of Sixth) has a large outdoor area with lights and picnic tables (okay, many places in Austin have a large outdoor area with lights and picnic tables), a parachute, stage, cutesy murals, and a couple of vegan-friendly food trucks.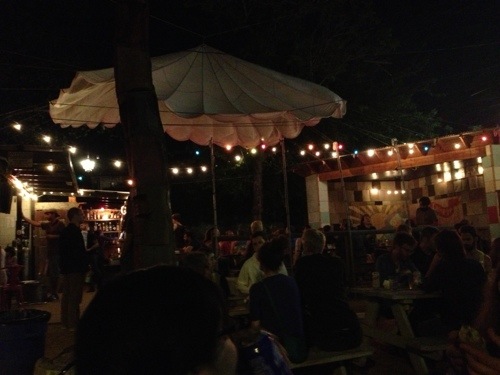 No wonder Austin Vegan Drinks meets here often.
Eastside Showroom
Eastside Showroom is next door to Cheer Up Charlie's and a local favorite, I've been told. I met a guy claiming to be the owner's ex-brother-in-law at Bimbo's right before my trip, and he recommended it to me. This fellow seemed a little bro-y (but nice), so I wasn't sure whether Eastside Showroom would be my scene but it totally was. It was basically just Canon or Tavern Law, but in Austin. Seriously — the bartender serving me that night grew up in Issaquah. Good cocktails, decent beer selection, classy atmosphere.
Barton Springs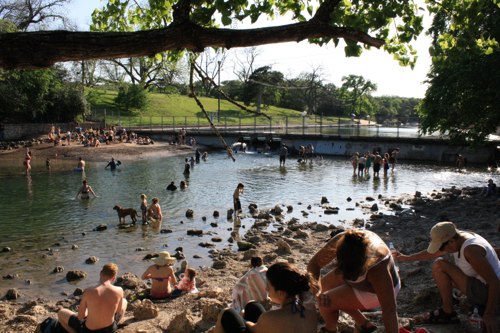 The same jackass Texan friend who told me no-go on the Alamo recommended Barton Springs as a beloved place to cool down on a warm day — he was right this time. The 80 degree weather wasn't hot enough to make the frigid water tolerable for a dip, but I washed off my dirty, blistered feet in it. (Seriously, who plans a walking-heavy vacation and only brings flip-flops and boots with heels? This girl.)
Chuy's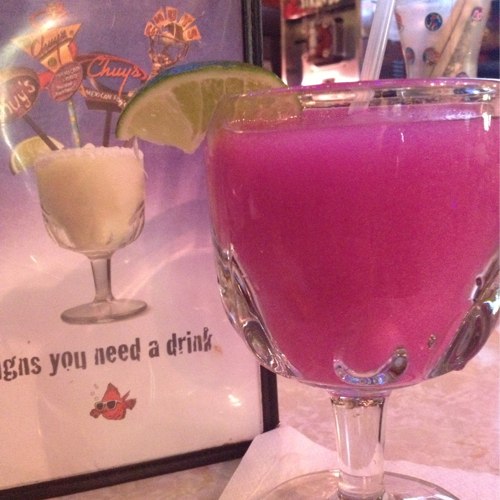 I don't really get the fascination with Chuy's, a TexMex diner, but everyone I talk to who has been to Austin seems to love it — the picture I posted of a pricky pear margarita got tons of likes and "I love that place!" from random people. Maybe the food is good — the menu isn't very vegan-friendly, so I dunno. Chuy's is by Barton Springs and worth stopping in to cool down though, if you're passing by — my drink was refreshing.
Blues Dancing
Kat likes to blues dance, and took me to a dance studio in a shopping mall way the heck up in the north of town (tangent: we drove by Donut Taco Palace 3 on the way home. The fact that one Donut Taco Palace exists makes me happy — three of them makes me ecstatic.) The first part of the evening was a lesson, for which I was thankful, and then we danced until 1 a.m. to an awesome live band. A couple of my partners clucked at my choice of dance footwear, but every Californian is born with an innate ability to do everything in flip-flops, so there.
Dolce Vita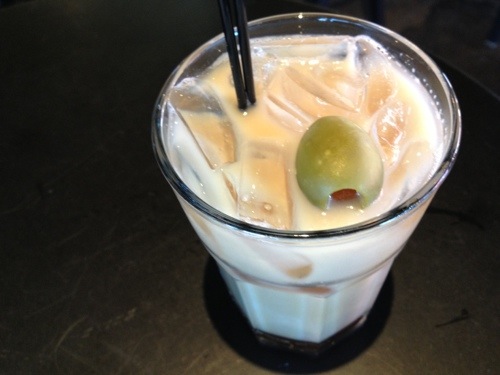 Veronica recommended this Hyde Park bar for its proximity to Mother's Cafe (where I did not eat because I was too full but is an Austin vegetarian staple) and its big-a$$, strong, cheap ($5) soy White Russians. Curiously, they are garnished with an olive, but since olives are the best garnish ever, it's no biggie.
Driskill Hotel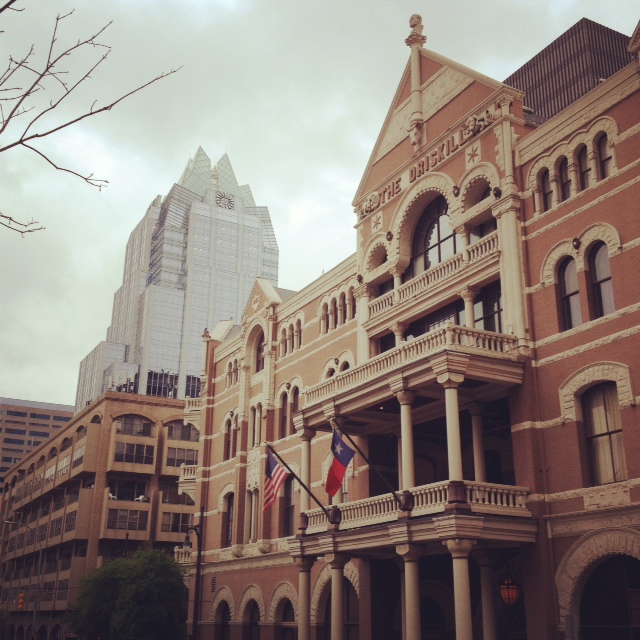 If you enjoy hotel bars, you'll like this historic hotel that was across the street from my hostel. The Driskoll Hotel is old-school Texas (lots of guns and taxidermy) but the staff is friendly (had a nice conversation about llamas vs. alpacas with one of the bartenders, which isn't entirely random) and the people watching is fabulous (old man on a date with an escort, anyone?). A good place for a classy drink and an ego boost — hello, lonely out-of-town middle aged men.
Sidenote: I guess Air B-n-B is a dating site now? One of the valets stopped me as I entered to ask whether I was from Boston, because he saw me coming out of the hostel and apparently had date with an an Air-B-n-B girl who was staying there. Go figure.
I didn't go to:
Finally
I love Austin, but it's kinda the opposite of New York: Austin would be great to live in (unlike New York), but you really need a reason to visit because it's essentially just a sunnier version of home and I don't know if there are the same non-stop attractions of a bigger city.
However, flights and lodging can be cheap (I paid a total of about $400 for both — $230 for flight and $170 for hostel), so if you need to get away and have never been, why not?
Or you can just visit Georgetown on a warm day.
Tags: Austin
This entry was posted on Sunday, April 14th, 2013 at 12:16 PM and is filed under travel. You can follow any responses to this entry through the RSS 2.0 feed. You can leave a response, or trackback from your own site.
11 Responses to "Austin vegan adventures"
Leave a Reply
Subscribe by email:

Topics

Reading List

resources

cruelty-free shopping

МИР ЯВЛЯЕТСЯ ВЕГАНСКИМ! Если ты этого хочешь.