Vegan Cuts' Snack Box: a review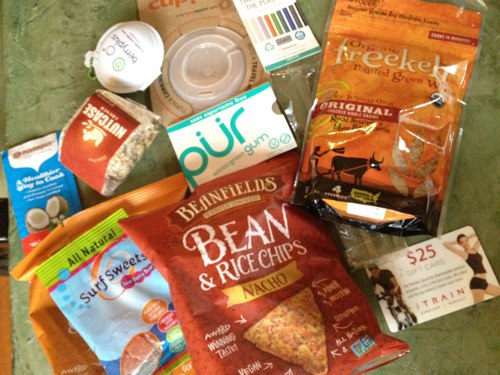 When I opened an email from the folks at Vegan Cuts asking if I wanted to review a snack box, I didn't hesitate. I had been wanting to sample one of these boxes from the moment learned of their existence, so this was an exciting moment.
This is a two-part review.
Part one (say this in your best Ira Glass voice): a review of the products in the box, because while they may not be in the next box, they are available on their own.
Part two: the box as whole entity.
Also, this is the January box (I'm a little delayed in my writing of this) so if you got the February box and are all like, "you're crazy, girl — none of this was in my box!" — well, that's why.
The Goods
Beanfields bean & rice chips in nacho and pico de gallo — it was love at first bite with these chips. The nacho flavor tastes just like vegan Doritos and are so cheesy-good that you won't notice that they're corn- and gluten-free. Even my mom didn't realize or care — she can be a little critical of vegan dairy substitutes, and we happily snacked on these together. The pico de gallo is zesty and, again, you will not mourn the lack of traditional tortilla. I've been picking them up at Central Coop, and bought a 6-pack off of Vegan Cuts for the Oscars party I'm hosting this weekend. Highly recommend checking out Beanfields if you haven't.
Pür gum– On Valentine's day, I was all like, "I'm single, b*tches! I'm eating garlic today!" Then I remembered I was meeting a olfactorily sensitive friend after work to climb and he would be downright disgusted if my breath smelled like anything other than a pristine mountain stream. Pür to the rescue! This gum is as minty and fresh as the gum you'd buy at the supermarket, but doesn't have aspartame, unlike the gum you would buy at the supermarket. Contrary to most natural gums though, this stuff actually holds together like the gum you buy at the supermarket. Which makes me ask: why can't you buy this gum at the supermarket? Again, highly recommend.
Nutcase Crunch – This mix of coconut, pine nut, pecan, and almond is billed as a Paleo alternative to cereal, but I found it to be best as a rich, nutty topping on real cereal. A tablespoon on oatmeal transforms gooey blah into "hey, I can eat this," while that same tablespoon on soy yogurt adds needed texture. Given the simplicity of the ingredients and preparation, one might just try adding the raw components to a blender, but I definitely enjoyed the sample.
Simply Straws glass straw — when I was growing up, my brother had a friend whose mother had her arms ripped off and eaten by a bear in Alaska (yes, you do not make these stories up) and she only drank from glass straws. So, in a weird way, glass straws kinda creep me out. Like, I can grasp cups — why do I need a straw? Is owning a glass straw practically asking to be mauled by a large hairy carnivore? Well, she already had the straw…
But then I got a really sore throat (seriously, what sort of person with minimal contact with children gets strep in their late 20's? Me, apparently.) and I was so grateful for this straw. Straws make drinking easier and more fun, and when you are legitimately having trouble staying hydrated because it feels like daggers to swallow, sometimes novelty does the trick. So, I got over my weird glass straw phobia, and now am really looking forward to using my Simply Straws glass straw on a daily basis to sip water at my desk.
Cuppow lid – I don't have a lot of mason jars hanging around my house and do have a ton of travel mugs, so I'm probably going to give this to a guy I used to date who for some weird reason only drinks out of old jars. (Mini rant time: you don't can, and I respect your thriftiness and get that you don't earn much, but cups are, like, 99 cents at Value Village, and it's freakin' awkward drinking a Manhattan from a tiny glass honey bear. You're 30. years. old. Invest in some proper effin' glassware.)
However, I love the idea of the Cuppow lid in theory: why buy a whole new travel mug when you can repurpose what you already have? Plus, you can hook it up to a really big mason jar for extra caffeine buzz. Not my cuppow tea (garrr) but a very cool concept.
Surf Sweets gummy bears — I'm not that into gummy candy, but these sugar-coated little bears are tart and natural-tasting. If I had a kid, I'd put a pack in his or her lunchbox, for sure. Also, they have 60% of your daily vitamin C, so they're healthy, right?
Berry Plus laundry soap — I was a little wary that this stuff would make my skivvies smell like fruit loops, but I was really impressed by how fresh and clean and mild-scented my laundry came out — the main ingredient is soapberry, which bears no resemblance to the bluish-purple lab-created "berry" I had been envisioning. Berry Plus comes pre-measured in these cute little test tubes (microdoses), which are recyclable but seem a bit wasteful — my only criticism of an otherwise awesome product.
Freekeh Foods– I don't know when I first heard of freekeh, but I've been wanting to try it for a little while. I use the present tense here because I still haven't tried it. I know, I know, you get a freekeh gift, you play with it, right? The thing is, I haven't been motivated to cook much lately (been inexplicably busy, combined with the general Seattle winter blahs), so if I waited to write this review until I cooked it… I would never write the review. The box even included a recipe, for Pete's sake. I am lazy. Worse food blogger ever. Still, I'm excited to have it in my pantry for a sunny day when I have someone exciting to cook for.
Kelapo coconut oil sample — I don't really know what to say about this. I like coconut oil. I've had coconut oil before. I am grateful for more coconut oil to try. I don't use coconut oil as much as I should because I don't like the coconutty flavor it gives everything. However, my one roommate is on a cleanse (who isn't on a cleanse these days?) and cooked up some amazing cauliflower cutlets in coconut oil last night, so I might use this soon because her coconut oil cauliflower smelled delicious.
iTrain $25 gift card – this is a great idea: downloadable musical sets with a recorded voice keeping you motivated. I'm trying to get back into cardio exercise again, but am not all that motivated on my own and spend waaay too much money on a gym without a treadmill (because climbing is super fun!). So, a pleasant female voice gently but emphatically telling me to get my butt into shape is excellent motivation to run outdoors and actually get a workout. If only she sounded more like my scary middle school gym teacher and less like the nice computer on Star Trek…
The Box
I had a lot of fun with my Snack Box, and definitely am hooked on a few new things (I <3 you, Beanfields). It was so exciting to discover the package on my doorstep, open it up, and paw through the goodies inside. I am seriously considering subscribing just to feel this joy on a monthly basis — $19.95/month (which includes shipping) for all that is a bargain, and I can only assume future boxes will contain the same variety of bonanza.
Plus, you're not just paying for products — you're paying for curation and discovery. The Vegan Cuts Snack Box is a fantastic way to get out of a rut and explore something new. While I didn't 100% love love love everything, I liked it all enough to make it worthwhile and am grateful to have been exposed to a few new vegan goods.
Some things (like Beanfields) I see and think, "there's no way that could be tasty," and without them appearing in a box on my porch, I never would consider sampling them. And then they're amazing!
Other things sound trendy and are trendy (anything Paleo, amirite?), but you can't really know what you're going to like or dislike until you try them.
Others I have never heard of before (like iTrain) but one I am exposed to them, I love.
My only criticism is that the contents of the box are not all edible or easily, quickly consumed — when I think "Snack Box," I think… snacks. Between my lady roommate and myself, the kitchen has enough stuff already, and we don't need more items to gather dust in our collective (in my former colleague Melissa's words) "-er drawer."
And while a few months ago I would jump at the challenge of freekeh, right now I just don't have the motivation. I don't even have the motivation to open a packet of coconut oil and saute veggies. So, I guess my one suggestion would be to make the box more compatible with the instant gratification American lifestyle.
Overall though, two thumbs up. Recommend.
Tags: Vegan Cuts
This entry was posted on Thursday, February 21st, 2013 at 9:40 AM and is filed under packaged food/products. You can follow any responses to this entry through the RSS 2.0 feed. You can leave a response, or trackback from your own site.
8 Responses to "Vegan Cuts' Snack Box: a review"
Leave a Reply
Subscribe by email:

Topics

Reading List

resources

cruelty-free shopping

МИР ЯВЛЯЕТСЯ ВЕГАНСКИМ! Если ты этого хочешь.