Kimchi tofu scramble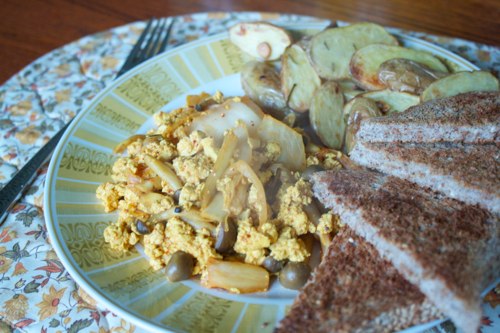 "Kimchi is supposed to be one of the hot foods of 2013," one of my roommates told me as I made a kimchi scramble the other morning.
That's right: I have a couple of roommates now, one of the many Big Life Changes (BLCs) of 2012. I resisted, but ultimately the allure of cheaper rent and the chance to live in a cute little house instead of a soulless modern apartment building won me over. Plus, living on your own is a little lonely — I guess that's another BLC: David (my boyfriend of 5 years) and I split up over the summer.
New year, new place, new start.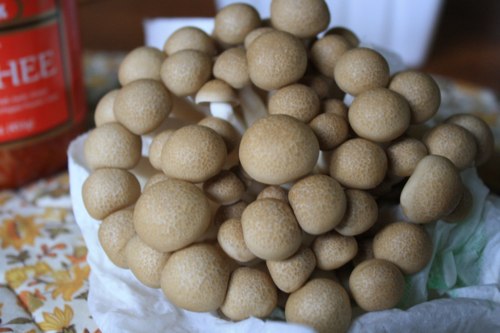 For the very last brunch of the old year, Dawn, Madeline and I met up at Portage Bay Cafe in South Lake Union. (The original plan was Veggie Grill, but they were closed for the holiday.)
Dawn got an awesome vegan hash (with not quite as much grilled tofu as they should have given her) and I got an amazing kimchi tofu scramble, which I sorta replicated for my first homemade brunch of 2013. You can really use anything in whatever proportions you like (it's just kinda an idea for y'all), though I thought this tasted pretty good.
Most kimchi is made with fish or shrimp, so make sure you're buying one that's actually vegan.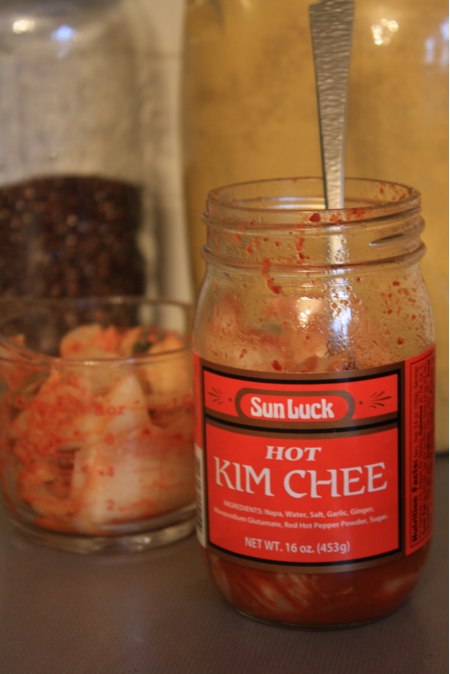 Kimchi scramble
Ingredients:
1 clove garlic
3.5 oz mushrooms, chopped if they're big (I used brown beech — Portage Bay Cafe used shiitake)
1 package firm tofu
a few shakes of turmeric
1 TBS soy sauce
2 cups kimchee
oil to saute
Instructions:
Saute garlic and mushrooms for a few minutes until garlic is browned and mushrooms start to soften.
Add tofu, turmeric, and soy sauce and saute a few minutes more.
Add the kimchi and cook until most of the moisture disappears.
Serve with hot sauce!
This entry was posted on Thursday, January 10th, 2013 at 10:35 AM and is filed under breakfast. You can follow any responses to this entry through the RSS 2.0 feed. You can leave a response, or trackback from your own site.
3 Responses to "Kimchi tofu scramble"
FoodFeud says:
Jes says:
lol cosplay online says:
Leave a Reply
Subscribe by email:

Topics

Reading List

resources

cruelty-free shopping

МИР ЯВЛЯЕТСЯ ВЕГАНСКИМ! Если ты этого хочешь.