Amaretto hazelnut truffles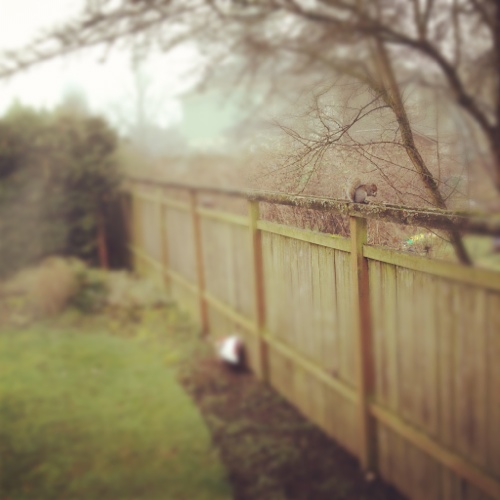 Happy Squirrel Appreciation Day!
While squirrels should be appreciated every day of the year, it's so great to see that they get a bit of additional recognition today. Squirrels are really the cutest: their bushy tails, their little paws, their fluffy bodies… awwww.
Coincidentally, my low-key co-rec soccer team is called the Squirrels (founder Randy wanted an ironically unthreatening mascot). Here we are after our first (and only) win of last season: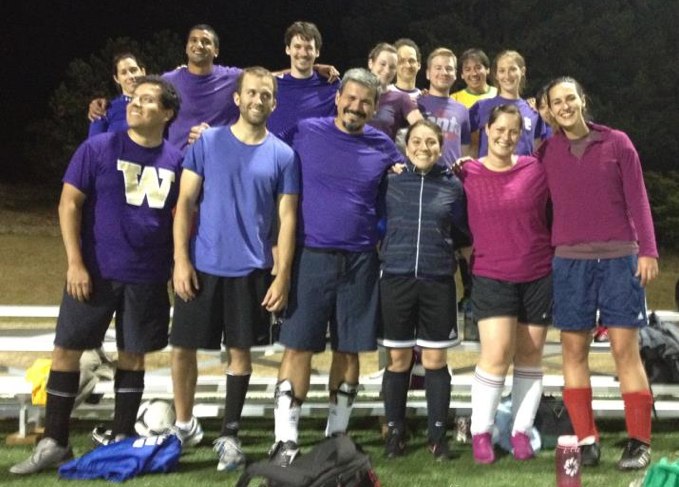 We had an end-of-season party on Saturday (an equally nerdy teammate noted how close to Squirrel Appreciation Day this fell), so I wanted to make a nutty treat to share.
Continuing this month's truffle theme, I opted for amaretto hazelnut truffles. Truffles are like infused liquor: super easy, yet impress everyone who doesn't know better (which is most people, I've found). These have a little bit of crunch from the filberts and an ever-so-slight alcoholic kick.
If you roll them sorta sloppily, as I did, you'll notice that they look a little like nuts. Maybe?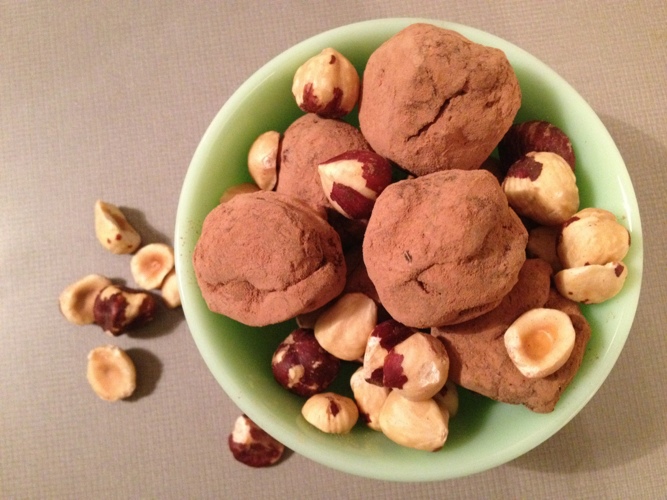 Amaretto hazelnut truffles
Ingredients
1 1/2 cups vegan chocolate chips
1/4 cup coconut milk
1/2 tsp vanilla extract
1 TBS amaretto liqueur
1/4 cup hazelnuts, chopped
Instructions:
Melt chocolate chips and coconut milk in a small saucepan; remove from heat and stir until smooth. Stir in amaretto and vanilla. Stir in hazelnuts.
Drop spoonfuls of chocolate onto a parchment- or waxed paper-covered cookie sheet and chill ≈20 minutes, until chocolate loses its shine. Remove from waxed paper, roll them into balls, and roll in the cocoa powder. I found it easier to place the cocoa powder on a plate and roll the chocolate into balls on the cocoa powder.
Place truffles back on cookie sheet and freeze for 30 minutes. Store in the fridge and let stand at room temperature for 30 minutes before eating them.
Makes 18-24, depending on how big you make them.
Tags: chocolate, hazelnuts, nuts, truffles
This entry was posted on Monday, January 21st, 2013 at 11:31 AM and is filed under candy. You can follow any responses to this entry through the RSS 2.0 feed. You can leave a response, or trackback from your own site.
2 Responses to "Amaretto hazelnut truffles"
Joey says:
Jes says:
Leave a Reply
Subscribe by email:

Topics

Reading List

resources

cruelty-free shopping

МИР ЯВЛЯЕТСЯ ВЕГАНСКИМ! Если ты этого хочешь.