Awaken… Piecaken!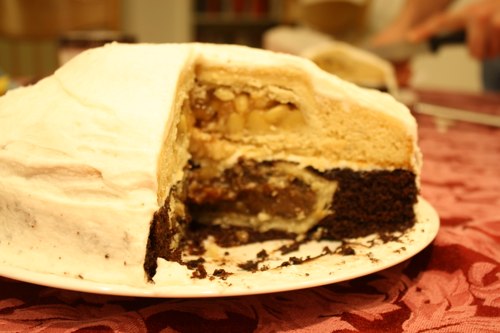 Continuing in Vegtastic!'s guest post series, a post from my brother Carl! Carl just moved to Seattle and he's single, ladies. He's also looking for a job, potential employers. This Thanksgiving dessert was his first attempt at vegan baking, and he nailed it! He's a master pie maker, so all of the recipes in here he sorta winged. He gives me undeserved credit for inspiring Piecaken, but it was all him.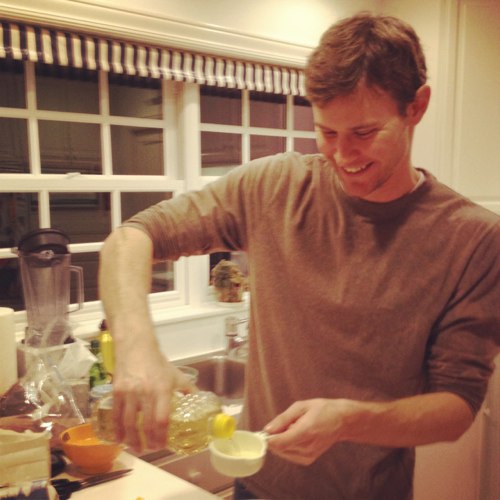 (The order of events in this entry may or may not be correct. Mostly not correct. Probably. It was a few weeks ago and baking and drinking go very well together.)
I laughed out loud when my sister, Helen, showed me the picture. There in front of me was one of the most ridiculous culinary concepts I had ever gazed upon: the Piecaken. The name alone conjured images of not just mythical sea-monsters, but of pure excess and indulgence. From that moment I knew that this was going to be a Thanksgiving to remember.
Before this revelation, I had a few simple dessert ideas in mind; a couple pies, or maybe a cheesecake. But pie baked into a cake? This was one challenge I could not pass up. "It must happen," was my knee-jerk reaction. Not only was I going to do a Piecaken, I was going to do two Piecakens on top of each other, a creation a lovely young blond I'd recently met stated "could get a girl pregnant." This only offered further encouragement.
A procedure of this sort needed a carefully laid plan. Because I wanted Helen to enjoy this godless endeavor, I knew it had to be vegan. No problem. Vegan baking is really no more difficult than baking with eggs and butter, so that offered no obstacle. I didn't want to go overboard with creativity, as it was my first attempt, and did not have time to make another if my first was a failure.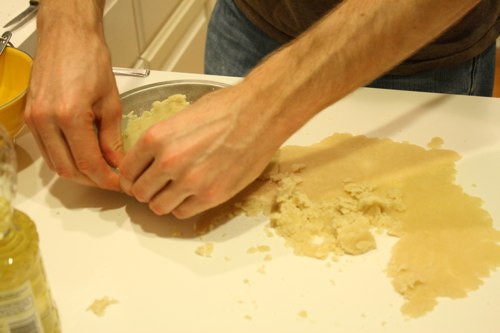 I decided to do simple chocolate and vanilla cakes, two classic favorites that most can agree on. The pies were not so easy. I wanted to blend compatible flavors, and given I'd never thought about what pie would taste best with what cake (in the same bite, of course), I had to wing it. Also, it was late, the store was closed, and I needed to get the first pie out of the oven and into the fridge that night. We had dates and raisins. Dates. I'd never had a date pie, but why not? They're sweet, have a wonderful consistency, and I had few options. My doubts were put to rest as soon as I had a small taste of the filling. Why had I not made date pie sooner?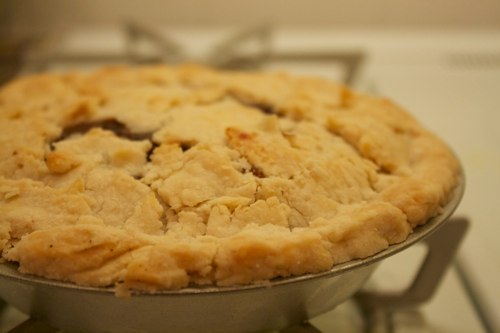 So, into the oven it went, then to the rack, and finally the crowded refrigerator (possibly the greatest obstacle of the procedure, Piecaken tends to not only consume the human soul, but shelf space as well). I then went to bed, realizing I needed to rest and gather strength for the epic battle I would soon face.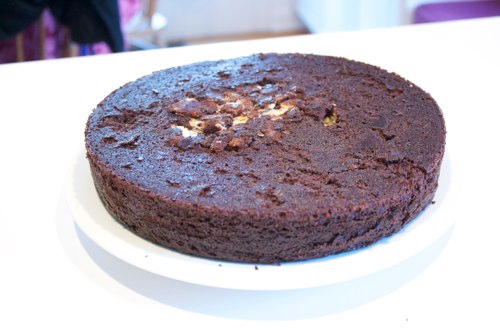 I woke up full of piss and vinegar, but mostly the former so I dealt with it before I headed down to the kitchen to continue. While I still needed another pie filling, I figured I'd bake the first cake, the chocolate. I took out the springform pan, put a healthy dose of Pam on it, and mixed up the batter. I took out the date pie; it was cool and ready to go. Pouring half the batter in the springform, I began to worry if there would be enough batter to make this work. I went forward anyways. In making Piecaken there is no room for doubtful minds. I placed the pie with the pan side up and popped it out into the batter. The pie held strong and retained its shape. So far, so good. I then poured the rest of the batter over it, only barely submerging the crust. The oven was ready, but was I? I took a deep breath and put the first half of the beast into the heat.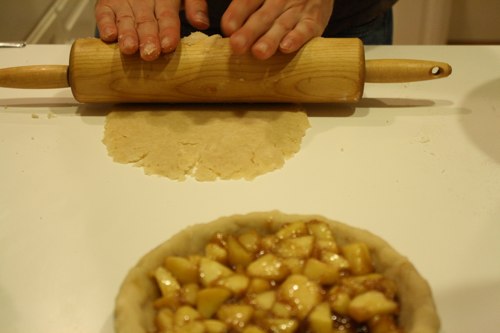 I quickly ran to the store. I already knew what I was going to do with the vanilla half: apples. Yes, it is not the most innovative pie filling, but few things go together like apples and vanilla. The chocolate-date concoction was ready to be birthed by the time I got home. Helen was up and around and was generous enough to help me cut up some apples while I made the oil-crust, the same I used for the date pie. The oven was still hot, so the pie was inserted. After it was done, all I could do was wait. The pie had to be cool enough to place in the batter, and the chocolate-date half needed time before I could pop it out of the springform. I would like to say I spent my time waiting trying to solve world hunger and bring down the TEA party once and for all, but it would be more realistic and honest to say that I drank beer and watched South Park.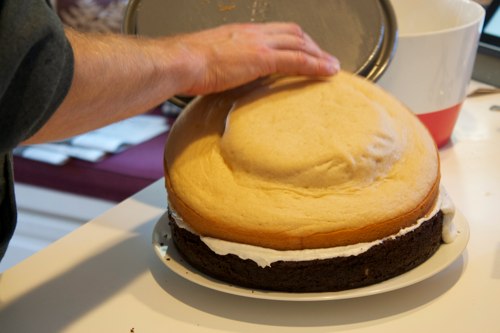 Time passes. The pie is cool. The first half is cool. Forwards!!! The vanilla half was mixed up, the batter poured, pie placed snugly, and into the oven it went. The batter was gluten free, and did not rise well, creating a plateau in the cake where the pie sat. Oh well. The second half was done, and needed to cool. In this time, I whipped up some powdered sugar frosting and covered the chocolate date half. My most grave error in the Piecaken experience was the frosting. Almond extract. The stuff sucks, and I'm never going to use it again. I had already frosted too much of the layer to turn back, so I stuck to the same frosting recipe, Almond extract included, and whipped up some more to cover the cooling vanilla-apple half.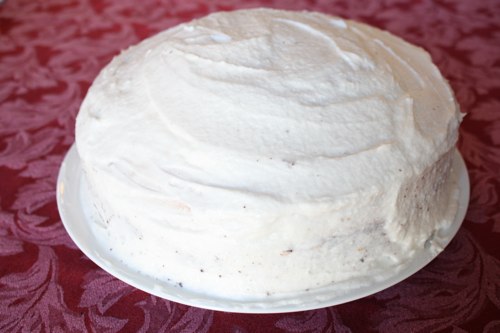 My creation weighed over nine pounds. The finished product was a sight of awe and wonder. I longed to cut into it to get a cross-section view, but knew that must come after all the other delicious food my mom and sister had prepared was consumed.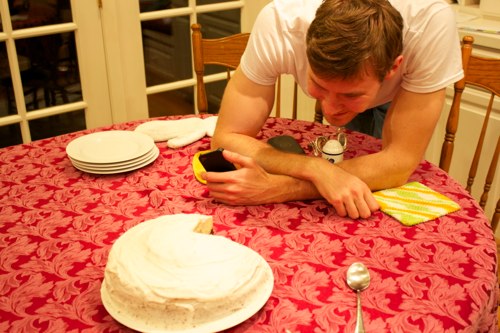 After dinner, we all sat there staring at the frosted behemoth on the table, realizing we needed time before we dug into it. We were all faced with a great challenge, and face it we would, together. After an hour or so our stomachs had just enough room for dessert. I made the first incision; this was the moment of truth. Would it be like in the pictures? Would the pie and cake be perfectly separated? Or did the cake batter somehow permeate the pie crust, and disintegrating the filling the batter? Second incision. I lifted the first piece out. I took a sigh of relief. The Piecaken was awakened, in all its photogenic glory. We all ended up sharing the one rather large piece I'd cut out. Aside from the almondy taste of the frosting, the flavors blended perfectly. Piecaken was complete. Helen had inspired a brutal culinary conflict that will be repeated time and time again.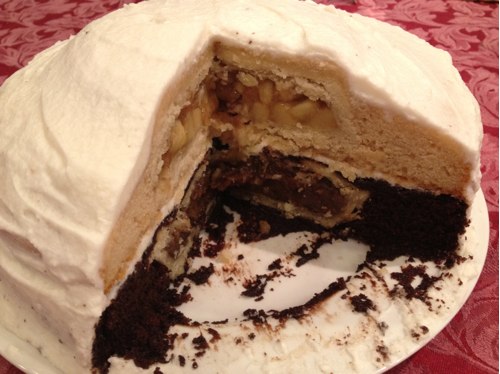 Tags: cake, pie, piecaken, World Vegan Month guest series
This entry was posted on Monday, December 10th, 2012 at 9:08 AM and is filed under dessert. You can follow any responses to this entry through the RSS 2.0 feed. You can leave a response, or trackback from your own site.
4 Responses to "Awaken… Piecaken!"
Leave a Reply
Subscribe by email:

Topics

Reading List

resources

cruelty-free shopping

МИР ЯВЛЯЕТСЯ ВЕГАНСКИМ! Если ты этого хочешь.