The Accidental Vegan
Pure Citizen, a flash sale site with a green side, had a few vegan cookbooks available a while back and I bought three of them, including Seattle-based Devra Gartenstein's The Accidental Vegan. (note: that links to Amazon. It's not an affiliate link. Just a link.)
Gartenstein runs the Patty Pan Grill, a vendor at farmers markets around Seattle. I love Patty Pan Grill's tamales and quesadillas, and there are recipes for each in the book.
Some of the instructions are a little vague. For example, when making seitan, Gartenstein says "…break off pieces of gluten about the size of a peanut and drop them into the pot"– shelled peanuts or unshelled?
My stupidity aside, the seitan turned out well.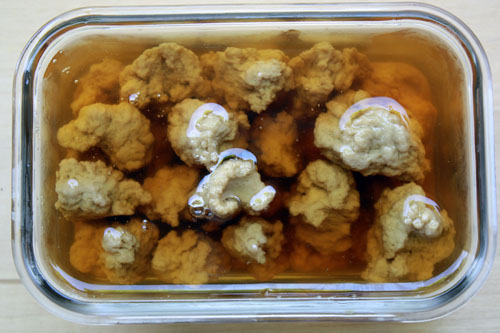 Praise seitan.
The seitan is a bit squeaky against the teeth after it's removed from the soy sauce/water bath it's initially cooked in, but loses that quality once it cooks a second time in an actual recipe. Gartenstein has a number of recipes for her seitan, of which I made the Kung Pao Seitan — mushrooms also add a meaty quality to her version. A bit of starch to thicken the starch might be nice, but it's a reasonably healthy stir-fry.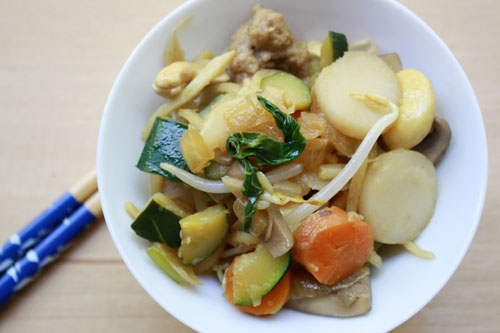 I ventured into the dessert section in hopes to bake something sweet for my soccer team. The thumbprint cookies looked good. They did not turn out so.
This is what a thumbprint cookie should look like: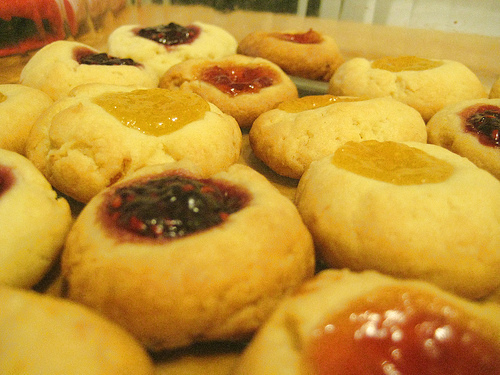 (image by moonlightbulb)
This is what mine looked like: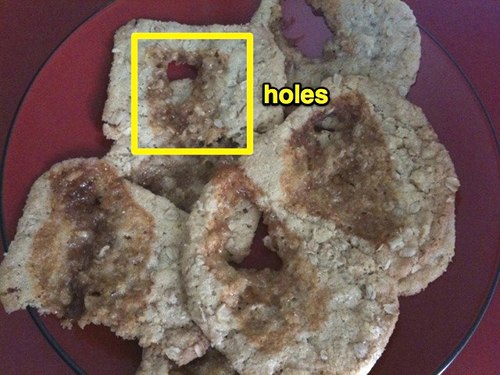 They basically just spread out, and the portion with the jam disintegrated. Tasty, but not exactly what I expected.
However, I didn't give up on Gartenstein's desserts. Since berries are so abundantly in season in early August (yeah, it's October — I started this post in August… 2011), the crumble seemed like a logical choice. It cooked up beautifully: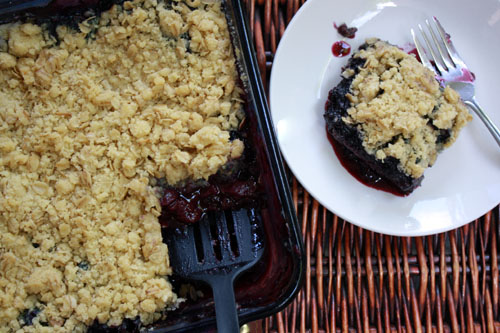 Here's a close up: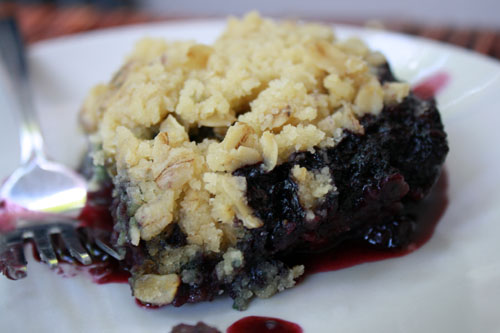 My friends and coworkers loved it — and loved me for baking it, which is really why I bake in the first place: to make people like me.
The marinated potato salad (p. 49) is also excellent — the perfect picnic dish. You know, now that it's fall and all. Because this recipe calls for red wine vinegar, mustard and just a tablespoon of olive oil instead of the traditional mayonnaise, the salad is lighter while still very flavorful — the onions and dill give it a definite punch. It also takes minimal effort (just chop and boil potatoes, then stir some stuff in) and benefits from marinating overnight, so make it the day before you need it.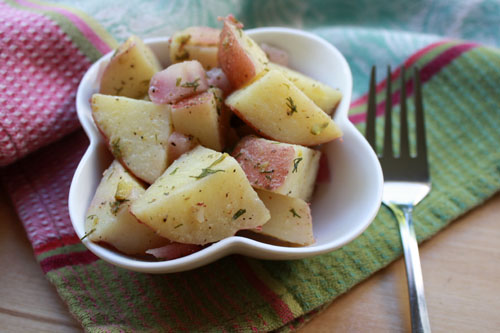 Another company-pleaser (since two's company and three's a crowd) is the spinach and tofu with peanut sauce — it consists of tofu, fried to a crisp, and steamed spinach smothered in a velvetty, savory sauce. If I were making it for myself, I would skip frying the tofu and save some calories, but the fried texture is nice.
The last recipe I've made is the tamarind coconut tofu  – the instructions say to just dip the tofu in the sauce and then bake it, though mine turned out very bland. I'm going to try soaking it for a few hours next time, because the marinade is super flavorful.
The Accidental Vegan is a great resource for sauces, pilafs and other grain dishes, curries, and legume-based stews, and while everything looks delicious, nothing stands out as being really phenomenal. It feels like a greatest hits list of the vegan dishes in cuisines across the globe.
Still, the recipes' simplicity make them ideal for weeknight cooking, and almost every ingredient is readily available at mainstream grocery stores (though a few recipes call for exotic things, like kaffir lime leaves or gluten flour, but these aren't really that off the beaten path).  I wonder a bit whether their blandness will lead the omnivores who purchase this book (Gartenstein is an omnivore) to think that veganism is boring, but the omni's in my life have enjoyed everything from it that I've fed them.
I'd say that this is a good cookbook for people looking to incorporate more vegan recipes into their diet, though I'm personally going to stick with my vegan-penned standbys.

Tags: vegan mofo 2012
This entry was posted on Tuesday, October 2nd, 2012 at 9:05 AM and is filed under cookbooks. You can follow any responses to this entry through the RSS 2.0 feed. Responses are currently closed, but you can trackback from your own site.
Comments are closed.
Subscribe by email:

Topics

Reading List

resources

cruelty-free shopping

МИР ЯВЛЯЕТСЯ ВЕГАНСКИМ! Если ты этого хочешь.