Tempeh bacon from Vegan with a Vengeance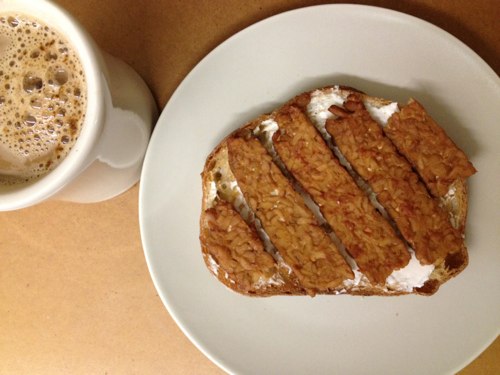 I was at Sidecar a while back for a bake sale, and asked Bethany which vegan products she was loving at the moment.
Her answer? Smart bacon and Wayfare cheddar-style spread on toast. Stick the toast in the toaster oven with the bacon, spread the spread on the toast, and top with the bacon.
I bought a package of each and some bread, and ate this for the week. Delicious. The tang of the cheddar contrasted with the bacon's sharp saltiness and the crunch of caramelized sugars in the toast.
However, Smart Bacon really, really frustrates me — the pieces are difficult to pull apart, and one just doesn't need that kind of aggravation in the morning.
So, I took a stab at the tempeh bacon from Vegan with a Vengeance (p. 23) — I honestly haven't cooked much from VWAV, even though it was one of the first vegan cookbooks I owned. I think my mother gave it to me — thanks, Mom!
Isa's tempeh bacon is really easy to make with ingredients you mostly have on hand, and a fabulous way to work on using up extra tomato paste, which deserves to be a Jerry Seinfeld joke: "What's the deal with tomato paste? Recipes never call for more than a tablespoon, but the smallest size you can buy is 8 ounces!"
(The solution is to freeze leftover tomato paste. Whatever.)
Anyhow, I ate my tempeh bacon on toast with Tofutti, since Madison Market seems to no longer be carrying most types of Wayfare spread (boooooo) and Sidecar is a trek.
I think I'd balance out the tempeh bacon's saltiness in the future by serving it with French Toast and maple syrup — it's not quite as good as Smart Bacon as a toast topper, but still tasty.

Tags: vegan mofo 2012
This entry was posted on Tuesday, October 16th, 2012 at 12:21 PM and is filed under breakfast. You can follow any responses to this entry through the RSS 2.0 feed. You can leave a response, or trackback from your own site.
One Response to "Tempeh bacon from Vegan with a Vengeance"
Jes says:
Leave a Reply
Subscribe by email:

Topics

Reading List

resources

cruelty-free shopping

МИР ЯВЛЯЕТСЯ ВЕГАНСКИМ! Если ты этого хочешь.