Appetizers from Mediterranean Vegan Kitchen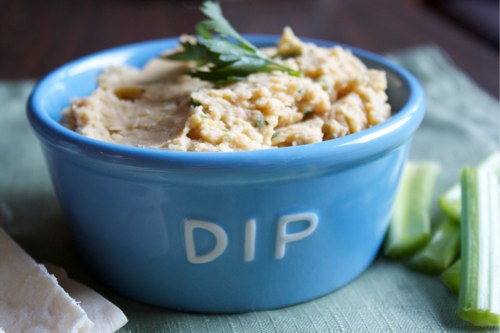 Let's see: it's October 1. Rent's due (done). Gotta figure out what I'm going as for Halloween (done). Mary's and my moratorium on September shopping is over (hello, new pants). What else?
OH CRAP! VEGAN MOFO 2012 IS HERE!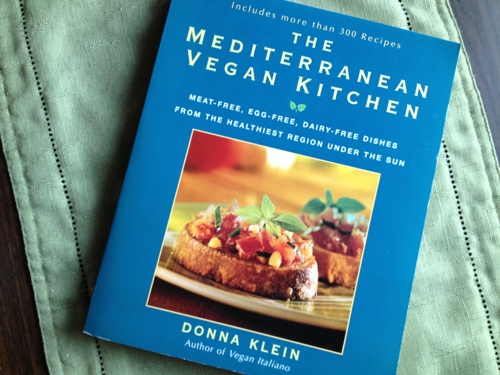 I had some friends over the other night for drinks before dancing (soul night!), and used this as an opportunity to get a teensy bit of a head start by preparing the Provincial chickpea puree (p. 7-8) and eggplant caponata on polenta crostini (p. 17-18) from Donna Klein's Mediterranean Vegan Kitchen.
The chickpea puree is like a lighter hummus — there's no tahini, just chickpeas, garlic, lemon and a bit of olive oil blended silky-smooth, with parsley stirred in. The caponata is a little tangy-sweet due to vinegar and sugar, and makes a great gluten-free appetizer (though I honestly would just serve it with baguette slices next time).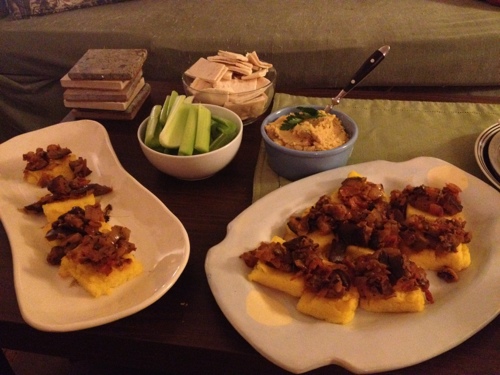 I'm not really into Italian food, which is why I've been hesitant to open this book up, but there are enough Greek, Spanish, French, and African influenced recipes in the book to make it a well-rounded collection.

Tags: vegan mofo 2012
This entry was posted on Monday, October 1st, 2012 at 7:14 PM and is filed under appetizer, cookbooks. You can follow any responses to this entry through the RSS 2.0 feed. You can leave a response, or trackback from your own site.
10 Responses to "Appetizers from Mediterranean Vegan Kitchen"
Joey says:
Jes says:
Dawn says:
Crissie says:
Elliott Closson says:
rea says:
Natisha says:
amazon Sexercise book says:
where to get ninja cooking says:
http://sunnyhostel.com.ua says:
Leave a Reply
Subscribe by email:

Topics

Reading List

resources

cruelty-free shopping

МИР ЯВЛЯЕТСЯ ВЕГАНСКИМ! Если ты этого хочешь.