A few good places to eat out with non-vegans in Seattle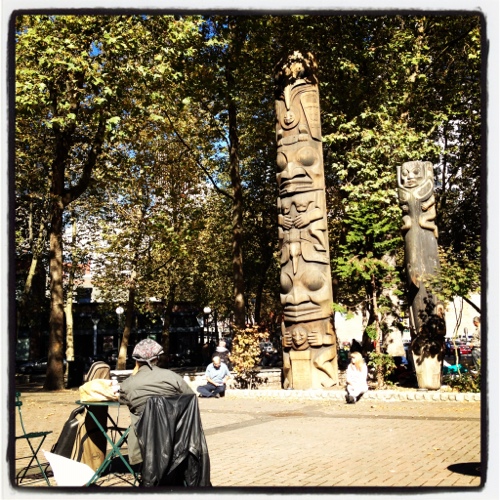 My brother visited me this past Thursday – Sunday, so I didn't cook much, from cookbooks or otherwise, but still wanted to put up a post in the spirit of MoFo!
It's not that I wouldn't cook for him — he's a former picky kid who has turned into a total gourmand and now eats (surprisingly) anything — but I want him to move to Seattle and figured that the best argument in this city's favor would be won through his stomach (and liver).
I also came down with what I am telling people was food poisoning (but was most likely an intense, delayed two-day hangover, given our Thursday night activities) on Friday afternoon, so kitchen time wasn't exactly the first thing on my mind.
The challenge is always picking restaurants that will accomodate my brother's desire to rob the planet of salmon and my desire to eat a sustainable, cruelty-free diet. Plus, it needs to have good beer. Luckily, this is not hard in Seattle.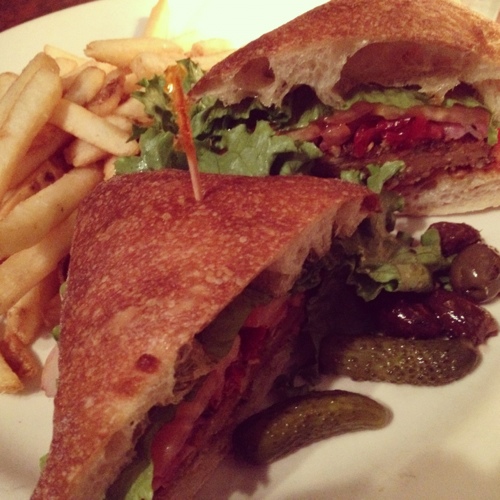 Collins Pub will sub out Field Roast cutlets for meat on some of their sandwiches. I ordered a super tasty veganized version of their Tower Steak Sandwich (actually, I forgot to ask about the bread — I had it in my head that everything was from Grand Central, and most of Grand Central's breads are vegan. This may not be the case).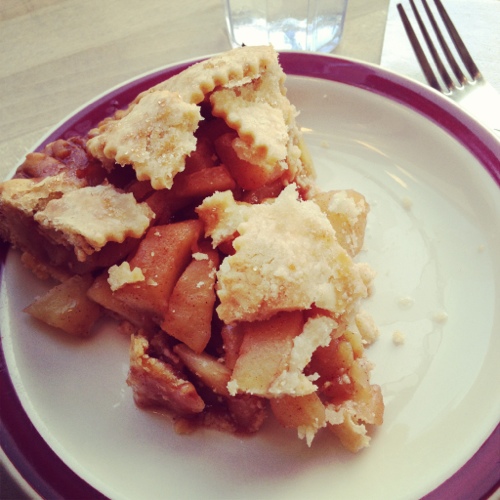 High 5 Pie's vegan crust is amazingly flaky, with just the right amount of sweetness. I'm a huge fan of the vegan apple
Six Arms has a hemp-based vegan burger, which I did not eat. I did down a bootyload of their cajun tots ($2.50 for a big plateful at happy hour!) after I finally got my appetite back — just ask them to hold the ranch dressing.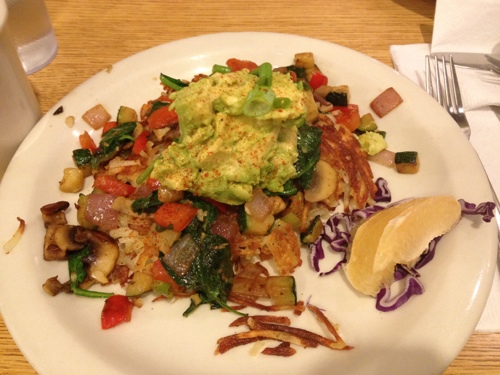 The Aaron's Special at Glo's is amazing: sauteed veggies and guac over hashbrowns. I am probably never going to eat this again for reasons that are related to details I have already disclosed and inappropriate for a food blog, but that's not to say you shouldn't.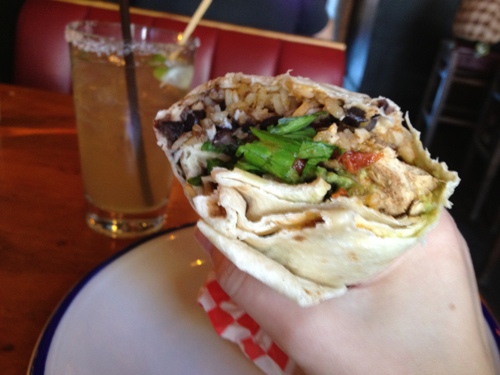 The Cha-Cha now has a chipotle vegan chicken to add to their vegan burrito. I am addicted.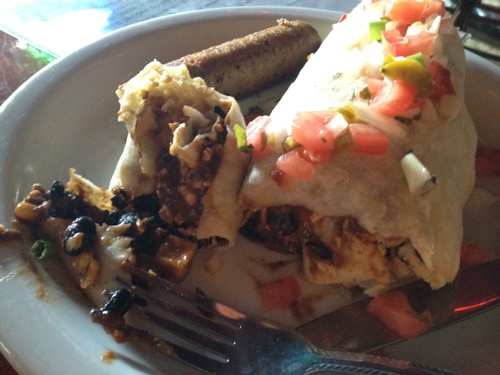 The Redwood changed their brunch menu recently, but still will sub out tofu for eggs (no charge) and Daiya for dairy ($1 extra). If you ask nicely, they'll make you a vegan Bloody Mary.
My brother was very patient as I photographed everything. Here we are together: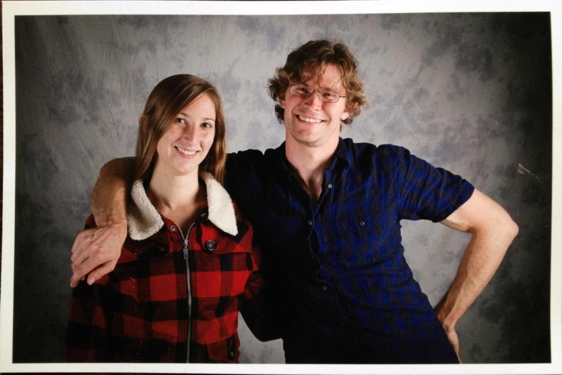 Tags: vegan mofo 2012
This entry was posted on Monday, October 15th, 2012 at 9:22 AM and is filed under restaurants. You can follow any responses to this entry through the RSS 2.0 feed. You can leave a response, or trackback from your own site.
4 Responses to "A few good places to eat out with non-vegans in Seattle"
Leave a Reply
Subscribe by email:

Topics

Reading List

resources

cruelty-free shopping

МИР ЯВЛЯЕТСЯ ВЕГАНСКИМ! Если ты этого хочешь.