Vida Vegan Tech Seminar Series + exciting giveaway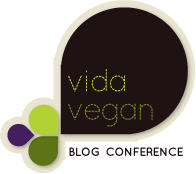 As I've mentioned before, Ms. Vegan Moxie (the lovely and talented Dawn Quinn) and I are going to be speaking at the Vida Vegan Tech Seminar Series at the Seattle Public Library on November 3.
Our topic is "Next-Level Social Media," and we're totally geeking out putting the session together. We're going to be covering aspects of building community, establishing your goals and identity, examining emerging networks, and how to stay up-to-date on what's next in social media.
As a digital media nerd, I am super pumped about the entire day — there isn't a single presentation that I don't think won't be helpful.
The other sessions are:
Blog Design in an Ever-Changing Digital Landscape
The Nuts 'n' Bolts of a Web Page
Podcasting on a Budget
Shooting, Editing & Integrating Video
Classes are limited to 50, which means attendees won't be too totally overwhelmed to ask questions.
Plus, Veggie Grill is providing lunch. What could be better?
Well, maybe this: I have a ticket to give away to the Tech Seminar! Vegtastic! has never before hosted a giveaway, but I'm really excited about this one: it's not just a cookbook or a product, but the opportunity to educate someone else on blogging, something I'm passionate about.
To enter the Vegtastic! Vida Vegan Tech Seminar Series Ticket Giveaway Contest ("Contest"), just leave a comment below with a number between 1-100. I'm not going to make you tweet about it or link to me or anything like that — the Contest is purely about spreading awesomeness, not getting inbound links. I've picked a figure in the 1 – 100 range, whispered it in my cat's ear, and the person who is closest (just closest — no Price is Right rules) wins; I'll select and announce the Contest winner at noon PT on September 26 (I'll also email you, future winner).  You're not allowed to pick a number someone else has picked. In the event of a tie, Price is Right rules (closest without going over) will apply. You don't have to be vegan or have a blog or live in Seattle to enter the Contest, but I'd really like for you to go and be enthusiastic about it if you do win.
Can you tell I work with lawyers?
Tags: Vida Vegan Con
This entry was posted on Wednesday, September 19th, 2012 at 11:55 AM and is filed under events. You can follow any responses to this entry through the RSS 2.0 feed. You can leave a response, or trackback from your own site.
12 Responses to "Vida Vegan Tech Seminar Series + exciting giveaway"
Brian Johnson says:
Roxanne Cooke says:
Madeline Moy says:
Joy Clendening says:
KyLee Fournier says:
Violet says:
licorous says:
Davey Oil says:
Jenelle says:
Helen says:
gjrpeguk says:
Leave a Reply
Subscribe by email:

Topics

Reading List

resources

cruelty-free shopping

МИР ЯВЛЯЕТСЯ ВЕГАНСКИМ! Если ты этого хочешь.