Vegan MoFo 2012: Cooking from cookbooks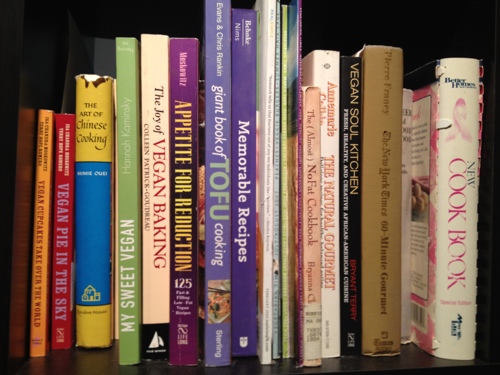 just a sampling of my personal collection
I live in a pretty wired world. I have a degree in digital media communication, work for a web-based company, and heck, even put together presentations on social media just for fun.
Consider a conversation I had with a college acquaintance at my friend Diana's wedding:
him: what do you do for a living?
me: I train lawyers how to blog.
him: okay — what do you do for fun?
me: I write a blog.
him: ummm, what would your ideal job be?
me: probably manage blogs for a company. Or write for a blog. Or get my blog to the point where I could just blog all day blog blog blog.
him: [stops dancing with me]
However, I'm pretty sure that the Internet is killing me. I love what I do, but some days I just want to drop out of online society and open a vegan bakery. I'm realizing more and more that to be successful on the web (or really anything you do), you need to periodically step away from it.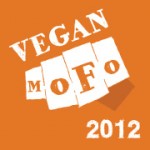 So, I'm going a little analog for Vegan MoFo this year: cooking from the cookbooks I own. I have a ton of cookbooks, vegan and otherwise, but instead of ever using them, they sit on the shelf while I turn to Google for recipes. All those pretty pages, yearning to become dog-eared and spattered. Each has a story.
It's not the most inspired or creative theme (that designation is totally going to Julia this year) but it's one that needs to happen for me.
Simple. Basic. Tangible.
Also, I'm not going to blog about my experiences — I'm going to broadcast them via Morse code and smoke signals. Old School.
JK.
I posted something every single day of Vegan MoFo 2011. That's 31 posts in 31 days. I'm not going to do that this year. I definitely have more than 31 cookbooks, but there is the whole "Internet is killing me" thing and I don't want to burn out from something I love. I'm hoping to post on all weekdays, but realistically it may end up just being 3 times a week, which is still a heck of a lot more than I've been doing recently. (Is this MoFo cheating? Possibly.)
Super thrilled to be participating in Vegan MoFo a second year!
Tags: vegan mofo 2012
This entry was posted on Thursday, September 27th, 2012 at 11:56 AM and is filed under events. You can follow any responses to this entry through the RSS 2.0 feed. You can leave a response, or trackback from your own site.
One Response to "Vegan MoFo 2012: Cooking from cookbooks"
Jes says:
Leave a Reply
Subscribe by email:

Topics

Reading List

resources

cruelty-free shopping

МИР ЯВЛЯЕТСЯ ВЕГАНСКИМ! Если ты этого хочешь.