International Food Blogger Conference (IFBC) 2012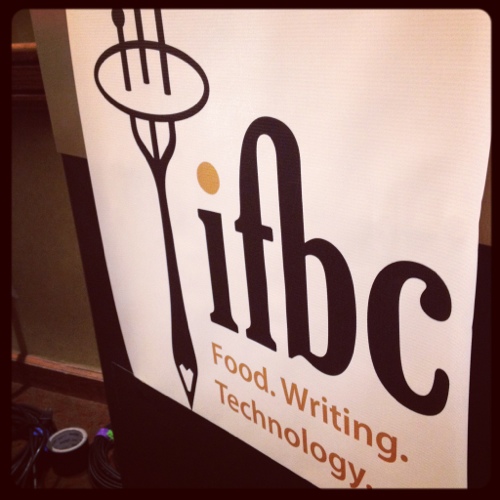 I spent about 20 hours a week editing recipes and managing social media for Foodista in grad school. I love, love, loved it: loved the people, loved the work, loved the community. I had to find a real job when I graduated (which I like, too, don't get me wrong), but I look back on that year fondly.
Now, in addition to being a blog and recipe site, Foodista is one of the co-organizers of the International Food Blogger Conference (IFBC). I attended the first one back in 2009 (because that's when I interned there), volunteered for a shift in 2010, and then went down to Portland to volunteer at IFBC 2012 August 24-26.
So, I did some work, but mostly got to experience the conference as an attendee. Such a good time.
Here's my recap. It's a little long, but there's a picture of my cat at the end.
Also, I value transparency in blogging and the merit of honest feedback, so I want everyone to know that though I volunteered and used to work for one of the organizers, I have no affiliation with the conference and these are my thoughts alone — my pro-vegan agenda is slightly critical of a few of the sponsors, so wanted to put this out there.
Day 1
Wardrobe disaster strikes
Foodista co-founder Sheri asked volunteers to arrive at the hotel hosting the convention at 11 for orientation and swag table set-up. I put on the flowey purple dress I wore to Diana's wedding, and hopped on my bike, because I always take my bike down to Portland with me.
About halfway between my hostel (Inn at Alberta Arts — highly recommend) and the venue, my skirt got caught in some mechanism. Thinking I'd have a better chance of freeing it while not in motion, I slowed to a stop. As it turns out, the fabric was caught in the brakes, and thus the act of stopping shredded the hem.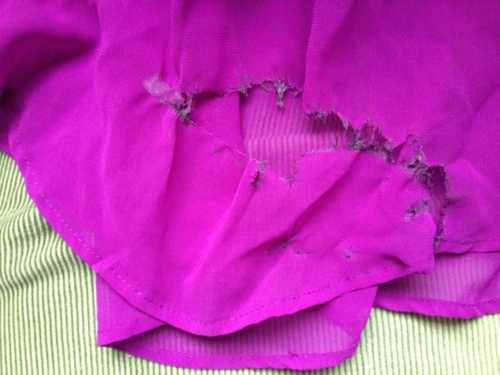 Crap.
Introducing speakers and possibly facilitating questions being part of my volunteer obligations, meaning I'd need to stand in front of a bunch of fashionable bloggers with a destroyed dress, I panicked. I figured I could just cut the hem, since shorter-in-the-front frocks are hot right now, but fortunately the hotel was across the street from Lloyd Center. I ran into Macy's, grabbed a handful of dresses in my size, and 15 minutes later walked into the lobby of the Doubletree wearing a cute dress that earned me tons of compliments throughout the day. Tax free, too. Whew.
Swag bag set-up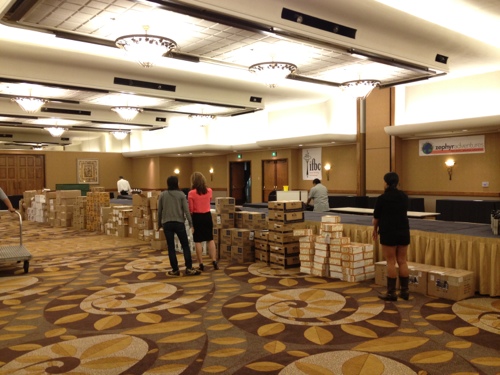 Our first task as volunteers was to set up the long banquet table that was to house, buffet style, the content of the swag bags. Karlyn, Val, Vanessa, Janelle, and I (and the organizers) spent a couple of hours lining up bags and boxes of goodies from a variety of sponsors. These ladies made it so much fun! Val and I instantly became friends after learning we'd both lived in Brookline, MA, and it was awesome to reconnect with Karlyn. Vanessa and Janelle are both hilarious and full of personality. We laughed and joked and lined up goodies.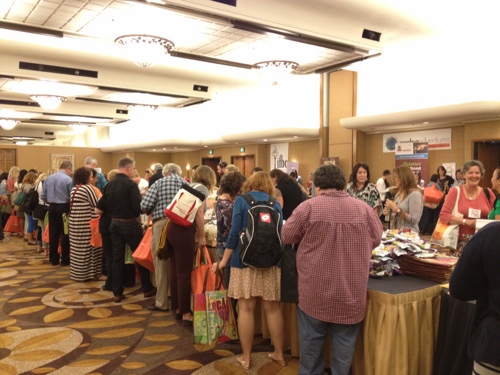 fruits of our labor
Intro and live blogging session
There have been complaints about lunch (this is entirely on the sponsor, not the organizers) but I'm going to add my two cents: apples are not a viable gluten-free or vegan lunch option, Organic Valley. Your soy milk is dead to me.
ANYHOW, the rest of this first part of IFBC 2012 was lovely. Bruce Seidel, CEO of Electus' YouTube Food Channel, Hungry, kicked things off with the keynote. He talked about his time at the Food Network, and gave us a peek at Hungry, which looks like it has some really fun shows:

Supposedly, they are looking for a vegan host…
With attendees seated at 30 or so tables, a series of 10 or so local food and drink purveyors then came around with samples for us to consume, photograph and pretend to live blog about in a live blogging session. While many of their options were not vegan, I was very pleased with the 9 Rocks vodka and Chocolate Decadence, umm, chocolate. It was a fast-paced hour and a half (or so).
Actually, let me say something about Chocolate Decadence before I move on: hella delicious. Highly recommend.
After, since they missed our table, I drank a sample of delicious Pfriem beer at the end before running off to set up the first session.
Niche Blogging Session
If you move to Portland, you have to have a vegan blog. They give you 6 months, and then they make you leave. – Michele Truty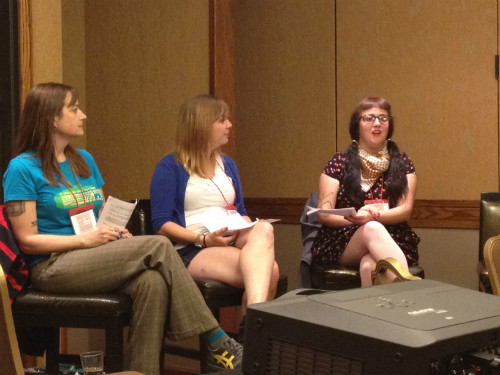 The Vida Vegan Con ladies — Jess, Michele and Janessa — led a session on niche blogging. They were super easy and didn't have any A/V stuff for me to set up (thanks!), but instead created an engaging discussion among the attendees. While I don't really see veganism as being niche per se (and I think one of them commented on that at some point too), their insights and anecdotes were still valuable to everyone in the room, ranging from the typical vegan and gluten-free to blogs focusing on specific cuisines, like Persian or Filipino cooking.
Here are the takeaways:
Celebrate your niche. Are you claiming it (i.e., Persian food), or did you stumble upon it (being diagnosed as gluten-free)?
Don't be afraid to let your niche evolve. Rebrand if needed.
There are many different ways you can describe your niche! Vegans can be plant-based, vegan, cruelty-free, etc. depending on audience.
You can tell when someone isn't passionate about their niche. Even if you're doing it to make money, you need passion.
Money and freebies can create trust issues — be transparent.
People will find your blog through anything — your audience will change if your focus changes, but this isn't necessarily a bad thing.
Not everyone may know the terminology you mention within your niche — consider adding a resources page.
Storytelling: You can persuade people to like your niche food through the stories you tell.
Don't steal recipes. Email an author & ask for permission, even if you change 5 things. Google a recipe first to see if it exists, or type it into Eat Your Books.
Own your words!!
Online forums & discussion boards help you find community, not just promote your blog.
You'd be amazed how many people do what you do. You may be the weird one in your family, but others exist! Set yourself apart.
Oregon Wine networking session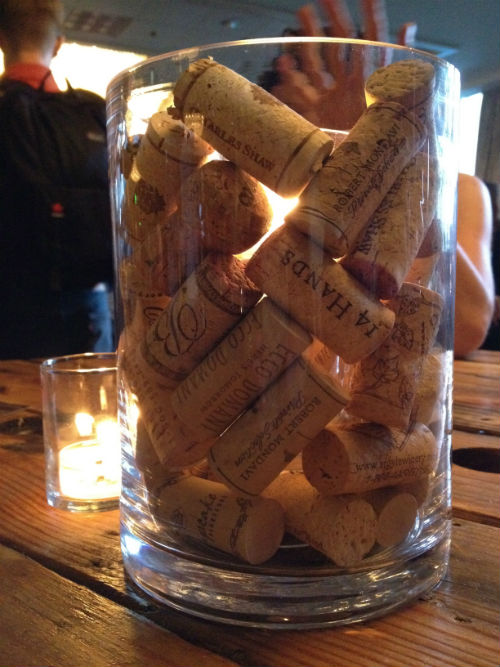 Not to be a smartass or anything, but I'm always amazed by how many vintners don't know whether their wines are vegan (or what makes a wine not vegan) — I want to film all of their baffled reactions to this question (always the exact same puzzled face) and juxtapose them into one YouTube video.
Most of the wineries at the networking session did tell me their wines were vegan after I clarified why a wine might not be vegan (which also involves clarifying — rimshot), so I sampled quite a few — all delicious. I talked to Seattle friends like Jameson, creepily confessed my love for MailChimp to Marcos because they sponsored his attendance, and finally got to meet Emory, the adorable Foodista baby.
The highlight of this session was probably meeting another vegan: Rachel of We Laugh, We Cry, We Cook, who blogs with her mom (aww!). Rachel lives in the suburbs of Dallas, and is exactly what I think a Southern girl should be: super sweet, cute as a button, and very easy to talk to. Living where she does, Rachel needs to cook more for her family than she otherwise might to maintain a vegan lifestyle, but if you look at her tasty recipes, she's certainly up to the challenge.
A Taste of Oregon and Gourmet Fair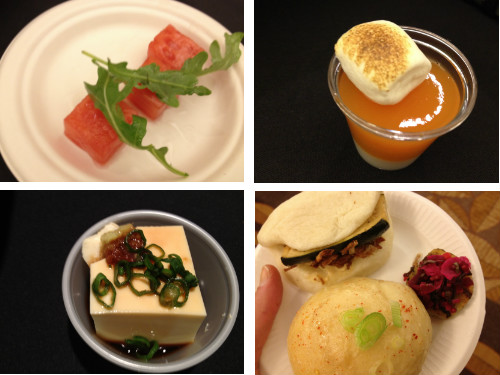 pickled watermelon, vegan kanten, agedashi tofu, selection of buns
The final event of Day 1 was a smorgasborg of food in the main hall. Portland restaurants Departure, Boke Bowl, Veggie Grill, Biwa, and others managed to please everyone with their awesome offerings. Lavishmint Vodka and House Spirits Distillery whipped up some great beverage samples, and Karlyn, Val, and I had tons of fun in the photobooth.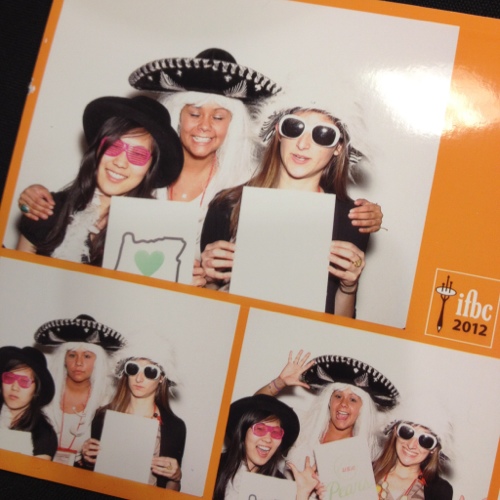 We vegans didn't starve! Nay, we left full! So full! The vegan selection at the dinner was wonderfully plentiful and delicious, and nicely sprinkled in with the other stuff so that non-veg attendees also tried it.
I totally could have done without the hog butchery demonstration, however.
Casa Diablo
Yeah, I've already written about my visit to Portland's vegan strip club — knock that one off the vegan bucket list.
Day 2
Breakfast — Pork Propaganda ("Pork: Responsible, Ethical Farming. An age-old institution restores public trust as it leads the way in modern farming")
I knew this sponsor breakfast was a) going to make me angry and b) probably going to be lacking in vegan options, so I got a bagel with Tofutti from the Black Cat Cafe and snuck in late, right when someone on the panel declared that pigs actually prefer gestation crates (maybe I heard that out of context).
Groan.
I think they did have some potatoes in the buffet line. And maybe more apples.
Creating Supercharged Content to Drive Traffic and Build Your Brand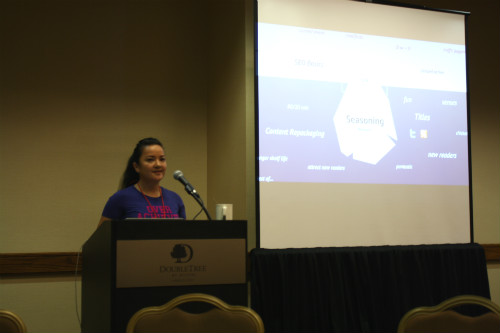 Marissa Brassfield is so cool! She writes blog posts for Foodista (in addition to a ton of other things), and knows her stuff. I wasn't sure if I would get anything out of this session, since I coach people on blog content, etc. for a living, but she had a bunch of new points to teach me (and the other stuff served as reinforcement).
My notes are below, and her presentation, "Seasoning with Words," is also available:
If I was to search for my post, what 2-4 words would I use? Put them in title, URL & 1st or 2nd sentence. Then forget it.
Reach new readers by crafting titles that stick out. Title easy to retweet? Stand out in RSS reader? Engage the senses.
Not just name of recipe (i.e. chickin' fajitas) in post titles, but "5 minute" or "kid-friendly" chickin' fajitas. (yeah, I veganized that. She said "chicken.")
Content repackaging: expose existing content to new readers. 80/20 rule. 80% of traffic from same few posts.
Lists, hows, & gallery/slideshows get much more traffic than anything else – they compell action
Take current events and add how they relate to your issue/niche. Or, write a manifesto.
Try a Traffic Day (like Gawker does), examine Google Analytics, use Google Insights to optimize, and experiment.
Google is getting better at figuring out which keywords should go together (i.e. BBQ & barbecue)
SEO section of Google Analytics lets you see where you rank for certain terms. Enable it in Webmaster tools!
Trim URLs, but only prior to publishing! Post publishing, leave URLs alone — otherwise, you 404 yourself!
Which days should you target to post? Analytics will tell story for you.
If you've used Twitterfeed to sync up your blog with social media sites, it's broken. Dlvr.it is a better solution.
SEO for Recipe and Food Blogs with Rand Fishkin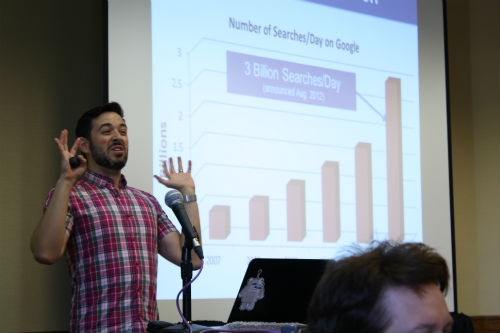 So, first of all, I want to say that SEOMoz CEO (and fellow yellow shoe afficionado) Rand Fishkin is one of the most animated speakers I have had the pleasure to observe, so this was both the least blurry picture I took of him and the most fitting. I suck at embedding things, so I'll just link to Rand's slides from the session.
He engaged the audience for 90 minutes, clarifying some misconceptions about SEO and giving plenty of helpful tips:
Social is on the rise, but search is rising more rapidly — 3 billion Google searches/day.
SEO vs. paid search: do we click on ads? Rarely! Users mostly choose organic search.
More content, more in search engines, more links, more traffic.
Wondering which platform to build your blog upon? Wordpress = good for solving mechanics of SEO. Google endorses it. Yoast has great SEO guide + plugin.
You want your blog/website to be on your own domain name running Wordpress. No algorithm difference, but easier to remember a .com than .net. (D'oh.)
Even if you aren't doing SEO actively, if you do just a few things right, SEO will naturally build on itself.
Wordpress forums have good threads for converting Typepad, etc. to WP. migrations will exp. a dip, then a bump. Do a 301 redirect.
Set up Google Webmaster Tools. Feedburner is good for syndication, but not much activity lately, though Rand is skeptical the that rumors that Feedburner is going away are true.
For, email subscriptions, Rand says to include the whole post rather than just a snippet, but include images so you can get open stats. Focus on reach vs. visits.
Unique visitors are a dead metric — multi devices make this obsolete. Focus on visits & traffic sources.
Bounce rates: benchmarking is tough. Don't worry too much about it w/o context of time on site, bounce rate over time, etc.
Bit.ly = good way to track sharing.
Sharing other people's stuff makes friends!
When choosing keywords in Google AdWords tool, use "exact," not "broad" for titles. "phrase" match = part of phrase.
Competition in Google Adwords is only what people are BIDDING for, not how hard it is to organically rank. Ignore.
Don't create a category for just one post, and Rand doesn't recommend tags on posts from an SEO perspective — it confuses Google when you create too many similar pages at once.
Long title? Make sure the slug has keywords, but you don't need the whole title in slug.
How much traffic a post generates during the first 24 hours determines its SEO success.
Choose keywords that aren't competitive. Ex: "things to do in Lima" vs. "Pisac Market Food." (the Long Tail)
1/5 Google searches have never been seen before — yes, really.
Not every post needs to be keyword targeted. Just write something beautiful that you care about for your audience. More about people loving your posts than following a formula.
Don't chose keywords that you don't have expertise in.
Authentically earned links have zero risk. Personal link acquisition efforts have minimal risk. White/grey/black hat get into risk.
Be willing to fail at blogging for a long time.
Rel = author allows you to link Google+ to blog. Photo shows up in Google search. People like photos. Think also about title + meta.
Use Google Reader to search for other blogs (and to see how many subscribers they have).
Followerwonk helps you find Twitter influencers.
Don't worry about Klout!
Panda: don't worry about it unless your site is covered in ads &/or you have low quality content. Penguin more of a concern.
Over optimized keyword text or overt back-scratching = candidate for Penguin shunning. A big Penguin update coming soon.
Image search SEO: name image phrase, have alt text as phrase, have phrase near it in text. Most image searches = low traffic quality.
Recipe SEO: plugins specifically for schemas. Use Google's schema when writing recipes.
Lunch

Lunch was a buffet, but they did serve up a nice little stir-fry for the plant eaters. Slow cooking maven Stephanie O'Dea demonstrated Ninja Cooking System's newest ware, and told everyone in the audience they were getting one! OPRAH MOMENT!!! (To steal what someone else tweeted.)
Anyhow, Dawn, there may be a (slightly) used crockpot in your future soon after my shiny new Ninja arrives.
Writing and Selling a Winning Book Proposal (x2)
I didn't take a picture of Diane Morgan (even though I sat in on her session twice) but she is adorable! And I have been seriously craving lotus roots ever since her presentation, since she used her new cookbook, Roots, as a case study.
My favorite thing she said was that even though Roots was her 17th book, she experienced the same feeling as her first upon holding the finished copy for the first time.
Here's what I learned:
Book trailers on Amazon/website are the new thing!
Tell everything about the book in your proposal. 6-40/50 pages to convey your message.
Editor needs to get your voice in your proposal. Show you are THE ONE to write this book and that it's viable on a crowded market.
Your proposal needs a title page. Include your name and your agent's name. Table of contents is important too. Shows you're organized.
Book overview: synopsis (w/ persuasive points), photos, special features that are essential to the book.
Audience: why are you the person to write this book? Built in audience (niche) for topic? Include statistical data.
Do not bash another book in your proposal — there is a difference between differentiating yourself and being negative.
Right to first refusal: publisher you've worked before with gets to see your next proposal first.
Existing literature: use Amazon or Powell's (i.e. place w/ out-of-print/used selection) to research competition. Create list.
Differentiate yourself within your niche in your cookbook proposal! You can no longer just be a gluten-free baker (or vegan, etc.)
Publicity: months of getting your book out there. Convince editor you can market it. Outline action plan.
Name drop! Get your famous friends to write blurbs. Use your connections.
Proposed table of contents: guts of the book.
List of recipes by chapter. Sample chapters. Don't have to be recipes that already exist, but what you think would work.
Need sample chapter w/ 6-10 well-written, perfectly edited & tested recipes, complete w/ yield & special features, in your proposal.
Can put some stuff from your blog in book, but most needs to be origina content. Otherwise, why publish the book?
How have restaurants listed their dishes? Imitate this. Compelling titles determine whether folks will cook your recipes.
Include your bio in proposal, but keep it relevant to book (they don't need to know where you went to school). Include clips/posts.
Agent or not? Diane self published her first two books. Great story, but a lot of work. Agent takes 15%, but knows people.
Evening
Being in introverted need of some alone time and craving vegan junk food, I got a drink in the hotel bar with Val (another highlight of the weekend), then skipped out on the Farm to Table dinner (pics of the meal looked super-gourmet, so I regret this) and MailChimp afterparty (super thoughtful Karlyn grabbed me a MailChimp hat!) to treat myself to a buffalo sub at Sweet Hereafter and watch a former LexBlog coworker's band Battlehammershark play their first show at what was possibly Portland's shadiest bar — I won $0.85 in the Oregon State Lottery, met a dude with a skull tattooed on his face, and earned the undying and creepy love of a grizzled old biker. (Longest single-sentence paragraph ever.)
It was a great time.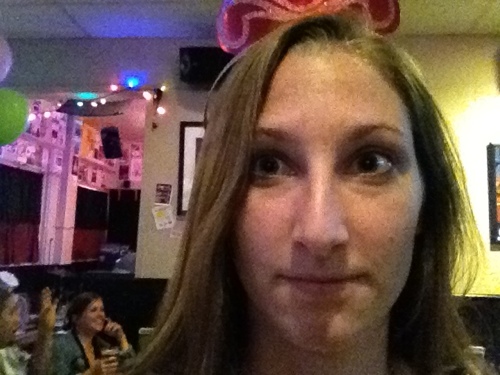 free tiaras at the Battlehammershark show!
Day 3
Vegan breakfast by Nutiva
I don't want to be too negative on a vegan-friendly business, but I felt like Nutiva missed out on an opportunity to wow all attendees with the many possibilities of vegan deliciousness — they served bagels. Hemp bagels.
I know that hemp and other superfoods are their thing and all (and I love hemp and superfoods), but when I am trying to convince people on the many mainstream possibilities of veganism, I don't serve them dry bread with hippie seeds. The potatoes fried in coconut oil were really good, however.
However, Nutiva's Coconut Manna spread is freakin' out-of-this-world awesome. It has a frosting-like consistency and is naturally sweet with coconut sugars — I'm totally going to use it as icing when I make baked goods for Katy from now on. So, I hope I balanced out that little bit of negativity with something positive. Great product, Nutiva.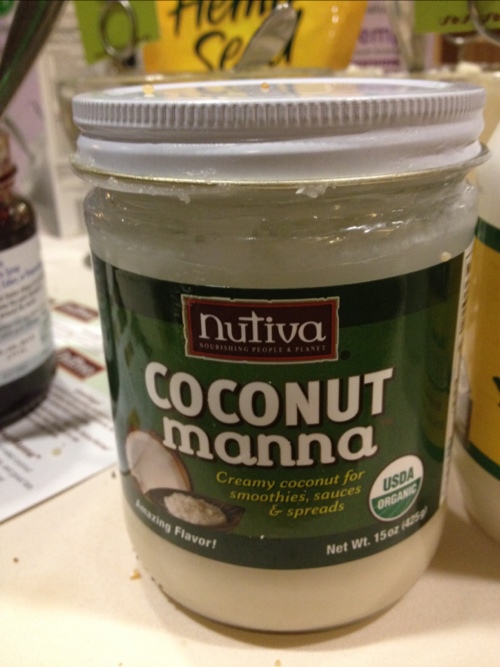 Food Photography Session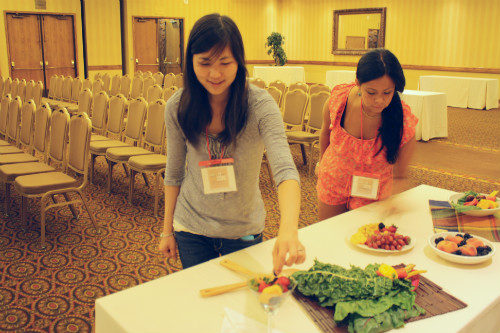 Volunteers arrived just after 7 a.m. on Sunday morningto help set up the final session: a food photography lesson from Andrew Scrivani, cooking demo with Chef John Mitzewich, and the opportunity to then photograph the food that John made (with a few props from Sheri's personal collection).
In helping set up, I got to watch John and Andrew behind the scenes — they were every bit as affable setting up as they were presenting together. The two made a hilarious duo, riffing off of each other and making fun of their collective baldness. Paola at MirrorMirror has a funny recap, plus some amazing photos from the session.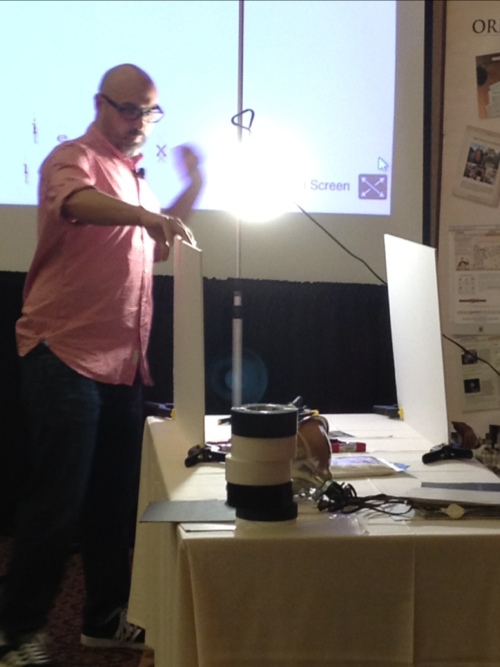 I live tweeted the sh*t out of Andrew's part:
Take your camera out of auto mode and always shoot raw
Put a film over your light source and balance light and dark in shot w/ large cards. Helps redirect intense light source.
If you have lots of texture, bubbles, etc. (ie smoothies), get close. If it's monochromatic, shapes are key. Light, color, shape.
Negative space and shape. Not all food is beautiful, so make it interesting! Break the crackers. Show the cookie cutter.
Backlighting adds an ethereal quality that's great for food. especially citrus, crystallized stuff, etc.
Use black outside the frame to give glassware an edge — trick of the trade.
Using props and backdrops? Manage the light differently. Light changes color.
Never shoot food with a flash! Flat. No dimension. Depth of field in photos created by both aperture & lighting.
Photos arranged in diptychs and triptychs tell a story. Creative alternative to same pic over & over.
Ugly food can be saved by props. Think about ugly food when shopping for props. Yard sales are great places for food photography props!
It's okay to be literal, messy, Martha Stewarty in your photos.
Get away from the diner's perspective in your photos to make it art.
Figure out what makes something special when on vacation, then recreate at home to capture time & place.
Smokes, flames & drips give a primal (and good) reaction.
Sometimes getting the right photo involves invading someone else's personal space.
Create an architecture — height is your friend. So are chopticks, for creating height. Pile things.
Look at how the Dutch masters did still lifes with food. Learn from them.
Eiko BCA lamp in metal casing with scrim = nearly daylight quality light.
have extra ingredients on hand when shooting food.
Old school trifold foamcore posters, A clamps (home depot — 22 for $10) & gaffer's tape = inexpensive photo studio.
Shoot with a white shirt! It will push light onto your subject.
Then Chef John took over with a cooking demo, making white gazpacho (vegan!), onion rings (vegan!), cold-brew coffee affigato (could be vegan!), and shrimp (definitely not vegan). He added some sage words of wisdom:
People think way too much about garnishes
Salt in onion ring batter will not pull moisture out of onion
Wet hand dry hand method: one hand in batter, the other in panko (works for about 5 minutes.)
Don't even think about buying a knife that's not forged
Oil is part of the recipe, not just what you cook the recipe in
Afterwards, attendees distributed themselves throughout the room to different stations we had set up with food and props to practice what Andrew taught.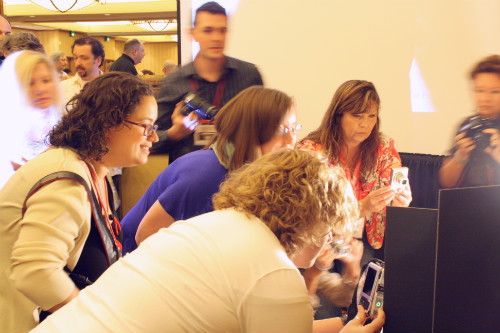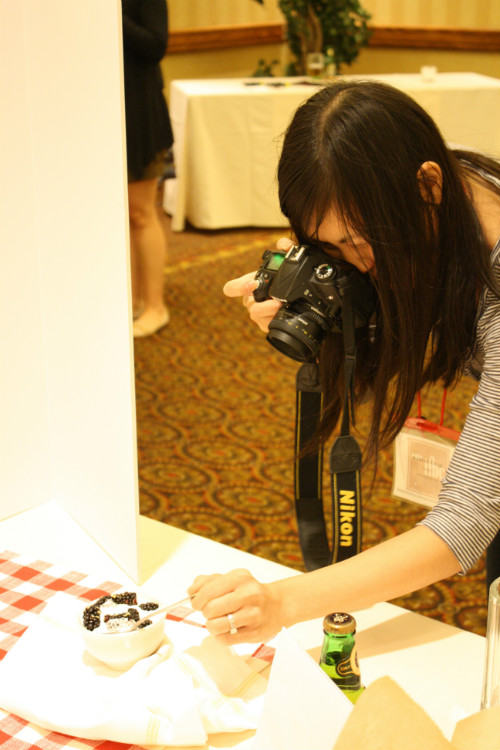 The best one I took was of the shrimp dish, but obviously I am not going to post that here.
Conclusion
The next IFBC is going to be in Seattle September September 20-22, 2013 (not September 13-15, as originally announced, because of Yom Kippur), and I am super pumped for this — as much fun as it is to be in a different city, nothing beats a great conference close to home.
Many thanks to the Foodista crew for extending me the invitation to volunteer. I'm way too shy to introduce myself to awesome people like Diane Morgan, Rand Fishkin, or Andrew and John without some sort of reason to do so, so getting to help them set up their sessions broke this ice conveniently. It's been great to see how IFBC has evolved since the first one in 2009.
Some of my fellow attendees wrote great recaps:
Finally, many thanks to my mom for watching Zeno while I was gone!! He's been through a lot lately (blog post on my cat's new stress disorder to possibly come at a future date…), and it was great knowing he was in good hands and getting love and attention.
And thanks to YOU for reading this 4,000+ word post! Here's the picture of Zeno that my mom sent me on my way back to Seattle.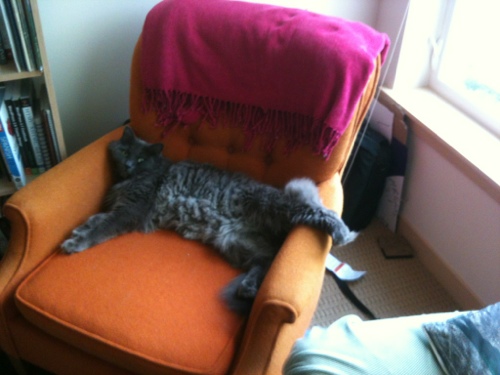 Tags: IFBC
This entry was posted on Thursday, September 13th, 2012 at 8:44 AM and is filed under events. You can follow any responses to this entry through the RSS 2.0 feed. You can leave a response, or trackback from your own site.
27 Responses to "International Food Blogger Conference (IFBC) 2012"
Megan says:
Mary says:
Helen says:
Jacquelyn says:
Allergy Specialist Doctor says:
dresses for every woman says:
wedding venue yorkshire says:
通販 人気 says:
phoenix az bankruptcy lawyer} says:
review, toys,tablets, keurig,designer brands, books, scooters, balance bikes says:
Online Pharmacy says:
acne says:
self help resources says:
a says:
Billy says:
football says:
lelytank.com says:
moviestarplanet cheats facebook says:
Murad Skin care says:
game of war fire age hack password free says:
Alexis says:
vintage wedding favours says:
getbodybuildingbuilder.com says:
Naturalphytoceramidesidea.Com says:
justantiagingcare.com says:
Houston says:
Leave a Reply
Subscribe by email:

Topics

Reading List

resources

cruelty-free shopping

МИР ЯВЛЯЕТСЯ ВЕГАНСКИМ! Если ты этого хочешь.