Veggie Grill opens in Seattle!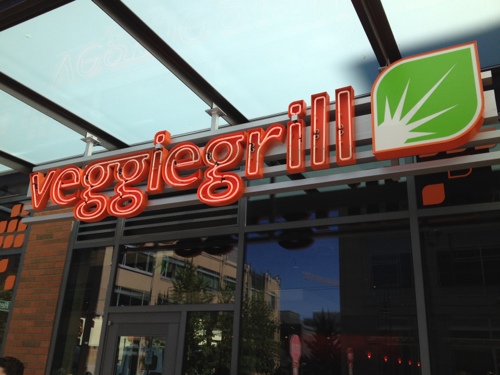 Have you fumed with envy when Portland and SoCal friends Instagram amazing lunches at Veggie Grill? Be jealous no more: Veggie Grill's first Seattle location opens tomorrow!
I've been super pumped about Veggie Grill coming to town for a while, and was super pumped to attend a preview yesterday as a member of the media (because that's what bloggers are these days, right?). I can't speak yet to the service or how the food will be when prepared in a real-world situation, but what I ate for lunch was pretty darn tasty. Looking at the menu, prices are reasonable, at roughly $8-10 a sandwich or entree.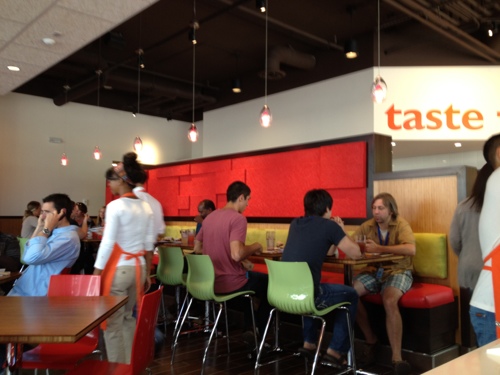 The location, deep in the heart of Amazon territory, is pretty much everything you would expect from South Lake Union in 2012: clean, colorful, pleasant, and a little sterile. Veggie Grill isn't a huge chain, but there is a certain corporate feeling to it. Still, it's a vegan corporation, and I support that 100%. It breaks the mold of the standard Seattle vegan restaurant in many ways: it's not hippie (though it's largely organic and entirely non-GMO), it's healthy but not overly so, there's no cult behind it, and there's very little pretention in the atmosphere. It's good, speedy food that happens to be plant-based. (But this, of course, is based on my impressions as a guest of the company — full FTC disclosure.)
Here's what I sampled.
VG Rollers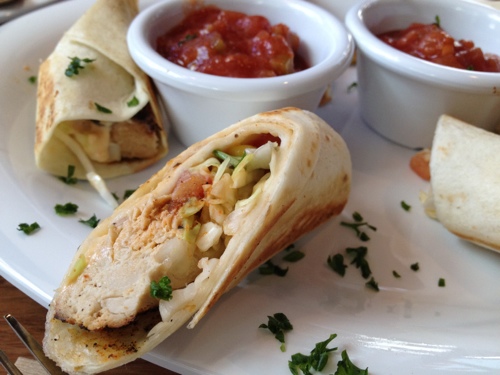 What struck me about these was just how much the fake chicken (chickin') looks and feels like real chicken, and, in the context of being thinly-sliced in a wrap with Southwestern flavors, tastes like real chicken (chickin' is made of soy, wheat, and pea proteins). Once I got over being weirded out by that, I enjoyed this sandwich immensely — the tortilla was grilled to the point of being slightly crisped, while a creamy, spicy sauce adds flavor and balance, as well as masks any element of fakeness to the meat.
Chill Out Wings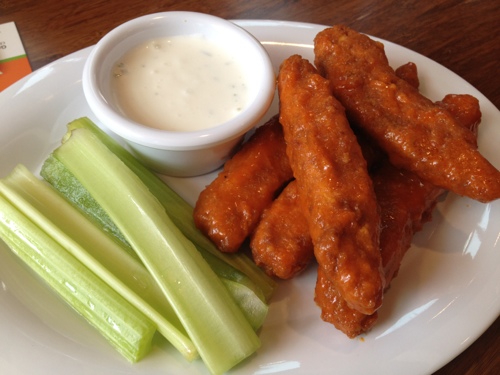 I am just mental for buffalo sauce, and the spicy, vinegary glaze on Veggie Grill's did not disappoint me. For omnivores used to crisp-skinned wings, as Jay, the meat-eating fellow sitting across from me was, these do not achieve the same texture, but I enjoyed the hints of greasy crunch given by deep-frying panko-breaded chickin'. I love Highline's nuggs with buffalo sauce, but as a fellow veg diner commented, Seattle hasn't really had a true chicken wing analogue until now. (I still <3 you, Highline!)
And it comes with celery and ranch dressing. Swoon.
Tomato Bisque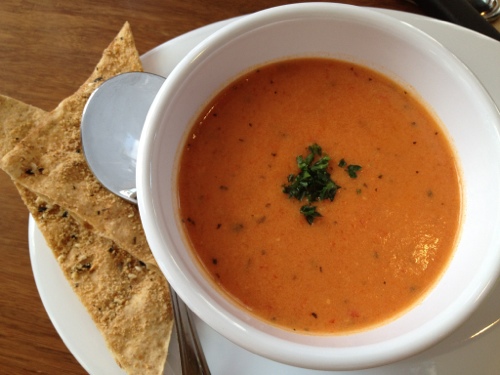 They served this soup right with the buffalo chikin' strips, so I don't think I can fairly discuss it, as I naturally gravitated towards the buffalo sauce (which is the natural reaction when choosing between something covered in buffalo sauce and something not covered in buffalo sauce), which overwhelmed anything else. The one bite I had before going buffalo wild was mild and creamy, just what you'd hope for in a bisque.
Grillin' Chickin'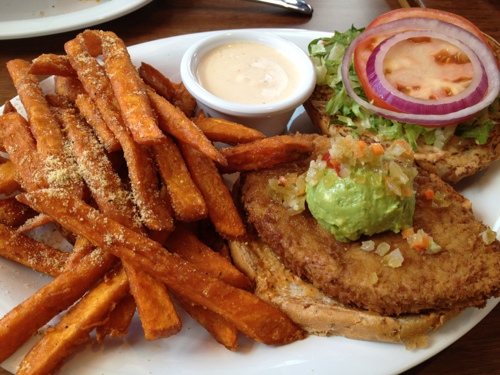 To be honest, this was probably my least favorite dish of the bunch. I like the texture of the chikin' (breaded in panko and fried in rice bran oil), but it was a little overwhelming as a sandwich. Jay thought that the avocado overpowered the dish, but I disagree: you can never have too much avocado.
Jay said that he "wouldn't be unhappy with this" and that the texture was "better than average," though he still would go with Skillet's version. I'm going to take that as a nod of approval.
I'm not crazy about sweet potato fries in general, but I liked dipping these into the chipotle dressing. They were as crisp as any sweet potato fries I've tasted, and topped with a vegan parmasean, which made them more interesting than regular sweet potato fries.
Seriously, I think I'm the only person in Seattle who doesn't like sweet potato fries.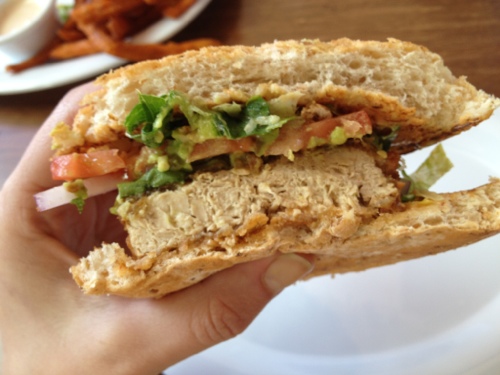 All Hail Kale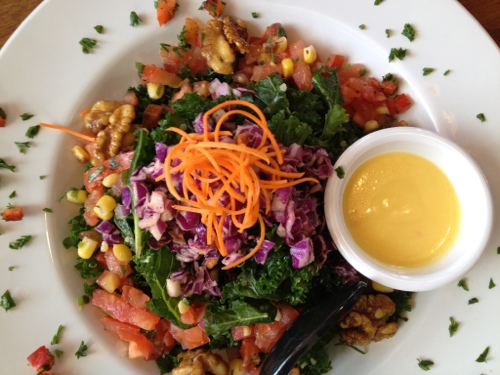 Veggie Grill's Kale salad is marinated overnight in papaya dressing to soften the leaves. This was a little sweet for my taste (I prefer my salads strictly savory) but the texture was very nice — for folks who won't eat kale because of the bitterness, this salad would be a good gateway into greens.
Thai Chikin'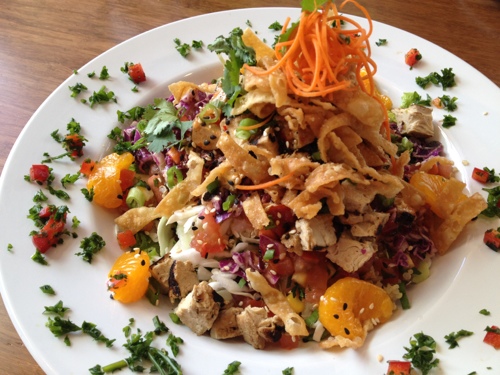 The Thai Chikin' salad was also on the sweet side, but this really worked — it had blackened chikin' and crunchy, oily wonton strips to add depth. I would order this in a heartbeat.
Urban Plate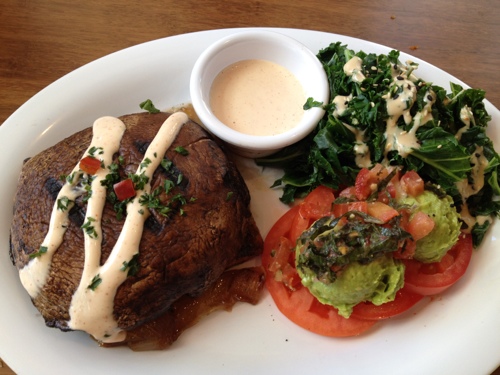 The Urban Plate is a gluten-free option that I would definitely consider — it's a stack of portobello mushroom, caramelized onions and tempeh covered in chipotle sauce served with miso-topped steamed kale. The texture of the tempeh was really wondeful: much smoother than some, with finer chunks of soybean.
Chocolate pudding parfait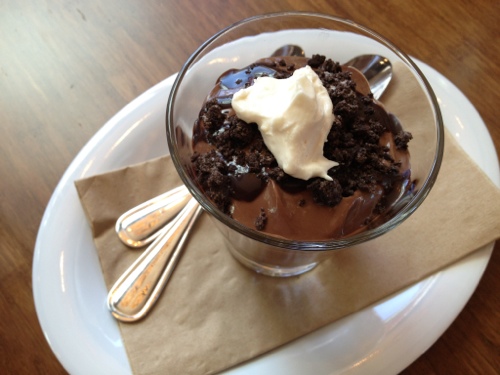 You know that scene in that episode of the Simpsons where Homer screws up really badly and buys Lisa a pony, but first buys her a ginormous ice cream sundae and she only eats one bite? That's how I felt when they brought out this — I was stuffed by that point, though it was a very tasty bite. I'm more of a baked goods dessert person than a pudding or ice cream person (I like substance) but it was creamy, chocolatey, and cool. Mixing in the cookies and nuts (not pictured) would be really good.
Carrot Cake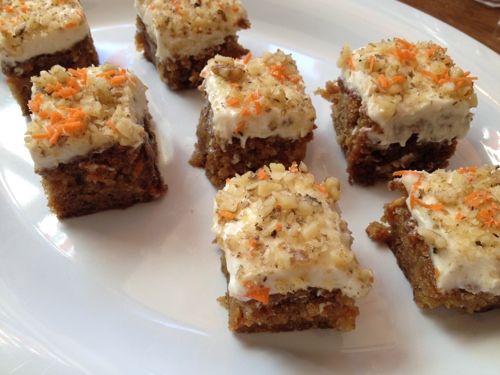 Yeah, so you know how I just said I'm a baked goods person? Baby, bring this cake on. I think the proportions in these bites were different than they might be in real life, but the cream cheese frosting was amazing. I nearly needed to purge to fit it in, but it was still so delicious.
Not pictured
Chocolate chip cookie!
Peach iced tea! Just the right hint of sweetness — very refreshing after you've biked from Pioneer Square to South Lake Union on a summer's day.
Conclusion
Though I've written this post based on impressions as a guest of the company, my raving is not unfounded. Veggie Grill not the best vegan food in town (Plum) or the best atmosphere (I <3 you, Highline!), but it's another great option, one that I'm optimistic that omnivores will embrace. I plan on returning after the training wheels are off to see whether the actual experience matches up to my first impressions.
This entry was posted on Monday, August 20th, 2012 at 5:11 PM and is filed under restaurants. You can follow any responses to this entry through the RSS 2.0 feed. You can leave a response, or trackback from your own site.
Leave a Reply
Subscribe by email:

Topics

Reading List

resources

cruelty-free shopping

МИР ЯВЛЯЕТСЯ ВЕГАНСКИМ! Если ты этого хочешь.