Vegan Filipino Dinner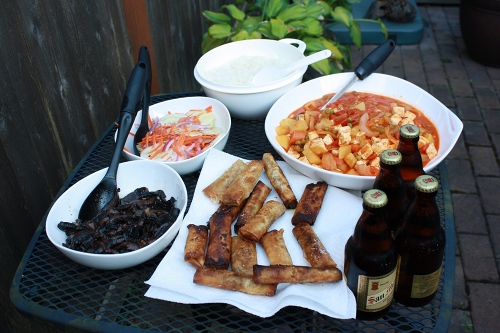 Dawn of Vegan Moxie, Madeline of Edible Joy, and I got together this weekend to cook up a vegan Filipino feast. Dawn and I are vegan, Madeline is Filipino, and all of us are alumni or future alumni of the Master of Communication in Digital Media program at UW.
I'm pretty sure the seeds of this dinner were planted in an MCDM class waaaay back in 2010, when Madeline told me her dream of opening a lumpia food truck, and asked what she might use as a vegan substitute for egg.
Sprouts shot up when I discovered (coincidentally vegan) karioka at Uwajimaya and asked Madeline for her advice on how to make my own karioka.
When Dawn was accepted into The Program this year, this little sprout blossomed into a towering redwood of culinary togetherness — a vegan Filipino meal, prepared by three awesome bloggers, was the only logical path.
Forgive the passive voice. It's the only way I could convey the solemn magnitude of this occasion.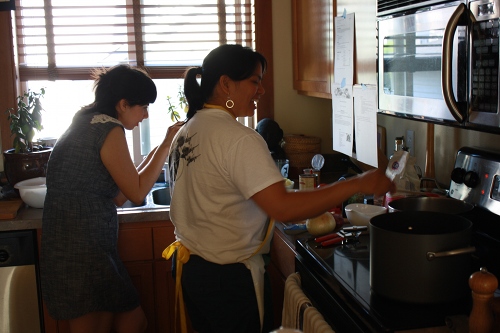 We convened upon Madeline's lovely West Seattle home on Saturday at 5 p.m. (4:58 p.m. to be exact — Dawn and I were impressed enough by our punctuality to make note of it) with cutting boards, knives, and the raw components of future deliciousness.
And beer. Sweet, sweet beer.
Madeline wrote out the menu, as follows: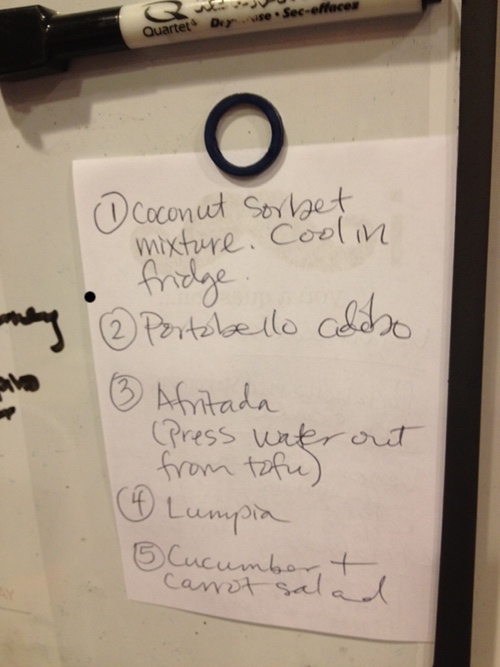 Is your mouth watering yet? Just wait.
Madeline arranged her kitchen in stations: the adobo station, the afritada station, and the lumpia station, each with a printed recipe delicately taped to a cabinet. We chopped and chit-chatted and photographed and fried and simmered and snuck black olives from the can when the others weren't looking (wait, that was just me) and gossiped and bonded over shared love of food and Internet-based communication.
Then we wrapped lumpia.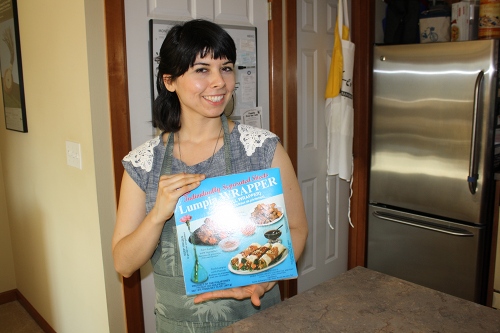 Wrapping lumpia is definitely both an art and a science. The science part is as follows.
First of all, it's usually very tricky to remove the lumpia wrappers from the frozen stack they come in. Madeline did we (us?) noobs a favor by buying wrappers individually wrapped in plastic. Environment, 0: Helen and Dawn: 1.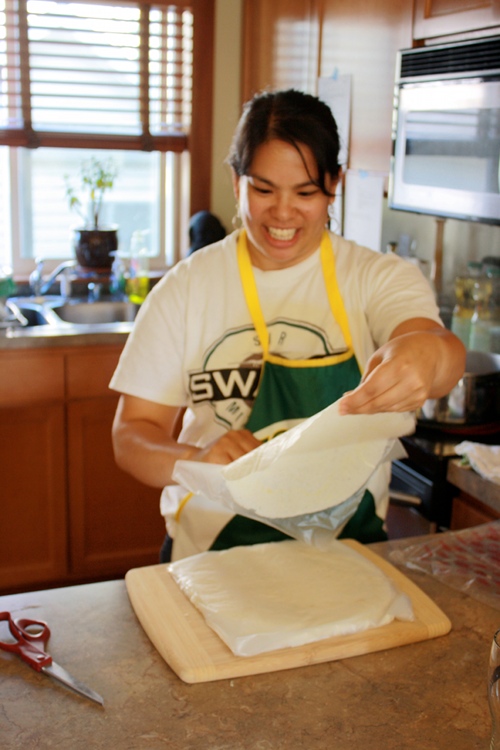 Next, place some filling in the center of a lumpia wrapper, about 3/4 of the way from the bottom edge.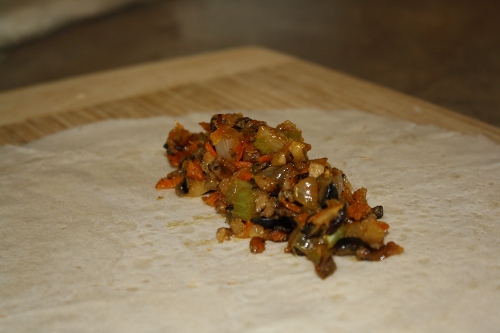 Fold the upper edge over.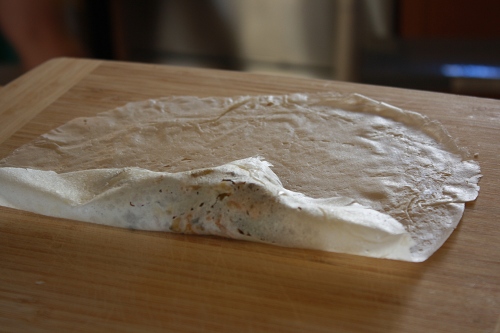 Crease the edges in and start to roll.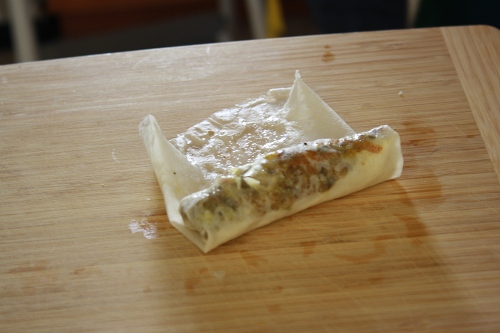 Dab some egg replacer mixed with water on the edges and press to seal.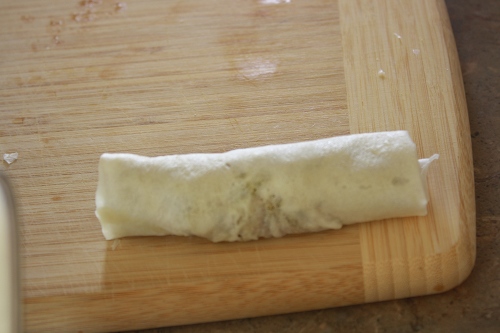 Place lumpia seal side down on a flat surface and repeat. And repeat. And repeat. And repeat…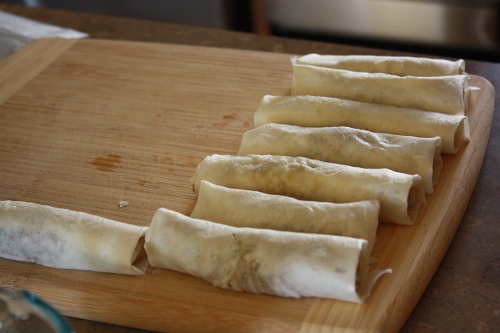 The art part is making sure that you roll up your lumpia in perfect, plump, cylindrical little cigars, not floppy, flaccid, flat, uhhh, little cigars (you're about 49 shades of grey too many if you thought I would say anything else). Ours were mostly the latter.
Then you fry them up. Dawn did an excellent job of this.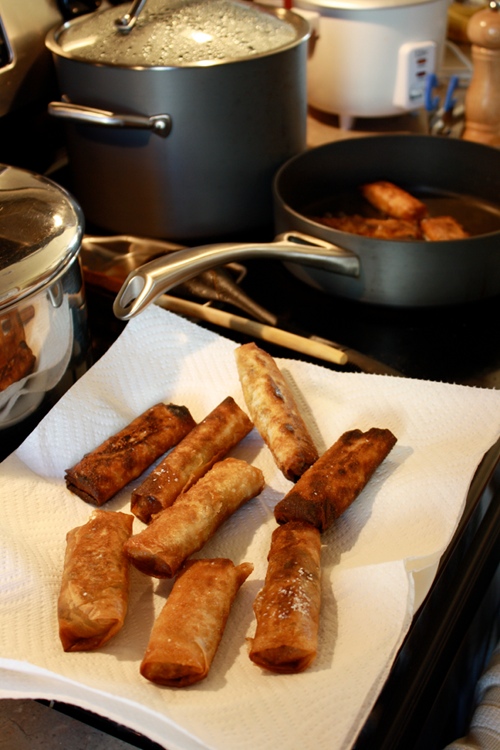 So. Freakin. Delicious. The secret to perfect fried food, according to Madeline and Alton Brown, is to salt it after frying.
Anyhow, the whole meal turned out excellently.
The tofu afritada.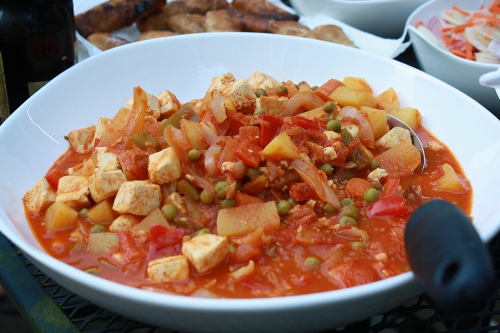 The tangy portoabella adobo with spicy peppercorns.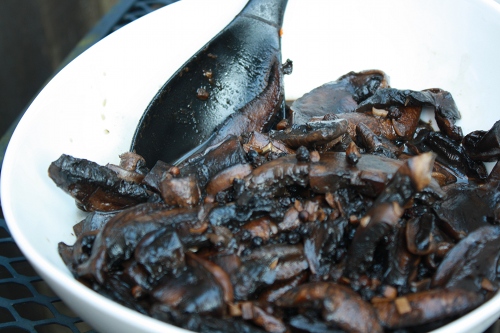 And of course, the lumpia, of which I ate two and then snuck a third, because, c'mon — when am I going to eat lumpia again?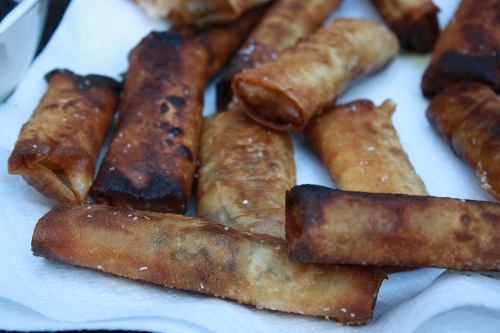 Also, not pictured, awesome Asian cucumber salad.
I think that the dreamy overexposure of this picture really emphasizes the overall sublimeness of this meal: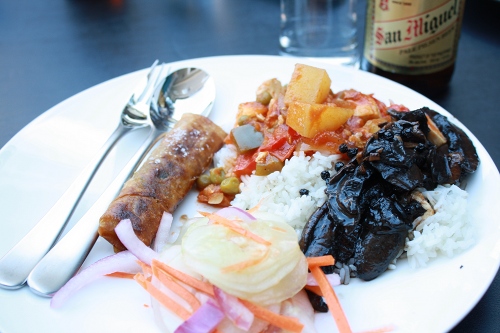 It was all supremely tasty, and best of all, passed the tastebuds of the most brutally honest critic of them all: Madeline's adorable son, Lucas.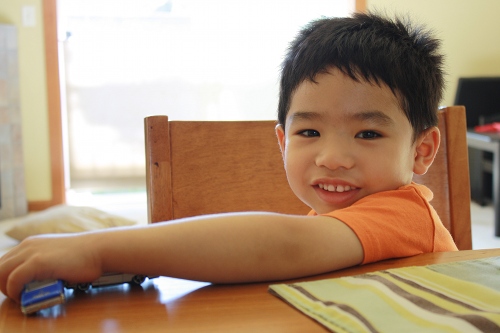 Oh, it didn't end here. Out coconut sorbet didn't firm up like we expected, but it made excellent sauce for turon, the glorious banana/plantain and jackfruit lumpia Madeline and her husband prepared while Dawn and I talked vegan Greater Seattle Area cat lady stuff.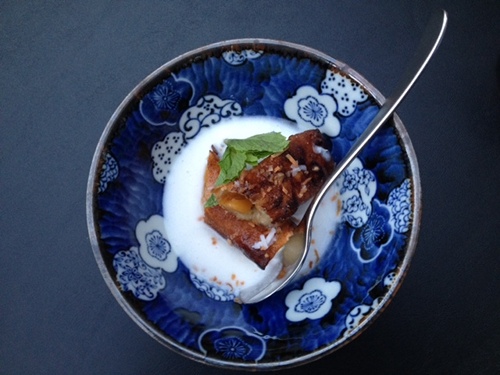 So much fun. And we already have the next communal cooking night planned: tamales.
Want the recipes?
Tags: adobo, afritada, filipino, friends, lumpia
This entry was posted on Tuesday, July 31st, 2012 at 8:15 AM and is filed under dinner. You can follow any responses to this entry through the RSS 2.0 feed. You can leave a response, or trackback from your own site.
7 Responses to "Vegan Filipino Dinner"
Jes says:
Helen says:
Richgail @AstigVegan says:
Lorena says:
Helen says:
Leave a Reply
Subscribe by email:

Topics

Reading List

resources

cruelty-free shopping

МИР ЯВЛЯЕТСЯ ВЕГАНСКИМ! Если ты этого хочешь.