Mediterranean Veggie Dogs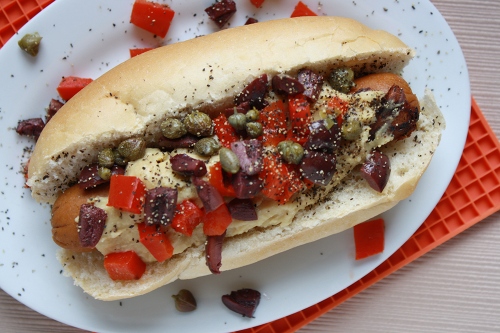 This just in from the semi-homemade category: Field Roast franks (or Smart Dogs, or Tofurky dogs, or any other veggie dog, but please not real meat dogs), a light hummus (in this case, Lilly's plain), roasted red bell peppers, kalamata olives, and capers.
Sorta a last-minute Fourth of July grilling idea.
Also, Trader Joe's hot dog buns are probably the best commercial option I've tried: chewy but soft, just the right texture — perfect for summer BBQs.
Tags: Field Roast, grilling
This entry was posted on Tuesday, July 3rd, 2012 at 11:28 AM and is filed under dinner. You can follow any responses to this entry through the RSS 2.0 feed. Responses are currently closed, but you can trackback from your own site.
6 Responses to "Mediterranean Veggie Dogs"
Megan Wtsn (@veganwtsn) says:
Lirpa says:
Helen says:
Helen says:
Lirpa says:
visit the next post says:
Subscribe by email:

Topics

Reading List

resources

cruelty-free shopping

МИР ЯВЛЯЕТСЯ ВЕГАНСКИМ! Если ты этого хочешь.