Vida Vegan Con returns: pre-registration opens Sunday!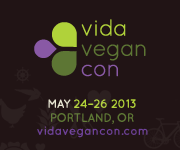 I attended Vida Vegan Con last year and it was a life-changing (or at least blog-changing… no, I was right the first time: life-changing) event.
It was incredible to be surrounded by so many passionate and talented people who follow the same lifestyle, hold the same beliefs, and have the same hobby. Well, "hobby" doesn't do many of my fellow attendee's blogs justice — many of them are cookbook-spawning masterpieces of photography, writing, and deliciousness.
I'm planning on attending VVC's Seattle-based technology day in November, 2012, and the May, 2013, conference at the Portland Art Museum, only this time with a little something extra: Dawn of Vegan Moxie and I put together an application, and were invited to speak on social media at both!
I am simply beyond thrilled, honored and excited for the opportunity to talk about something I love to a community that I hold in such high respect. Words can't really express it — there have been many DMs exchanged between Dawn and me that consist just of "EEEEE!!!"
Pre-registration for the 2013 Vida Vegan Con starts on Sunday (July 1), and there's an Early Bird registration rate of $200 for the first 100 folks who sign up. Even though the agenda will be announced later this summer, I had such a good time last year that I'll be maniacally refreshing the page every second so that I can be one of the first to pick up my ticket.
This entry was posted on Thursday, June 28th, 2012 at 3:41 PM and is filed under news. You can follow any responses to this entry through the RSS 2.0 feed. Responses are currently closed, but you can trackback from your own site.
One Response to "Vida Vegan Con returns: pre-registration opens Sunday!"
Subscribe by email:

Topics

Reading List

resources

cruelty-free shopping

МИР ЯВЛЯЕТСЯ ВЕГАНСКИМ! Если ты этого хочешь.