Vegan brunch: part deux
Mary, Erika and I got together again on a wintry Seattle Saturday for vegan baked goods and Bloody Mary's.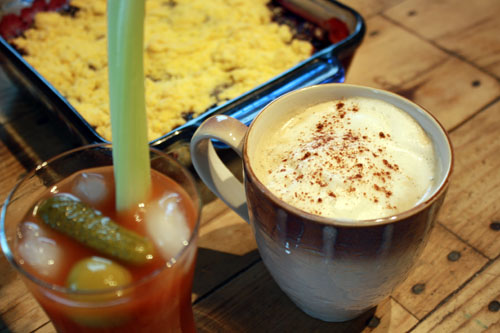 The spicy garlic vodka Bloody Mary made a return — Mary knows how to garnish her namesake drink: cornichons, celery, and jalapeño-stuffed olives.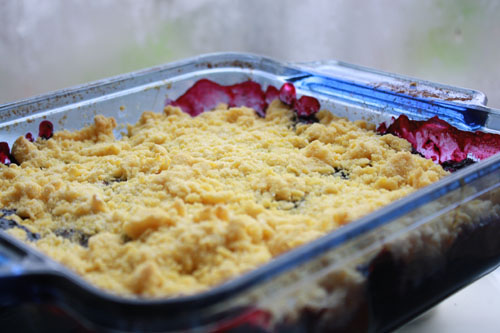 I whipped up a batch of the blueberry biscuit cobbler from Vegan Pie in the Sky – what spectacular contrast between the purple berries and the golden cornmeal: Husky colors! Lemon perks up this traditional dish, and adds a touch of summer, which was needed: it started snowing not long after Mary and I drove over to Erika's.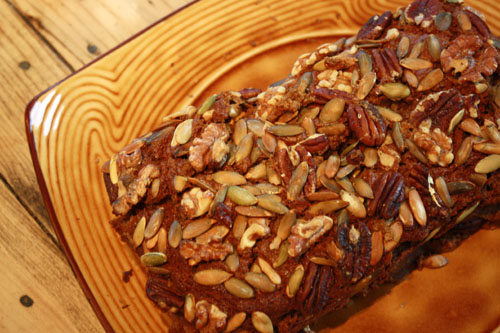 Erika made a veganized version of Macrina Bakery's Squash Harvest Loaf; she used applesauce for the egg and soy yogurt and apple cider vinegar for the buttermilk. It's chock-full of nuts, seeds and cinnamony goodness, and was almost pudding-like fresh out of the oven. Ah-mazing. Erika even roasted her own pumpkin.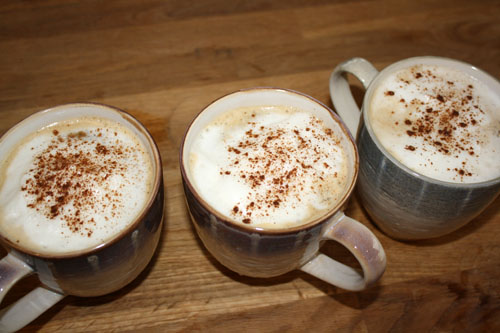 This is just plain coffee, spruced up with warm, foamed almond milk and cinnamon — even the ordinary can be pretty.
Yum.
Tags: bloody mary, blueberry, brunch, squash, Vegan Pie in the Sky
This entry was posted on Monday, January 16th, 2012 at 1:36 PM and is filed under breakfast. You can follow any responses to this entry through the RSS 2.0 feed. Responses are currently closed, but you can trackback from your own site.
3 Responses to "Vegan brunch: part deux"
Ty/Cameraphonevegan.com says:
Jes says:
Helen says:
Subscribe by email:

Topics

Reading List

resources

cruelty-free shopping

МИР ЯВЛЯЕТСЯ ВЕГАНСКИМ! Если ты этого хочешь.